Peter Iovine, PhD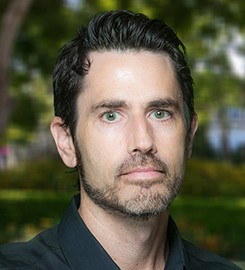 Office:
Shiley Ctr for Science & Techn 441
Professor
Ph.D., University of Pennsylvania, Organic Chemistry (2000) 

B.S., Villanova University, Chemistry

Skaggs Postdoctoral Fellowship, Scripps Research Institute, La Jolla CA  (2000-2002)
Peter M. Iovine, PhD, became a member of the faculty in 2002. He is dedicated to excellence in all areas of the academy: teaching, research, and service. Students are front and center in all Iovine's activities including a belief that research is the most effective form of teaching. Iovine has won many awards including: the National Science Foundation CAREER award, the Henry Dreyfus Teacher-Scholar award, and the Research Corporation Cottrell Scholar Award. Iovine is highly active in the larger scientific community; he serves on the advisory boards for private scientific funding agencies and routinely acts as a panel member or reviewer for the chemical community. Lastly, Iovine is a co-founder of the technology company Biosyn Polymerics LLC.
Click Here for Iovine Research Group Site
Scholarly Work
Research in the Iovine lab creatively spans both small molecule synthesis and polymeric materials. In the first area, Iovine is a recognized authority on small molecule boron-containing ring compounds including the first report of heteroarylboroxines. In the second area, the Iovine group focuses on using the tools of organic chemistry to produce novel polymeric biomaterials. Developing both sustainable polymers and chemical processes is a long standing interest. Iovine is an expert in polysaccharides with a special emphasis in starch chemistry. Research in the Iovine group ultimately involves a cycle of make and measure with an eye toward innovation and a balance between the fundamental and applied.
Areas of Interest
Iovine's primary teaching responsibilities include organic chemistry lecture and lab, advanced organic chemistry lecture and lab, and research methods. In addition to these traditional technical courses, Iovine has developed and taught "Science of Food and Cooking" for non-majors and an interdisciplinary course titled "Science in the Public Domain" in which undergraduate STEM majors lead hands-on scientific projects in a local after-school program.