David De Haan, PhD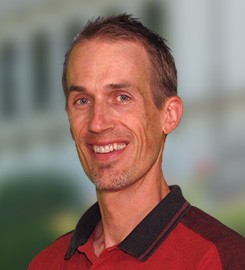 Office:
Shiley Ctr for Science & Techn 382
Professor
Department Associate Chair
Ph.D., University of Colorado, Boulder; Analytical and Environmental Chemistry

B.Sc., Calvin College, Chemistry

Postdoctoral studies in Norway and Irvine, CA
David O. De Haan, PhD, came to USD in 2001 from Lyon College. He teaches technology-rich courses in analytical and environmental chemistry. His undergraduate research group is funded by the National Science Foundation (NSF) to study the chemical changes occurring in clouds and aerosol. As part of this project, USD students are identifying and quantifying new, previously unknown sources of urban haze. He has worked with USD's Energy Policy Initiatives Center (EPIC) to create a greenhouse gas inventory for San Diego County and to outline ways to meet state targets for greenhouse gas reductions by 2020.
Scholarly Work
De Haan leads a group of undergraduate researchers who explore the formation of smog haze particles using a wide array of chemical and aerosol instrumentation. Group members generate millions of identically-sized aerosol particles and expose them to different chemical gas mixtures in a giant Teflon bag to find out when, and why, gases are absorbed by the particles. They examine the structure of the particles using Raman spectroscopy (through collaborations at the University of Colorado, Boulder), and identify reaction products using electrospray ionization mass spectrometry, attenuated total reflectance Fourier transform infrared spectroscopy, nuclear magnetic resonance spectroscopy, and other methods.
Since 2001, the project has attracted more than $700,000 in outside funding. Forty undergraduate researchers have participated, and co-authored 13 peer-reviewed publications in top journals (see below). Six undergraduates have co-authored multiple articles. Seven students have presented their work at national meetings, and many more have presented at Creative Collaborations, USD's celebration of undergraduate scholarly work.
Areas of Interest
De Haan blends technology and active learning environments into his courses to enhance student involvement. Students in his classes may create blogs to share their research and reactions to course material, make predictions with cell phone response systems, learn Python coding on DataCamp (an intuitive learning platform for data science and analytics), or hone their problem-solving and people skills working face-to-face in groups. His lab courses often include field research on local environmental issues, such as the sources of pesticides in Tecolote Canyon and Mission Bay. He loves teaching students how to conduct research and believes that undergraduate research can have both personal and scientific impact.
Office Hours
Section 01
1/25 - 5/21
TH
11:30 am - 12:30 pm
Shiley Ctr for Science & Techn - 382
TH
4:30 pm - 5:30 pm
Shiley Ctr for Science & Techn - 382
TH
11:30 am - 12:30 pm
Shiley Ctr for Science & Techn - 382
TH
4:30 pm - 5:30 pm
Shiley Ctr for Science & Techn - 382
1/25 - 5/21
T W
10:30 am - 12:00 pm
Shiley Ctr for Science & Techn - 382
T W
10:30 am - 12:00 pm
Shiley Ctr for Science & Techn - 382