Enterprise Sales Leadership Award 2021
The Enterprise Sales Leadership Award was created to promote the value of pursuing a career in sales that paves the way to broad leadership and entrepreneurial skills. Thanks to the generosity of Enterprise Holdings, three undergraduate students who are pursuing sales and business development as a career goal will be awarded $2,000 to assist them as they transition from college to career.
The Enterprise Sales Leadership Award – Sales, Leadership, and Entrepreneurship
The generous donation will cover three $2,000 scholarship awards. This award is open to students of all majors who are currently pursuing an undergraduate degree and have an interest in pursuing a professional sales career.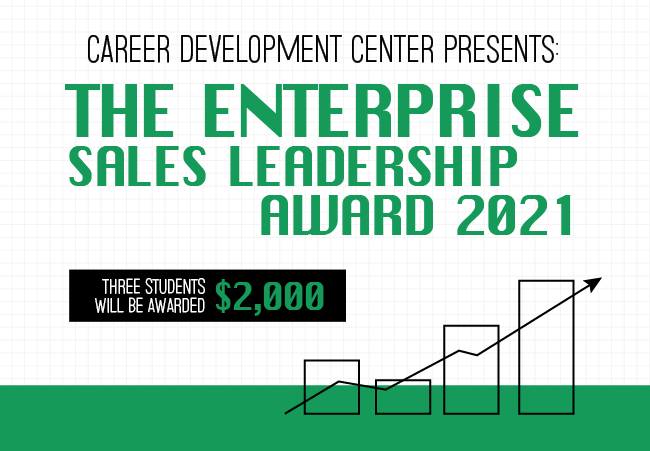 Application Process
Students who apply for this award must submit an application form which includes the following prompts:
Please share your professional goals, why you are interested in a career in sales and business development, and how you have learned more about this field. (150-250 words)
Share with the committee extra-curricular activities or volunteer work you have participated in and how you used your leadership skills there. (150 to 250 words)
Share a situation where you had to use sales-related skills like listening, persuading, or communication skills, and how you were effective in doing so.  (150 to 250 words)
Application Deadline
: Sunday, March 28, 2021 at 11:59pm PST
Selection Process
A committee made up of staff and faculty will review the applications.  Based on the rubric, three students will be selected to receive the award. 
The scholarship recipients will be announced on April 8th. 
A virtual celebration will be held with the participation of Enterprise Holdings on April 22 with the recipients, members of Enterprise Holdings, campus partners, and guests of the recipients.