​Marketing Major
​Strike a chord in hearts everywhere.
Ever notice how some brands just speak to you? In our marketing major, you'll see how strategy, market research and consumer behavior combine to make compelling campaigns. Whether you're interested in pitching advertising concepts, conducting market research or diving into digital marketing, we'll help you prepare for an exciting marketing career.
To get you thinking like a marketer, you'll get real-world experience both in and out of the classroom. In Digital Marketing and Social Media, you'll run advertising campaigns for real clients in San Diego using Google analytical tools. You'll learn which ads work and make recommendations just like a real marketing consultant.
With globalization on the rise, you'll also learn how to deliver culturally relevant marketing messages. In our Consumer Behavior class, you'll take field notes, conduct interviews and code data to see how marketing concepts might work in other countries. Got your passport? You're welcome to take this class—and many others—overseas.
Quick Links
Recent
Spotlights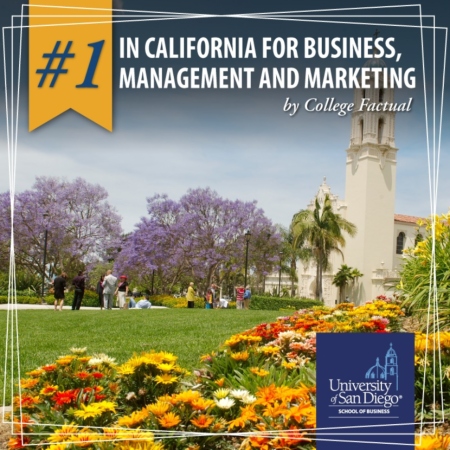 The USD School of Business is ranked No. 1 in California in the category of "Best Colleges Offering Business, Management and
October 18, 2018
Students planning to earn an undergraduate business degree can attend a top-ranked school in California by choosing the University of San Diego, accor…
One major. Multiple marketing tracks.