​International Student Introductory Program for Graduate Programs
​Feel like a San Diego native—before your first class starts.
We want you to have the best experience at USD. That's why we offer an International Student Introductory Program (ISIP) and make it your first mandatory course as a new international student. Just like tour guides, we'll show what it's like to live and study in the U.S. by taking you around campus and introducing you to the business, social and cultural scenes in San Diego.
To build your confidence and academic success, we'll help you improve your speaking, reading and writing skills. Plus, you'll have the opportunity to develop relationships with business executives, alumni and other students—so you have a network of support right from the beginning.
Your ISIP itinerary.
Here are the kind of activities you can experience during the ISIP program.
Fun times.
Learn about fun things you can do in San Diego.
Engage in popular social activities.
Professional development.
Improve your skills through career and professional development seminars.
Master your communication skills through public speaking, speech and writing workshops.
Meet and mingle with other graduate business students and faculty at USD.
Health and housing.
Find out about housing, transportation and healthcare information.
Learn about U.S. immigration regulations.
Recent
Spotlights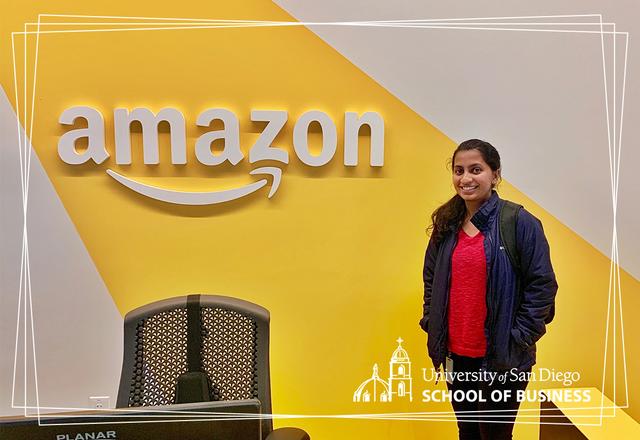 March 14, 2019
After witnessing disappointing business practices at a research and development company in India, Sudeeptha Jothiprakash '16 was intrigued by th…
Find your home away from home.
During the summer, you can live on campus through summer housing. You can pay for housing by the day, with no penalty for cancellation. Visit 
USD's summer housing
 to reserve your apartment or learn more details.
Fast facts.
Plan to arrive on campus by August 1, 2017. This way, you will have plenty of time to get settled.
Our program meets on campus in San Diego, with trips into the city scheduled in.
Have you worked or studied in the U.S. for two years? If so, you are not required to participate in ISIP.
Phone
Phone: (619) 260-4860

Map
Olin Hall
5998 Alcalá Park
San Diego, CA 92110