Richard E. Custin, J.D., LL.M.
Clinical Professor of Business Law and Ethics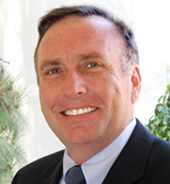 Degree
LL.M. University of San Diego School of Law (cum laude), Business and Corporate Law
J.D. Drake University Law School, Hathaway Kemper Insurance Law Fellow
M.Ed. Carthage College, Social Science
B.A. Carthage College (magna cum laude), Business Administration and Public Management
Areas of Expertise
Social And Legal Research
Selected Publications
Debt Cancellation in the Age of Mortgage Foreclosures, Real Estate Taxation
The Mensing Conundrum: Litigating Generic Drug Injuries in California (Featured Article), California Business Practice
Discipline Based Instruction In Business Law, Journal of Instructional Pedagogies
The Golden Standard? California as a Model for National Medical Malpractice Tort Reform, Journal of Law, Business & Ethics
Developing Sustainable Learning Communities Through Blogging, Journal of Instructional Pedagogies
Summary
Richard E. Custin exercises a practical approach to teaching based upon his experience as owner and manager of a law office and as a litigation attorney. As a member of the California Bar Association and The Association of Trial Lawyers of America he was appointed to a judge pro-tem assignment in Los Angeles, California. He served as a judicial law clerk in the Iowa District Court and was the recipient of the Hathaway Kemper Insurance Law Fellowship. Custin holds active bar memberships in California and Illinois. He is further admitted to practice law before the District of Columbia Court of Appeals, The United States Court of Federal Claims, The United States Court of Appeals For The Ninth Circuit and United States District Courts for the Northern District of Illinois, Central District of California and Southern District of California.
Awards
School of Business Administration Faculty Service Award (2014)
San Diego County, The Daily Transcript, Top Attorney (Academic) (2014)
School of Business Administration Faculty Teaching Award (2012)
School of Business Administration Faculty Innovative Undergraduate Business Educator (2010)