Simon Croom, Ph.D.
Professor of Supply Chain Management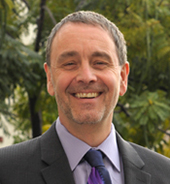 Degree
Ph.D. University of Warwick (UK) in Strategic Management, Innovation &Supply Chain Management
M.S. University of Warwick (UK), Management Science and Operational Research
B.A. Lanchester Polytechnic, Coventry (UK), Honours Degree in Business Studies
PgDip Modern Historical & Political Studfies
Areas of Expertise
International Business, Management, Social And Legal Research, Supply Chain Management
Selected Publications
Developing a Forensic Approach to Process Improvement: The Relationship between Curriculum and Impact in Front Line Operator Education, Journal of Education for Business
The impact of evolutionary and developmental metaphors on supply chain practice: a literature critique and pilot study, Journal of Purchasing and Supply Management
Exploring the impact of a supplier portal on the buyer-supplier relationship. The case of Ferrari Auto', Industrial Marketing Management
The Impact of E- Business on Supply Chain Management:An Empirical Study of Key Developments, International Journal of Operations and Product Management
Towards the Development of a Supply Chain Management Paradigm: A Conceptual Framework, The Journal of Supply Chain Management
Editorial Positions
Supply Chain Strategies: Focusing on Risk Management and Sustainability
Destructive Decision Making
Situational Analysis: Evaluating and Benchmarking Strategic Capability using Stress Point Analyses
The Purchasing Function as a Service Provider: An Investigation of the Impact of Electronic Procuremet on Internal Service Quality
Examining the Contribution of Internal Customer Service to Improved e-Procurement Performance: A Case study Investigation
The Relationship between Curriculum and Impact in Management Education for Financial Service Operations
Best Practices in Sustainable Supply Chain Management: A Literature Review
Dimensions of Sustainability in Supply Chain Management Research: A Systematic Review
Sustainable Supply Chain Management – An exploration of current practice
Summary
Dr Croom is an internationally respected researcher, advisor and teacher in the field of supply chain management and world class performance. He is a leading author of academic research and industry reports, frequently cited in the press and journals around the world. He joined USD faculty in 2005 and was appointed Executive Director of SCMI and Academic Director for the MSSCM, overseeing the growth of Supply Chain Management at USD and the attainment of the first national rankings and recognition for our SCM programs. He was awarded the USD Distinguished University Professor for 2014, having previously been a CIPS Research Fellow and Research Fellow in Australia (Curtin University). He began his career as a buyer for Jaguar Cars in the UK, transitioning into senior supply chain management before starting his own retail businesses. After 10 years he sold his interests, returned to University and completed his PhD in 1996.
CV
View CV
Awards
USD Distinguished University professorship 2014; CIPS Research Fellow; CPSM; FCIPS; FRSA.