Thomas Copeland
Contact Information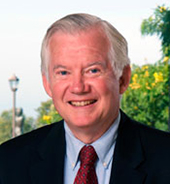 Thomas Copeland
Distinguished Professor Financial Economics
Email | tcopeland@sandiego.edu
Phone | (619) 260-2917
Office | Olin Hall 311
Office Hours

Distinguished Professor Financial Economics
Ph.D. University of Pennsylvania
MBA Wharton
B.A. John Hopkins University, Economics
Tom Copeland is one of the few people in the world with deep experience, and top credentials as a practitioner as well as an academic in financial economics. As an academic, he has written six books and over 60 articles. Financial Theory and Corporate Policy is now in its fourth edition and has been in print continuously since 1979, having been used as a textbook at over 100 universities. Valuation: Measuring and Managing the Value of Companies, sold over 350,000 copies. Copeland has published significant research papers on valuation, real options, stock splits, the theory of the bid-ask spread, the theory of trading volume, non-synergistic acquisition, and capital efficiency. He was a tenured full professor at UCLA, an adjunct full professor at NYU and Harvard Business School. He was a senior lecturer at MIT for 5 years. He was elected to the Financial Economics Roundtable in 2004, and is one of the top 100 researchers in finance by citation in the top three journals over the last 25 years. He won teaching awards at UCLA and NYU.

Copeland's practitioner experience extends over a 31 year period. For 11 years he was co-leader of McKinsey's global corporate finance where he consulted over 200 companies in 40 countries on topics as diverse as value-based management, mergers and acquisitions, capital structure and cost of capital, hedging, restructuring, and turnarounds. Additionally, he was managing director of Monitor's corporate finance practice for 7 years, and was a senior advisor for Charles River Associates and has twice appeared before the World Court as an expert witness on major valuation matters.
Selected Current Research
Journal Article, Academic Journal
Copeland, T. (2010). From Cash Flows to Real Options. Multinational Finance Journal, 14
Copeland, T. (2009). Quantitative Research Program Management -- The Use and Abuse of Real Options. Kenkyu-Gijutsukeikaku (Journal of Research and Technological Planning)
Book, Chapter in Scholarly Book-New
Copeland, T. (2009). Comparing Valuation Models (Chapter 4). John Wiley & Sons
Book, Scholarly-New
Copeland, T. (2008). Outperform with Expectations-Based-Management. John Wiley & Sons (first edition), 358 pp..