Deborah Kelly
Contact Information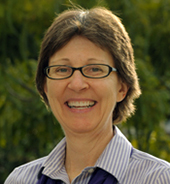 Deborah Kelly
Instructor in Economics
Email | dkelly@sandiego.edu
Phone | (619) 260-7596
Office | Alcala West, Coronado 210
Instructor in Economics
D.B.A. Alliant International University, Strategic Management
M.S. Arizona State University, Economics
B.S. Arizona State University, Economics
Deborah Kelly joined the faculty at USD School of Business Administration in 2008. Before teaching at USD, she was a branch manager at a financial institution, software engineer at General Dynamics, and part time faculty member at Palomar Community College and Alliant International University. Deborah's research interests include subtopics of her dissertation about social impact and strategic success of U.S. human service sector nonprofit organizations. One particular area of research included developing a survey to rate non-governmental organizations in China with regards to their transparency, effectiveness, and social impact. The survey was completed in 2011 and implemented in 2012 under the supervision of Jing Wang, PhD at MIT through her grant funded by the Ford Foundation. In addition, Deborah has peer-reviewed journal articles about European museum governance and their characteristics of innovation. Other research interests include: student loan debt, generations in the workplace, behavioral economics, and perceptions of online education. Honorary societies include: Sigma Iota Epsilon, a national honorary and professional management fraternity, and Omicron Delta Epsilon, an international economics honor society. She has received the Dorothy L. Harris Award for women in leadership, an honorary membership into Alpha Kappa Psi for being a teacher of impact, and has been invited by multiple athletes as a professor of impact to the annual USD Scholar Athlete Luncheon.
Selected Current Research
Journal Article, Academic Journal
Rebman, C., Kelly, D., Ogedengbe, F. (2013). A New Model For Measuring Instructional Effectiveness and Student Learning in the Classroom . Issues in Information Systems, 14 (2), 298-305.
Journal Article, Professional Journal
Kelly, D., Lewis, A. (2010). Funding of human service sector nonprofit organizations. Business Strategy Series, 11 (3), 192-199.
Kelly, D., Lewis, A. (2009). Human Service Sector Nonprofit Organization's Social Impact. Business Strategy Series, 10 (6), 374-382.