About the University of San Diego
Inspired by faith, informed by its core mission and values, and dedicated to the ongoing legacy of its founders, the University of San Diego sets the standard for an engaged, contemporary Catholic university where innovative Changemakers confront humanity's urgent challenges.
USD's community of scholars are committed to educating the whole person—intellectually, physically, spiritually, emotionally, socially and culturally. The university provides a character-building education that fosters independent thought, innovation, integrity, analytical thinking, and an open-minded and collaborative world-view.
The original chapter of the University of San Diego was written on a brisk early winter afternoon in December of 1949, when local dignitaries joined Bishop Charles Francis Buddy and Mother Rosalie Clifton Hill for a groundbreaking ceremony atop a wind-swept mesa overlooking the burgeoning San Diego cityscape.
The Society of the Sacred Heart volunteered to provide a $4 million endowment for the College for Women. The original furnishings included ornate crystal chandeliers, beautiful tapestries, and of course, library books.
In more modest surroundings, the College for Men and the School of Law began classes in 1954, eventually moving into Thomas Moore Hall, now known as Warren Hall. Other buildings were soon constructed, including the centerpiece of the university, the blue-domed Immaculata Church, which was consecrated in 1959.
In 1972, the colleges merged and formed what is now the University of San Diego. Committed to the Catholic faith, the school's leaders also embraced the spirit of ecumenism and academic freedom. Currently, more than half of the undergraduates attending USD profess to faiths other than Catholicism. 
Today, the University of San Diego is a nationally ranked Catholic institution with 476 full time and 522 part time faculty members and over 9,000 undergraduate, graduate and law students.  USD has a Carnegie classification of "Doctoral University: High Research Activity" and offers 42 bachelor's degrees, 30 master's degree, the JD degree, five LLM degrees, and three doctoral degrees.  Minority enrollments currently stands at 37% of the student body.
Governed by an independent Board of Trustees, the University has nine academic divisions: the College of Arts and Sciences, the schools of Business, Shiley-Marcos School of Engineering, Law, Leadership and Education Sciences, Hahn School of Nursing and Health Science, Joan B. Kroc School of Peace and Justice, Copley Library, and the division of Professional and Continuing Education. 
The 180-acre campus now houses buildings that encompass more than two million square feet and provide educational, administrative, residential, athletic, dining and support services.
Getting across campus now requires a hike, but thanks to steadfast planning by USD's leaders over the last six decades, the destination remains the same: a consummate liberal arts education.
USD Mission
The University of San Diego is a Roman Catholic institution committed to advancing academic excellence, expanding liberal and professional knowledge, creating a diverse and inclusive community and preparing leaders who are dedicated to ethical conduct and compassionate service.
USD Vision
The University of San Diego sets the standard for an engaged, contemporary Catholic university where innovative Changemakers confront humanity's urgent challenges.
USD Strategic Plan
The Envisioning 2024 strategic plan capitalizes on the university's recent progress and aligns new strategic goals with current strengths to help shape a vision for the future as the university looks ahead to its 75th anniversary in the year 2024.
---
The President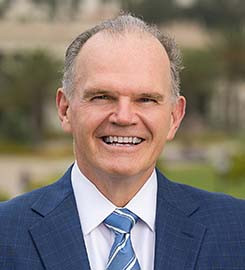 Dr. James T. Harris III became the University of San Diego's fourth president on August 3, 2015.  Previously, Dr. Harris served for 13 years as the president of Widener University, a private, independent institution educating more than 6,300 students on four campuses in two states — Pennsylvania and Delaware.  Prior to his appointment at Widener, he was the President of Defiance College in Defiance, Ohio. 
The span of his career includes volunteer leadership service in numerous local, state, and national roles. Examples of his leadership include his service as Chair of Association of Independent Colleges and Universities of Pennsylvania, Chair of the Pennsylvania Campus Compact, and as Vice Chair of National Campus Compact, a national coalition of 1,200 college and university presidents dedicated to promoting civic engagement among college students. He also served on the executive committee of the NCAA and as Chair of the NCAA Division III Presidents Council. Currently, he serves as a board member of the Monarch School, a board member of the Association of Catholic Colleges and Universities, and the Chair of the Council for Advancement and Support of Education (CASE) Board of Trustees, one of the largest educational associations in the world. 
President Harris earned his undergraduate degree from the University of Toledo, a master's degree in educational administration from Edinboro University of Pennsylvania, and his doctorate in education from Pennsylvania State University.
---
The Provost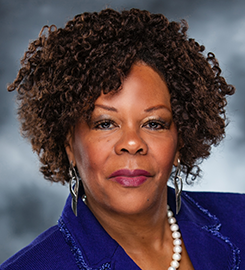 Dr. Gail F. Baker is vice president and provost of the University of San Diego. In this role, she is USD's chief academic officer and works closely with President Harris and the university's academic deans. Prior to joining USD in 2017, Dr. Baker was dean of the College of Communication, Fine Arts and Media at the University of Nebraska Omaha. She also served as executive associate to the chancellor of UNO as well as other university leadership positions. At the University of Florida, she served as chair of the Department of Public Relations in the College of Journalism and Communications. She later served as vice president of public relations and special assistant to the president. At the University of Missouri-Columbia, she was chair of advertising and directed the Minority Recruiting Program of the School of Journalism. 
Her industry experience includes public relations positions with IBM and International Harvester (now Navistar). She was a reporter and editor for the Chicago Daily Defender Newspaper.  
She has earned recognition for her work as a teacher, scholar, communications practitioner, and writer. She has authored books and articles and is the winner of four Emmy Awards for Excellence in Documentary Writing and Producing. 
Dr. Baker holds a bachelor of science degree in journalism from the Medill School of Journalism at Northwestern University, a master of science degree in marketing communications from Roosevelt University and a doctorate in journalism from the University of Missouri-Columbia.
Map
5998 Alcalá Park
San Diego, CA 92110