​Accountancy Institute
Take your accounting career to the next level.
Whether you are a student, alumni or working professional, the Accountancy Institute is here to boost your leadership skills — and help prepare you for a rewarding career in accounting. Our institute is headed by the same award-winning faculty who design our curriculum with their latest research findings — so you will always be on top of the latest thought leadership. 
We offer you various professional growth opportunities, including a wide array of speakers and ties to the professional community. Using our strong connections with the local accounting industry, we team up with Career Services, the Accounting Society and Beta Alpha Psi to offer you valuable networking and career development events.
At the Career Services Accounting Recruiting Preparation event, interested students and alumni learn how to fulfill the 150-hour requirement for obtaining CPA certification. Accountancy and taxation students can network with local firms on campus at our Meet the Firm event -- and even have the chance to interview for internships and full-time employment. These are just a few of the professional opportunities we make possible for students.
Begin your career with a bachelor's in accountancy or an advanced degree with the master's in accountancy or the master of science in taxation. 
Get involved with the Accountancy Institute.
Business Students
Interact with accountancy leaders at our networking events:
Discover new opportunities in a variety of accounting arenas
Ask about consulting, internships and studying abroad
Faculty
Enhance your courses with new research
Executives and Alumni
Become a partner organization and offer internships:
Participate by attending Beta Alpha Psi and Accounting Society meetings
Present in classroom panels and discussions
Donors and Alumni
Give back to USD and enhance the accountancy education of future generations:
Make a donation to the Accountancy Institute
Join the Accounting Alumni Association and connect with fellow graduates
Recent
Spotlights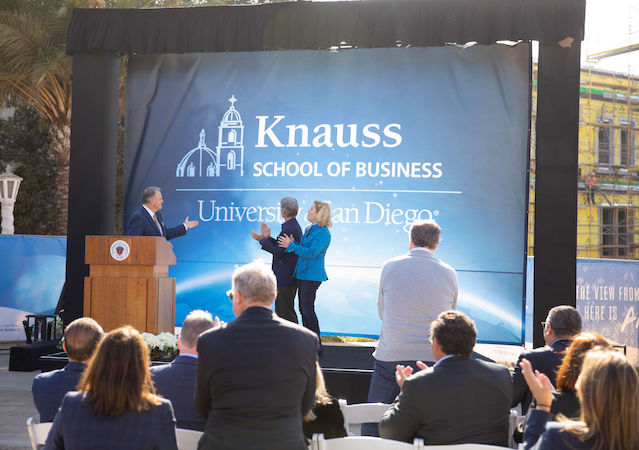 December 4, 2021
Colachis Plaza was the setting for a momentous announcement on Friday, December 3. Top administrators, trustees, students and staff gathered at a pres…
Map
5998 Alcalá Park
San Diego, CA 92110