Remington Mosey, Class of 2016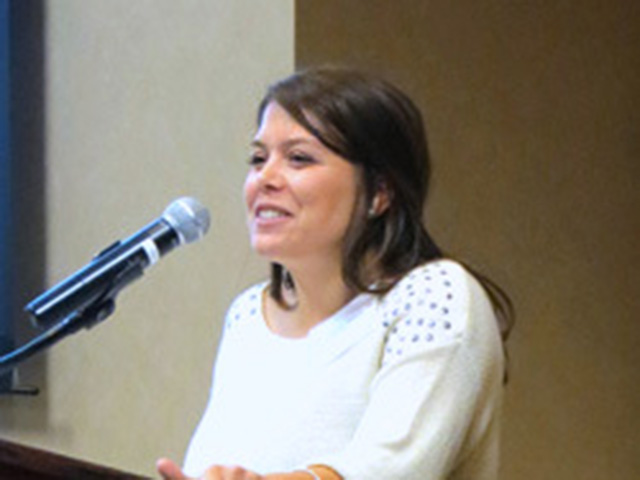 My name is Remington Mosey and I am beyond thankful to be here with all of you to receive the Bridges Academy Scholarship. Over this Thanksgiving break, I did a lot of reflecting and I'm incredibly thankful for opportunities like these that allow me to achieve this incredible education. It's bittersweet to be finishing up my last year here and achieve my bachelor's in accountancy.
I was born and raised in East County in San Diego, and attended Valhalla High School in El Cajon prior to attending the University of San Diego. After what seemed like a quick 4 years of high school, I applied to Texas Christian University, University of Texas-Austin, Baylor University, Boise State University, San Diego State University and the University of San Diego. I was grateful to be accepted at all the universities I applied to, which made choosing one a tough decision. I chose USD because it was the most affordable with best quality of education. Every year since, I am more thankful for my decision. The education, the people, the life lessons I've had are some of the best I could expect from a college experience. My college experience has been so well-rounded. We are so lucky to get the education we get at USD; they really encourage you to step outside of your box and look from different perspectives.
USD has provided so many great opportunities for me beyond the books. In Spring 2013 I decided to try out sorority recruitment—I honestly thought I would hate it. I ended up loving the experience and joining Alpha Chi Omega. I originally wanted to join a sorority to get to know more people at USD, and I didn't know I would be learning so many different things about life in a sorority. Recruitment alone, whether you are being recruited or doing the recruiting, taught me a lot about interview skills and conversing with people in real life situations. I was able to hold many leadership positions, such as Philanthropy Marketing Chair, Risk Management Representative, VP Finance, and Collegiate Recruitment Information Chair, all of which have helped me prepare my career path.
In Spring 2015, I was initiated into Beta Alpha Psi, a honors society for accounting, finance, and information science majors. Without Beta Alpha Psi and the career program from the Business School, I wouldn't have had the encouragement to apply for internships, full-time jobs, and international experiences.
This past summer I had the opportunity to travel to London, Paris and Rome with the accounting program. The 3 weeks consisted of business and pleasure, as we visited 7 firms and businesses to learn about international experiences and differences. Seeing the beauty of life outside of the United States was just incredible. I am so appreciative of USD highly encouraging studying abroad, as it is life changing, even in 3 weeks.
Without the financial aid and scholarships I have received over the course of 4 years, I don't think I would have had the same experience. My personal growth would not have been as substantial if I had to attend a state school. My professors here know me by name and face. The financial aid office is easily accessible, and they are always more than willing to do the best they can to assist. We are very lucky here at USD; they truly care about us.
With that being said, I am extremely excited to say that my experiences and education here has helped me to land a big-kid job after graduation. During this past fall recruitment with accounting firms, I received a few offers and officially accepted one here in San Diego. I couldn't have done it without the people here at USD and the generous donors who have helped me to have this great experience. I am filled with so much gratitude for these opportunities you all have assisted in. I cannot thank you all enough for believing in me and all the other students to pursue their passions and desires.