Alec Palmer, Class of 2018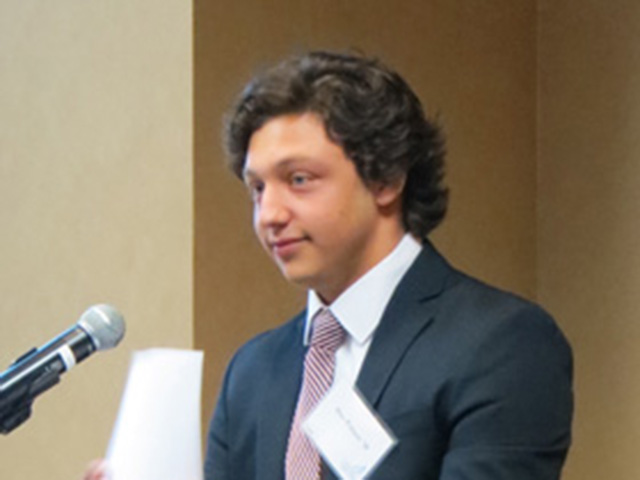 To start off I just want to thank God and everyone here for this opportunity and for inviting me to this wonderful event. My name is Alec Palmer and I am a current second year student from East Haven, CT. I attended a wonderful high school called Hamden Hall Country Day School, a small private school in Hamden, CT. Hamden Hall was a large financial commitment for my family and I, but I can honestly say it was worth every penny. My first year of high school was a big culture shock. I went from an intimate public school from my hometown to an affluent community. At first, I didn't know what to expect. I was excited, however I left all of my friends from middle school behind, and being that Hamden Hall is a pre-k through 12 school, many students had already found their social groups. I soon found that by getting involved, I was able to meet so many spectacular individuals who have helped shape the person I am today. I am proud to say that in my senior year, I completed my final season of football, was awarded captainship of the lacrosse team, received the lead in the musical, and took on the role of student body president. This was a huge transition from the overwhelmed freshman I once was and it was because of Hamden Hall that I was able to conquer fears and become an even stronger individual.
My senior year was filled with endless applications to a wide variety of colleges. I applied to a few schools on the east coast such as University of Connecticut, Syracuse, Fordham, and University of Miami. However, my dream was always to go to school in California. I started by taking a trip with my family to Los Angeles and checked out USC and UCLA, both which were great but were very large institutions. My mom suggested we take a drive down to San Diego after hearing about the USD Choral Scholars Program, something I knew I would love to be a part of. In March of 2013, we pulled up to the university and instantly, the palm trees and Spanish renaissance architecture drew me in. I knew I was at home.
USD welcomed me with open arms and I want to take the time to thank the Choral Scholars Program, one of the main reasons why I chose USD. USD offers endless opportunities to succeed and excel in a wide variety of programs including the arts and business, my two majors. The small class sizes and intimate class settings are so great and it's nice to know that my professors actually know my name and are there for me to reach out to whenever I need to. The music department is something especially unique with such well-rounded professors who truly love teaching music. The Choral Scholars program is something I am very proud to be a part of this twenty-two-person family. Beyond that, I am involved with Out-of-State Student Council as a delegate for the Northeast region, a member of brotherhood Phi Gamma Delta, university ministry, and was just recently a member of the club rugby team.
Whether it is through my academics or extra curricular activities, there have been so many opportunities for community service. Last year, my fundamentals of music theory class performed for the guests of the Ronald McDonald house. I was the Relay for Life chair for my fraternity, FIJI, in which we raised funds for a cure and participated in the walkathon. However, something that has really stuck with me was my participation in the Tijuana day trip. There, I was able to spend time at the local parish and help build the foundation for a new classroom for the local elementary school. From there, we caravanned over to the Men's Shelter for HIV patients where we spent the evening preparing dinner, playing games with the patients families, and practicing our Spanish as they practiced their English. It was truly an unforgettable experience.
I am currently on track to double major in both music and marketing, both of which I am very passionate about. Ever since I was little, I was singing, acting, and performing. I performed for the first time in third grade as a lollipop kid in the Wizard of Oz musical and from there on out, I knew that my profession was going to be in the entertainment industry. Something that really intrigues me along with this is the business aspect of the industry, in particular, marketing. Marketing is the perfect fit for me because it allows me to be the creative extrovert I have always been. I would love to utilize my knowledge in both of these fields to work for a late night TV show. You might be looking at the future talk show host of The Late Night Show. I also see myself as a cast member of Saturday Night Live and hopefully one day you'll see me on Broadway.
If it were not for the amazing USD community, I don't know where I would be today. Scholarships and financial aid have made such a huge impact on both my family and I…and my bank account. USD's Office of Financial Aid has eased my financial situation and has given both my parents and I such peace of mind. They have certainly done their best to help meet costs of tuition and have made my dreams of attending a university a reality. I hope that one day, I will be the person on the other end, giving back to students in need, because as a first generation college student, I realize how important, amazing, and essential this opportunity is. I want to thank all of the donors for awarding me with the Bridges Academy Scholarship. It has motivated me to continue to excel in all that I am involved in and it is truly such an honor. Thank you.