Subscribe to our Newsletter
Sign up for Kroc School News and Events
Join nearly 10,000 Changemakers when you subscribe to the Kroc School's monthly e-newsletters. Subscribe
Dean's Message: International Students Defending Their Education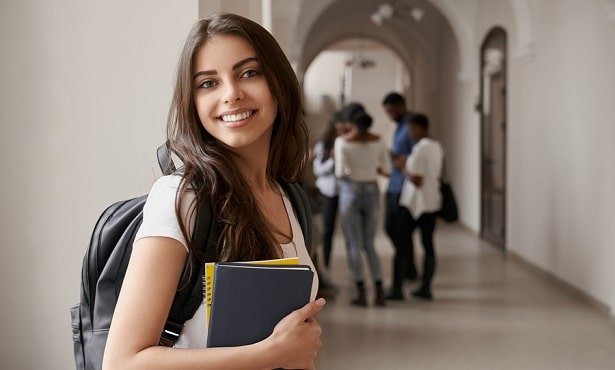 The following post was contributed by Patricia Márquez, Dean of the Joan B. Kroc School of Peace Studies.
On July 6, the Student and Exchange Visitor Program of the U.S. Customs and Immigration department announced a policy that would ban student visas for international students whose studies were entirely online in the fall. Understandably, international students were alarmed, frustrated, disappointed, angry, and eager for information that would help them prepare for yet another change of circumstances.
At the Kroc School, we were also shocked by this turn of events, wondering about the top government's failure to recognize the incredible value of having international students in our universities. Don't we have enough things to contend with? The decision felt deeply personal, for several reasons 1) I'm deeply committed to Mrs. Kroc's vision of building a global community of students aspiring to become peacebuilders and changemakers; 2) perhaps nobody will call me a mother bear, but that is exactly how I feel when it comes to our Kroc students, many of whom are international; 3) I am Venezuelan by origin and I have gone through horrendous visa ordeals, starting with waiting desperately for the thick envelope with the I-20 to arrive and then going on to endure long hours at the U.S. Embassy in Caracas. Not even in my worst nightmares would I want to imagine myself, sitting in my apartment in Berkeley years ago, eagerly anticipating my next semester to complete my Ph.D., only to receive such news. Certainly, I wouldn't be writing to you as the Dean of the Kroc School today had such a policy forced my departure then.
In the days that followed, University of San Diego joined a lawsuit that sought to block the U.S. Department of Homeland Security from this policy change, and international students around the nation raised their voices loudly and powerfully to defend themselves and the futures they had worked so hard to build. Faculty and Administrators immediately responded with incredible offers to ensure USD international students would not be left behind.
In this outrageous situation, it is really the students who can best illustrate the experience. I'm proud to share the following two op-eds from current and incoming international Kroc School students, who are demonstrating their changemaking leadership by speaking up in support of the millions who deserve the opportunity to achieve their educational goals, no matter what country they come from.
This is the type of "good trouble" we seek to nurture and support to create change. In the days that followed, these students' efforts, together with that of thousands of others who will not be silenced, paid off. The U.S. rescinded its decision, and at the Kroc School, we're back on track to welcoming our international students for another year. Thank you to everyone who joined forces and took action on behalf of our students.
Map
5998 Alcalá Park
San Diego, CA 92110