Subscribe to our Newsletter
Sign up for Kroc School News and Events
Join nearly 10,000 Changemakers when you subscribe to the Kroc School's monthly e-newsletters. Subscribe
Letter to a Young Peacebuilder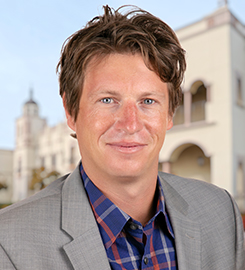 begin quote

Sometimes the problems will shock you, often in their complexity. Other times the solution will astound you, sometimes in their simplicity.
Dear Peacebuilder,
Supposedly you are young, but as I am sure you aware of, we are all old enough to suffer. Perhaps that is a sobering way to open a letter of encouragement. However, an awareness of our collective human condition opens the door to universal respect for each other's unique and everchanging positions in life. This is my way of saying "thank you" for choosing to help people. It's also a friendly reminder to help yourself as best you can with the same sort compassion you exhibit towards others. The etymological root of the word encourage is "heart." So, take heart, my friend, you are doing good work.
With that said, sermonizing can be seductive. You know, the act of taking the task of giving advice a little too far. For me, the light touch of humor is the key to keeping a level head. Don't be afraid to laugh, a lot, and especially with yourself. Try really hard to never laugh at another person's expense; humor should relieve tension, not create it. I think of relieving smiles as the response of my cheeks being tickled by some sort of fairy, non-denominational of course, with a wave of delight passing up to the corners of my eyes, coloring my vision rosy, if only for a moment. So, make space for humor, often.
There's a certain kind of enthusiasm associated with "the young" that may be summed up in a word: eagerness. It's the enthusiasm of wanting to get to work! It's a respectable quality, for sure. However, the work of a peacebuilder is often complexly subtle and such energy, unbridled, can be counterproductive and painful. Painful? Yes, as in the kind of pain associated with rushing into a complicated situation without foresight or coordination. Usually, it hits when you realize that the only way forward from where you are is to go back to the beginning. Thinking and planning are legitimate forms of work. In fact, if you're good at it, which I'm sure you will be, they are jobs in their own right. We are all young enough to be impatient. Remain eager, but work to be ever more patient.
Patience is one of those words that people hear and nod their heads impatiently while they pretend to be patient. As a peacebuilder, patience is often most alive in the act of listening. We rarely work alone but the practice of listening to yourself remains vital. How does a peacebuilder go about gaining the skills that enable foresight and coordination, as well as fostering introspection? Well, by listening. Really, as a peacebuilder, we're taking about next-level listening. To become a good listener, one should continuously practice and calibrate their conversational skills, particularly the ability to ask good questions. This is otherwise known as the art of facilitation. Facilitation is akin to conversational mediation with others, where others are not mediators. A funny aside: With a smile, a wise older friend once told me that if I couldn't meditate on a crowded bus in India, then my meditation practice was worthless. By compassionate extension, if you can't communicate in a room with other people, get a facilitator. Better yet, become the facilitator!
Facilitation is a process of making conversations easier. It makes speaking easier and it makes listening easier. To be a good facilitator requires a substantial level of awareness of oneself and others. To witness an adept facilitator operate is a beautiful thing. They take time to think about where the conversation may go and is going. Such simple thoughtfulness can have profound outcomes, which is apparent if no one in the group has ever thought in such a way before. Good facilitators also take time to find ways to include everyone's voice in the conversation, perhaps with a good question or two. Or a joke: So, a broke facilitator walks into a record shop and says to the person behind the counter, "I'm just here to listen." We're all old enough to laugh.
You will be amazed by the things that people tell you. Sometimes the problems will shock you, often in their complexity. Other times the solution will astound you, sometimes in their simplicity. I like to think of books as people too. Listening, facilitating and what we might consider formal study have much in common when done well or poorly. Generally, the more voices that you can incorporate into your analysis of situations, be it practically or academically, the better informed you will become. Like patience, most everyone agrees that being informed is a good thing. However, to be truly informed requires work. We can't be called peace ­builders without doing some heavy lifting, right?
So, what is it that we're building? In the spirit of taking my own advice, I'm going to cut out the sermon I have forming in the back of my mind and get straight to the point. We are building human connection. As self-righteous, eager, ignorant people, we might feel it is our duty to provide solutions to other people's problems. Moreover, we might think that our profound ideas and utter determination require handsome compensation. NO! This is not how it's done. We build human connection through humility, patience, conversation, and diligence. We're all young enough for such a reminder.
Thankfully, in the task of building human connections, 50 percent of our work is already complete, as humans already exist! Building connection is where the real work happens. Our job is not necessarily to find the solution to problems. It is to help others create and develop their own solutions to their specific problems and needs. Granted, many problems extend beyond the borders and reach of individuals, groups, and communities. In these cases, much of what peacebuilding entails is helping people find or build organizations that can bring the resources needed to collectively address problems that affect many different people. Never have I met a peacebuilder that works on one specific scale exclusively. To become a master of peacebuilding (academic degree not necessarily required) entails an ability to navigate human relationships and connections across the spectrum. Such a task may seem daunting, especially at the beginning of the journey.
In conclusion, there is never a conclusion. Yes, reflection on the lives we've lived and the work those lives have done is crucial for our health and development. I mean that there is no end to the telling wisdom, particularly in print. Information is infinite. The trick to peacebuilding is finding what is relevant and applying it to the situation at hand. However, there are a few principles that always help. The most important would be to listen to your heart while listening to other peoples' hearts. We are all the perfect age for collective encouragement.
Map
5998 Alcalá Park
San Diego, CA 92110