Subscribe to our Newsletter
Sign up for Kroc School News and Events
Join nearly 10,000 Changemakers when you subscribe to the Kroc School's monthly e-newsletters. Subscribe
My Kroc School Capstone Went Viral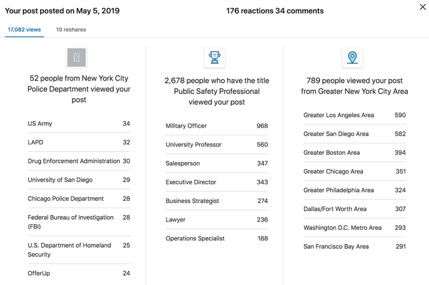 The following post was written by Master's in Peace and Justice student Jessica Dockstader.
I didn't expect there would be so much interest in my Kroc School Master's in Peace and Justice capstone. Of course, from the get-go, I hoped that it would find its way into the hands (and inboxes) of people who would benefit from my findings and recommendations, but I didn't anticipate the demand for it, nor the response to its contents.
My capstone project is focused on law enforcement officers' PTSD and their propensity to commit violent acts towards themselves and the community as a result of PTSD. Law enforcement officers experience traumatic events throughout their career called critical incidents. A study conducted by Chopko, Palmieri, and Adams (2015) found that on average, law enforcement officers experience 188 critical incidents in the course of their career. In response to critical incidents, officers can develop negative coping mechanisms, experience symptoms of and/or develop post-traumatic stress disorder (PTSD), and develop other co-occurring psychopathological disorders.
I wrote this capstone because I realized that this subject was relatively unexplored, that the polarization between the law enforcement community and the community was leading this problem to be unseen by each side, and I felt that I would be able to do the topic justice with my background in Human Development. Further, I hoped that by sharing it on LinkedIn, officers and others affected by PTSD would be able to access the capstone. I also hoped it would resonate with them, and that they would be able to bring back some of the research and recommendations to their departments.
The Kroc School was incredibly helpful in bringing my capstone to fruition. In the beginning, I had no idea how I wanted to explore this problem of law enforcement mental health, but the main idea I had was to create a survey and work with officers to determine what their level of PTSD was (if any). However, it became clear quite quickly that for the sake of time, and due to some of the reasons mentioned in my capstone such as an unwillingness to create a baseline in currently operating officers, I wouldn't be able to do the participatory research. From this point, I worked closely with Dr. Dustin Sharp, my capstone advisor, to determine that the best path to completing my capstone would be to write a policy-oriented capstone, to be able to include the breadth of information I wanted.

Jessica Dockstader presents research from her capstone at the Kroc School.
I shared my capstone on LinkedIn right after I turned it in, on Sunday, May 5. I had cultivated a good network of law enforcement researchers and organizations that I follow on the platform, and I felt this would be the next logical step to getting at least 200 people to read it. I was shocked to look the next day to see it had over 5,000 views, including from individuals from the New York Police Department, the Chicago Police Department, Department of Homeland Security and more.
As of right now, it's at around 17,000 views, 10 reshares, and 34 comments. The capstone has really found its way around the nation and the globe, with officers all over the United States and even from Amsterdam sharing it! I've only received positive feedback thus far — individuals have reached out to tell me how the capstone resonated with them and their experiences with PTSD, and that they'd like to use the information in their departments. I was really excited to hear from a Chief in Placerville, California, asking for my draft. He told me he had been working to bring awareness to officer wellness to his department, and was always on the lookout to do better. I also got a request from an officer in Jim Wells County in Texas, and San Bernardino County Sheriff's Department in California.
I also wrote an article for the International Public Safety Association (IPSA), as I'm part of their Mental Health Committee, which included the executive summary and recommendations from my capstone. The director of the organization responded to me saying that I was a wonderful writer and the IPSA would love to publish my capstone in their journal. Additionally, when I was recently at the American Society for Evidence-Based Policing Conference in Cincinnati, two of the individuals I cited in my capstone were there, so I had the opportunity to thank them for their research and give them access to my capstone.
This reception has been amazing and more than I could have ever hoped for. All I wanted was for this capstone to impact law enforcement in a positive way, helping to shed light on problems that officers themselves were struggling with. If we help them overcome these problems, such as not understanding their own symptoms of PTSD, or suffering in silence about organizational stressors in their department, then their behavior towards the community will improve as well as their behavior towards themselves.
I would love to help departments with these issues in various ways—by looking at their policies, surveying their officers, and helping to implement the recommendations from my capstone. This knowledge that I gained from researching and writing my capstone will impact the way I work with the law enforcement community for the rest of my career. I firmly believe that by addressing these issues of mental health literacy, stigmas, PTSD, and organizational stress, we can save the lives of law enforcement officers and the community simultaneously. No matter where I land, hopefully in some organization doing research and advocacy around policing issues, I know I'll bring a valuable perspective.
Map
5998 Alcalá Park
San Diego, CA 92110