Subscribe to our Newsletter
Sign up for Kroc School News and Events
Join nearly 10,000 Changemakers when you subscribe to the Kroc School's monthly e-newsletters. Subscribe
From Theory to Practice: Effective Mentorship in Action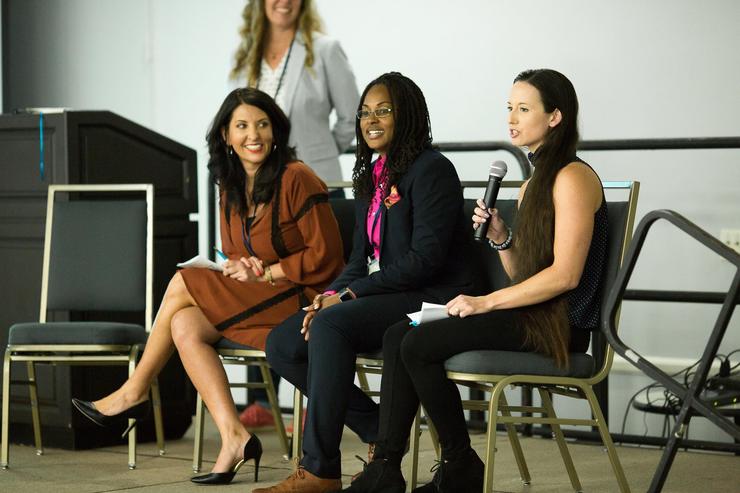 begin quote

This is what SFI provides to high school youth, and what truly intergenerational partnerships need to look like across the board if we hope to empower youth as current and future leaders.
The following post was written by Kroc IPJ Program Officer Nicky Riordan.
As I sat on stage in front of a hundred accomplished and passionate people, alongside three similarly accomplished and intelligent women, waiting for my turn to speak — it hit me. For weeks leading up to this day, I had felt unusually uncomfortable and I couldn't put my finger on the cause. I don't mind public speaking and I know how to represent our program well, so what could it possibly be?
Right, of course. Who do I think I am?
As a younger newcomer to the field, what business do I have on this stage, with these women, in front of all of these people?
But something else hit me in that moment as well, and it was the reason I was able to step onto that stage after all. Not one of these women ever questioned my place there, my knowledge, or my skills; and each one saw me and treated me as an equal from day one. Even if I felt like an imposter of sorts, it was my responsibility to prove them right and show up for them.
The real irony of this moment was in the fact that right there was the essence of the program I had been asked to represent.
On Thursday May 2, 2019, Kroc IPJ Program Officer Tina Medina and I presented at the 3rd annual Opportunity Summit, hosted by the San Diego Workforce Partnership (SDWP). The Opportunity Summit brings together policy makers, researchers, educators, and community-based practitioners interested in youth development in San Diego County, with a unique focus on opportunity youth. Opportunity youth are defined as "young people between the ages of 16 and 24 who are neither enrolled in school nor participating in the labor market."
As part of a session titled "Healthy Mentorship in School, Work, and Community", we presented alongside innovative partners in the field and highlighted the Social Fabric Initiative (SFI), the Kroc IPJ's youth program that builds more connected communities by mobilizing youth to engineer creative solutions to real-world issues. SFI puts high school-aged youth in the driver's seat in their community by giving them the space and support they need to feel confident and lead, in partnership with adults. This focus on the creation of balanced partnerships and the importance of new mentorship models was the innovation that brought SFI to the conversation.
We call our youth "Peace Leaders" and treat them as such. SFI utilizes an asset-based approach and starts from the assumption that youth already have the creativity and skills they need to make a positive impact in their communities. Alongside university-level interns and field-based professional mentors, these Youth Peace Leaders are empowered to design and implement small-scale community change projects over the course of a summer, with the ultimate goal of contributing to a more connected and peaceful San Diego.
Innovative mentorship models — such as those utilized within SFI — play an important role in the effort to reengage opportunity youth, as traditional models have created a system in which adultism can often stifle the potential of emerging youth leaders. SFI flips the script on traditional models to create more balanced partnerships between adults and youth, resulting in intergenerational mentoring spaces where youth can flourish. Our presentation highlighted the mechanisms with which SFI successfully creates these spaces and how our experience and learning can be applicable for other mentorship programs.
Of particular value to opportunity youth, such asset-based and reverse mentorship models have the potential to reengage young people who have been pushed out of traditional leadership spaces. An outside evaluation conducted on Season 1 of SFI provided the Kroc IPJ team with insight into the essential components needed to empower youth in leadership roles. We found that when adults provide effective mentorship, access, safety, and trust, youth are able to develop a mindset that utilizes empathy, knowledge-building, innovation, and autonomous decision-making for successful outcomes. We shared these components and our research brief with the audience to encourage honest reflection about their mentorship programs and areas where improvements can be made.
The women on stage with me that day provided the mentorship, access, safety, and trust I needed to create and share a presentation that reflected my ideas and expertise with confidence. This is what SFI provides to high school youth, and what truly intergenerational partnerships need to look like across the board if we hope to empower youth as current and future leaders.
To learn more about SFI, please visit our website here or read the full Kroc Insight about SFI Season 1 here.
Map
5998 Alcalá Park
San Diego, CA 92110