Subscribe to our Newsletter
Sign up for Kroc School News and Events
Join nearly 10,000 Changemakers when you subscribe to the Kroc School's monthly e-newsletters. Subscribe
Connecting Dots: A Conference Session Builds Upon My Internship Experience and Inspires My Next Career Steps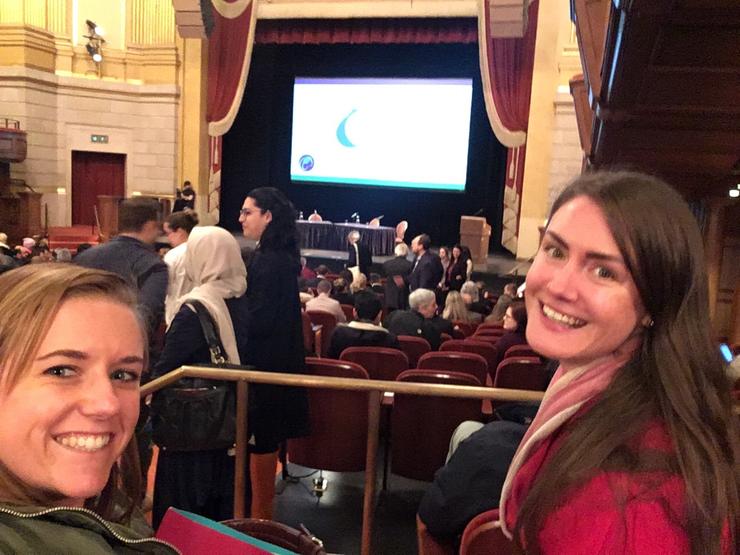 For the week of April 15-19, 2019 I had the honor of attending the Comparative & International Education Society Annual Conference in San Francisco, Calif. The conference attracts about 4,000 people each year, including scholars, academics, professors and students. During the conference, I met many graduate and doctoral students from around the globe-all looking to get new ideas on how to creative innovative solutions in their home countries.
This year's theme was Education for Sustainability in response to the Global Sustainable Development Goals (SDG) for 2030. During the conference, I attended many workshops focused on SDG #4: Inclusive and equitable quality education. With the current political discourse around rising global climate change, there is a need, now more than ever, to develop sustainable education for developing and rural parts of the globe. I attended precisely so that I could learn more about and be part of that discussion.
A Session Related to My Internship Sparks a New Idea for Sustainable Development in Colombia
One of the most intriguing workshops I attended was one based on a sustainable development project currently being implemented in rural parts of Ecuador and Zambia. The goal of the project is to provide teachers with a "tutor" assistant who helps the students in furthering their knowledge on topics being taught in the classroom. They then take the material they are learning in class to apply it to their local communities. For example, they learn the appropriate math to determine where to build a chicken coup in terms of distance from houses, water source, wind and food. Then they take this knowledge and actually build the chicken coup as they planned. After building the coup, they grow chickens. They learn how much food and water it takes to grow a chicken, when chickens are ready to be sold, and how to use the manure to create better soil for their gardens. By implementing this project, they are creating communities in rural Ecuador and Zambia that are sustaining themselves more effectively and creating profit from the resources they have available.
I found this project to be especially compelling after I completed an internship through the Kroc School in rural Colombia. In the communities I served there, approaches to more effective sustainable development are certainly needed — however, the products and elements of development there are quite different than that of Ecuador or Zambia.
This sparked my interest in thinking about how this project could be replicated through different means to achieve better results for rural communities in Colombia, like the ones I supported through my internship. One path I hadn't fully considered prior to the conference, but am now as a result of this session and my Kroc School Master's in Peace and Justice program, is pursuing a doctoral program focusing on the creation of a sustainable development project tailored to the unique communities and needs I observed in Colombia.
The Kroc School Is Helping Me Hone My Interests and Explore Career Options
I've always been interested in working with youth, but have learned that I find more joy in working outside the education system. That's why I was excited to see that many of the projects presented at the conference did not actually pertain to the system of education itself; rather, they involved other factors that are at work around the education system such as bilingual learners, reciprocity learning among teachers, nutrition, food equality and — especially intriguing to me — sports.
In the last two years, the Kroc School has helped me to hone in on what I am really interested in, and through different courses and my internship in Colombia, I came to realize how much I enjoy working with youth through sports and the role they play in creating stability in rural communities.
As I'm coming into the final week of my time at the Kroc School, I've begun to think more deeply about what I want to do when I graduate and how I want to contribute to the global conversation around education equality and equity. My time at the Kroc School has been challenging and inspiring, pushing me to think about all aspects of human rights and social justice through different lenses.
After attending the conference and thinking about my next steps, I've been shifting away from thinking about education on a binary timeline. In essence, this means thinking about all the lenses through which education is seen, not just the well-beaten path of an individual completing a K-12 education. There are many aspects of education that are important to an individual's learning and not all of it is learned in the K-12 classroom setting. I've begun to think about ways in which we can improve access to education in rural areas and projects that can be implemented to aid in the access of education by young people.
Once I graduate, I would like to use my experiences in the Kroc School to return to Colombia and work in partnership with local organizations to further develop the sports programs they have already started, which significantly improve the lives of the youth involved. In further developing the organizations I would support there, I'd be able to provide a meaningful impact on causes related to mental health challenges, nutrition and access to higher education.
All in all, the Kroc School has been a very challenging, yet rewarding journey — one which has forced me to think outside the norms through which we live. And that's critical. In starting to think more critically about the bigger systems at play in our world, we can start to build solutions and come together to solve global challenges.
Map
5998 Alcalá Park
San Diego, CA 92110