Subscribe to our Newsletter
Sign up for Kroc School News and Events
Join nearly 10,000 Changemakers when you subscribe to the Kroc School's monthly e-newsletters. Subscribe
Reconciliation After ISIS in Northern Iraq — The Role of Women Peacebuilders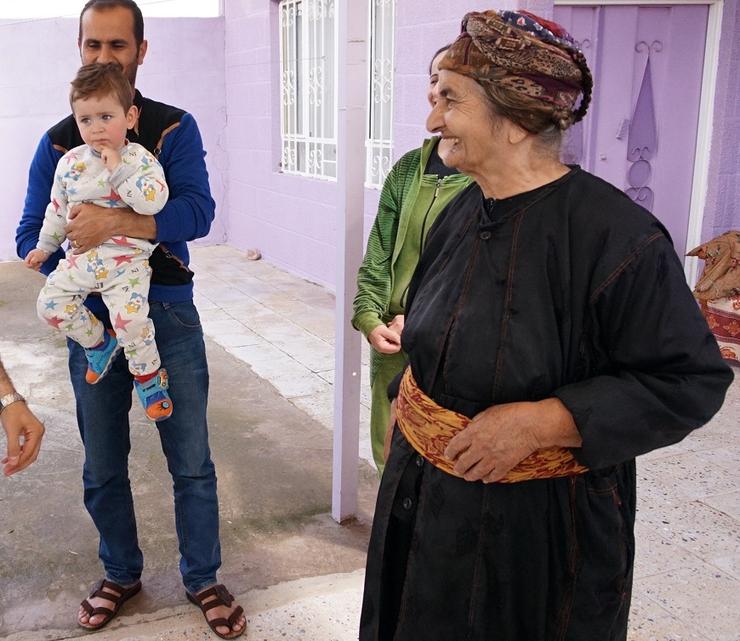 A formerly displaced family in front of their newly rebuilt house in Tel Isqof, a town just north of Batnaya that escaped major damage.
By Andrew Blum, PhD
Executive Director, Institute for Peace and Justice

A small group of us walked through Batnaya, a town 14 miles north of Mosul in Northern Iraq. After over two years of being occupied by ISIS, the town had been "liberated," but entirely destroyed. We kept to the streets where mines and unexploded ordinance had been removed. Our guides showed us the wall where ISIS had drawn a makeshift map and sighting marks for their mortars, and took us through a destroyed church where pro-ISIS graffiti in both Arabic and German defaced the walls.
Our hosts were from the Chaldean Archdiocese in Erbil. The Archdiocese has working intensely since the rise of ISIS in 2013 and 2014 to support tens of thousands of internally displaced peoples (IDPs) who have moved north within Iraq, initially to escape ISIS, and more recently to escape the fierce fighting as towns were re-taken from ISIS. They had taken us to Batnaya so we could understand on a visceral level what "rebuilding" societies after ISIS really meant.
Those we spoke with in Northern Iraq, within the Archdiocese and elsewhere, are confident that ISIS will be defeated militarily, but always emphasize that if mindsets are not changed, widespread violence — and perhaps even a new ISIS — will re-emerge. The issue has become an urgent one. Most people predict that Mosul, the biggest ISIS controlled city in Iraq, will be retaken soon and with that ISIS as a territorial entity in Iraq will be largely defeated. The question then becomes, what next? Will IDPs feel safe enough to return to their home villages and towns? Who will govern those towns?
In one town that was not safe enough for us to visit, we were told there were five flags flying over the town, indicating five different militias were there jockeying for control. Will Sunnis, Shia, Yezidis, Christians and others be able to live side-by-side in the region? And if not will certain groups simply disappear from the region? Will there be revenge massacres for the violence that took place under ISIS? How will individuals be held accountable for crimes under ISIS without resorting to collective punishment?
We were visiting Northern Iraq to push forward our partnership with the Chaldean Archdiocese and the Catholic University of Erbil (CUE), which the Archdiocese opened in 2015. The partnership is based first on the belief that focused reconciliation and peacebuilding efforts are needed to allow IDPs to return home, to prevent new cycles of violence, and to re-establish trust as the process of rebuilding after ISIS continues over the next months and years.
Both IPJ and CUE also believe that women peacebuilders, in particular, have a crucial role to play in these reconciliation efforts. As IDPs return home, and communities are re-established, it is often women who have the best sense of what the drivers of violence within their communities are, and how they can be addressed. In addition, women can often reach across conflict divides to rebuild trust in ways that men cannot. Thus, the partnership will bring together CUE's hard-won experience with IDP communities and resettlement efforts on the ground in Northern Iraq, with IPJ's deep experience working with and supporting women peacebuilders around the world through its Women PeaceMakers program.
As a first step toward building the longer-term partnership, CUE and IPJ will host a Women Peacebuilders Forum in Erbil in the fall. IPJ will bring three impressive Women PeaceMakers — from Nigeria, Uganda and the Philippines — to the Forum to share their lessons and help Iraqi women develop concrete strategies to build peace in their communities. The Forum will also allow CUE and IPJ to develop a strategy for the partnership deeply informed by women peacebuilders in Iraq and the experience of the Women PeaceMakers from around the world. Look for a report from the Forum by the end of the year!