A Commitment to Social Innovation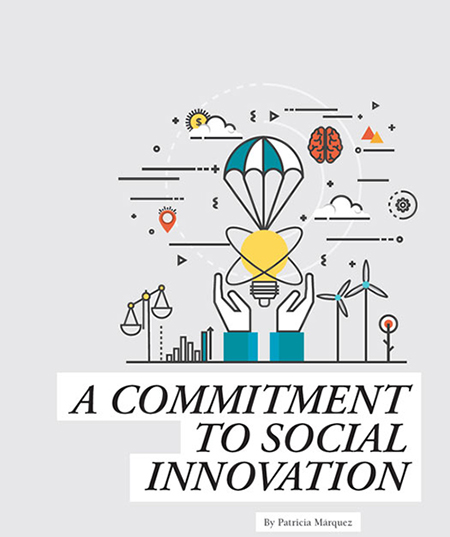 begin quote

Social innovation is applying new lenses to existing social and environmental issues, while working with communities to envision more effective ways of creating sustainable change.
By Dean Márquez
This year more than 500 undergraduate and graduate students — from the University of San Diego (USD); University of California, San Diego; San Diego State University; California State University, San Marcos; and CETYS University in Tijuana — were involved in seminars, workshops and bootcamps to learn and practice changemaking. In the spring, 101 proposals were submitted by students expecting to gain seed funding and incubation support for their projects.
At the final ceremony, Jessica Kort, an MBA student at USD, won $10,000 to support the development of her project, the Foothold Foundation — a hub to enhance collaboration among changemakers.
For Kort, participating in the various workshops takes a student "to a place where you are able to make solutions a reality and try them until they are right." This year, the Social Innovation Challenge moved beyond the border with winners Stephanie González and Emma Martínez, both undergraduate students from CETYS Tijuana. González is launching LOTI, an interactive game to promote cognitive stimulations to low-income children in Mexico, and Martínez and her team are developing Greenest, an app for providing information on recycling opportunities in areas where recycling is not a standard practice.
Why a Social Innovation Challenge? As a designated Ashoka U Changemaker Campus, USD believes that it is never too early to start changing the systems of inequity and injustice around us. With this in mind, the Center for Peace and Commerce — a joint venture between the School of Business and the Kroc School — launched the Social Innovation Challenge in 2011. The challenge is proactive — a response to students' interest in experimenting with new approaches to solve social and environmental issues. We are part of a university ecosystem where innovative changemakers confront humanity's urgent challenges.
The experiential nature of the year-long process connects student creativity with the realities of implementation. For Erik de La Cruz, participating in the Social Innovation Challenge as a student was "a huge catalyst to my growth going forward in not just social entrepreneurship but in life skills."
But, what is social innovation exactly? Social innovation is applying new lenses to existing social and environmental issues, while working with communities to envision more effective ways of creating sustainable change. One example is microcredit. Lending and banking are not new. Various types of loans (including grains) existed in antiquity. What was new in the 1970s — when micro-lending began — was noticing the extreme suffering experienced by poor people whose only option to obtain working capital was through loan sharks, and imagining what could be done differently to address this issue of banking for the poor. It was the capacity to re-imagine lending, to provide a service that was significantly better than what existed before to benefit individuals and communities.
A social innovation closer to home is restorative justice programs in the San Diego school system to address conflict and bullying in transformative ways for all involved; that is, in ways where everyone can learn from and help to address the nefarious consequences of bullying.
Given the global need to solve intractable social problems and rising humanitarian crises, and spurred by increasing student demand, this year social innovation became a central component of the Kroc School's academic program. We have designed a new master of arts in social innovation (MASI) for individuals who, dissatisfied with persistent problems of poverty, inequality, violence and injustice, want to practice changemaking and alter the order of things. MASI is a one-year, hands-on program to acquire the knowledge and skills for designing and implementing innovation in a wide range of sectors and organizational settings.
A quest for creative solutions, combined with a deep understanding of the causes of pressing peace and justice issues — borrowed from the peacebuilding field — distinguishes the Kroc School's MASI program from those offered in business schools, where the predominant focus is on entrepreneurship through a business lens.
This is also the first year of our new undergraduate minor in peacebuilding and social innovation. From the premise that peace means more than the absence of war, the new minor allows students to examine the underlying causes of violence, oppression and injustice, while exploring innovative processes for building peace both in our own neighborhood and around the world. In short, we see social innovation as a growing part of our mission at the Kroc School.
PATRICIA MÁRQUEZ, PHD
is the dean of the Kroc School of Peace Studies. She is an academic entrepreneur leading programs to develop next generations of changemakers. Since her arrival at the University of San Diego in 2007, she has founded the Center for Peace and Commerce, the Social Innovation Challenge and the Changemaker Hub. In 2015 she did a TEDx talk sharing her views on how universities can be central to world change.
Read this article and discover other articles of Kroc Peace Magazine 2016 on