How to Apply for an MBA: A Student Perspective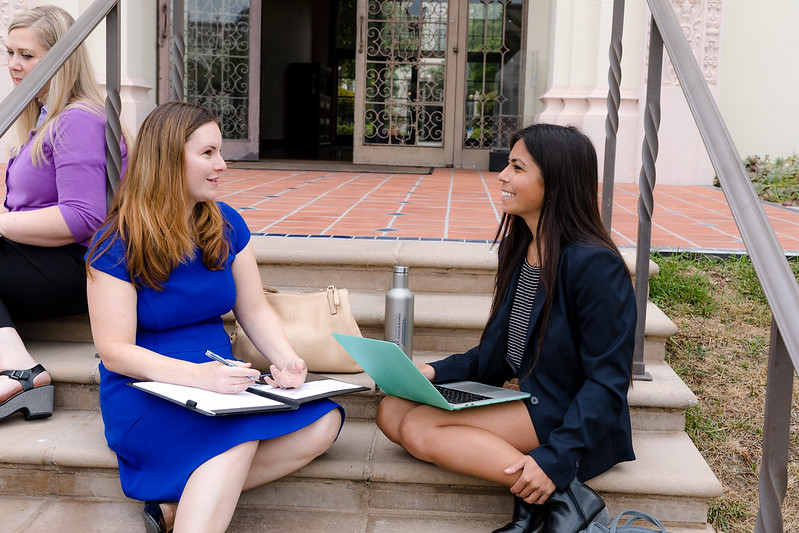 Step 1: Why an MBA?
You might be asking yourself, "I already have a bachelors' degree, as well as a successful full-time job. Why would I need an MBA?" Well, there is actually a long list of reasons as to why you may want to pursue your MBA, each of which could be a key factor in enhancing your career long-term. Some of these benefits include:
Acquiring new skills and knowledge within your field;

Being granted a promotion at your current workplace;

Networking with like-minded individuals, as well as new potential employers;

Travelling and working hands-on with companies abroad and learning about corporate cultures in different countries;

Gaining the ability to pivot career paths;

Having access to career coaching and;

Creating life-long relationships.
Sounds like a lot of amazing opportunities, right? Let's apply!
Step 2: When should I apply?
So you have decided to pursue your MBA. Congratulations! Making that decision is a tough one, especially if you have become more than comfortable with your 9-to-5 routine and that regular influx of income. This brings me to our next point: When is the right time to apply for my MBA?
For me, I began my MBA journey at 28 years old, which is the program's average age in the U.S. This is due to the fact that most schools either require or strongly suggest that you have at least two years of professional work experience under your belt before applying to the program. Roughly 90% of my cohort had between 2 to 5 years of work experience prior to the start of their MBA. Having real-life work experience is also extremely valuable when working with companies on consulting projects over the course of the program.
Now, this is not to discourage you from applying if you are fresh out of your bachelor's – but do keep in mind that your involvement will likely differ from those with professional work experience. If you don't yet have any career experience, you may want to consider working for a year or two before applying to the program, in order to leverage the skills that you will learn during your MBA application process. You should only apply once you feel ready!
If you have been working for over two years now, and you are debating on whether it is the right time to pursue your MBA, ask yourself the following questions:

Am I unhappy with my current job situation?

Am I seeking a promotion that requires an MBA?

Am I no longer passionate about my current industry? Do I want to pivot careers into the business world?

Can I afford to take the time off work? Would I be able to dedicate the necessary amounts of time and effort in order to pursue my MBA?

Do I feel like I am stuck in a rut in my career?

Am I bored with my current work-life routine?
If you answered 'Yes' to most of the abovementioned questions, chances are you are ready to begin your MBA journey.
In terms of application rounds, we all know the early bird gets the worm. Thus, applying in Round 1 for your top schools is most ideal. However, it is incredibly important to not rush your application. If you don't feel that your application is as perfect as can be, delaying to Round 2 or 3 might not be a bad idea. In fact, I actually applied to USD's MBA program during Round 3 and could not be happier with my outcome. It is much better to apply in a later round with a compelling application than in the first round with subpar deliverables.
Step 3: Where should I apply?
Now that you have assessed your readiness in beginning your MBA application process, you must decide which school is right for you. Below are certain criteria that will assist you in selecting the best fit for your needs.
Location
Selecting which school to enroll in is about so much more than choosing a university located in a perfect sunny climate (although that doesn't hurt!). When selecting a school to pursue your MBA, choose a location that reflects your desired career path. For example, I come from a background in sports and entertainment – it only made sense for me to come to California to further pursue this career path. In addition, I am also fascinated by the digital world and new technologies. Hence, San Diego was the right fit for me. Choose your school based on where you would like to build your network and advance your career.
Program Curriculum
Most MBA programs will be similar in nature, but each school offers different opportunities. For example, USD's MBA program is known for its study abroad courses and consulting projects. I am an avid traveler, and this was therefore a definite high-selling point for me! When comparing schools in your chosen location, look at the different opportunities each one has to offer. From there, you can decide which of these opportunities are most important for you to experience during your MBA journey.
Class Sizes
Do you prefer a program with smaller, more intimate class sizes or larger, auditorium style courses? There are pros and cons to both. Larger class sizes offer more opportunities to connect with a greater number of students who possess a wider variety of backgrounds and knowledge. However, larger class sizes can also make you feel like 'just a number' and can make it more competitive when seeking a job upon graduation. Small class sizes offer intimate settings, where students feel like they can approach faculty with more ease. However, since cohorts are smaller, there are less students to network with and exchange knowledge. It is important to select a school based on which class size you feel would provide the best MBA experience for you. For me, I knew that USD's small class sizes would propel me to succeed, as the faculty is extremely personable and truly cares about each and every student's success.
Culture
Selecting a school whose values align with yours can truly positively impact your MBA journey. Are students heavily involved on-campus in leadership roles or is the school run solely by faculty? If it is important for you to get involved in leadership opportunities during your MBA, you should look at schools that offer such initiatives. I know even before getting accepted into USD that I wanted to get involved on-campus, as there are so many great student-run initiatives.
Now that you have decided where to apply, what are you waiting for?! Your MBA journey has officially begun and I wish you the best of luck ☺.
About Bria: Bria d'Amours (MBA 21') is a second-year, full-time MBA student at USD's School of Business. Bria is an international student from Montreal (Quebec), Canada with a background in the sports and entertainment industry. Her experiences include working in marketing and partnership management for Formula 1, as well as operating her own consulting business. During her free time, Bria enjoys travelling, great food & wine and music festivals – whether she is attending them or organizing them!
Map
5998 Alcalá Park
San Diego, CA 92110