How to Become a Chief Data Officer: Understanding Data's Role in the C-Suite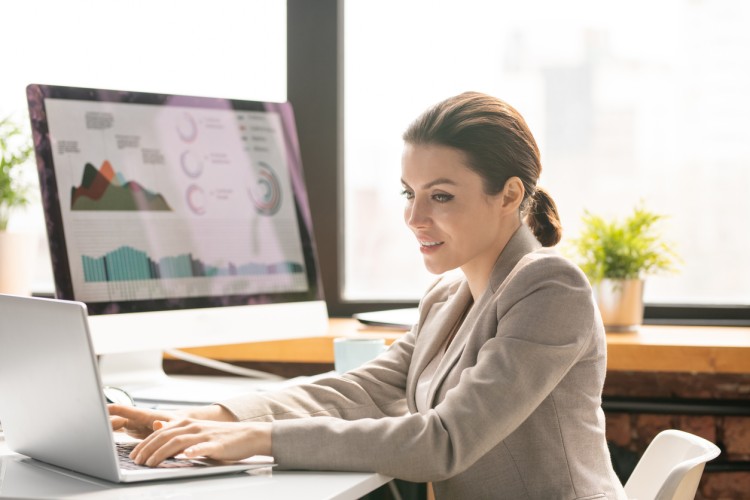 How important has data become to corporations? Consider that Ford Motor Co. no longer considers itself an automaker, but rather a data company similar to Facebook. According to Ford CEO Jim Hackett, the company's future profits depend not on selling cars, but on monetizing the data it collects about its customers.
Ford is far from the only company that considers data its most valuable asset. According to BizTech, the collection, analysis and application of data "will be vital in helping businesses improve operations and deliver on customer expectations." Responsibility for converting a company's raw data into monetizable business intelligence falls to the chief data officer, a top-level role that didn't exist just two decades ago but now is among the most important positions in an organization.
For many data professionals, the chief data officer role is seen as the pinnacle of their careers. However, the position is so new that many are uncertain about how to become a chief data officer.
What Is a Chief Data Officer?
Companies of all sizes and across industries recognize the chief data officer's importance to their success, yet as Forbes points out, there is very little agreement about the duties and responsibilities of the position:
Is technological expertise more important than business acumen?

How much responsibility should the position bear for data governance?

Who does the chief data officer report to?
This lack of clarity hasn't slowed the growth in the number of companies appointing chief data officers. Capital One initially created the position in 2002, when Cathryne Clay Doss became the first person known to hold the title. In 2005, only 1 percent of corporations had a chief data officer, according to Dataversity. By 2012, chief data officers were present in 12 percent of Fortune 1000 companies; just six years later, the position was in place at 67.9 percent of firms surveyed by NewVantage Partners.
Driving the increase in chief data officers is big data's heightened importance to company growth and success. Chief data officers are responsible for overseeing all of a company's data-related operations: ensuring and maintaining the data's validity, devising the company's data strategy, controlling access to the data, and complying with government regulations relating to data retention and privacy.
Technology continues to advance at a head-spinning rate, so the job of a chief data officer is constantly evolving. In this environment, the greatest contribution chief data officers make to their organizations is creating a culture that prepares managers and employees not just to respond to technological innovation but to drive it.
Role and Responsibilities
A chief data officer's roles and responsibilities vary by organization, but generally include the following, according to BizTech:
Ensure the quality of the company's data.

Confirm the company complies with all data security and privacy regulations.

Manage the data life cycle (secure retention and timely deletion of sensitive data).

Devise the company's overarching data and analytics strategies.

Lead the company's data initiatives.

Extract maximum value from the company's data assets.
While much of a chief data officer's work involves the company's chief information officer (CIO) and information technology (IT) staff to serve the company's internal data needs, recent efforts to engage customers via personalization and similar initiatives have chief data officers focusing more on external activities. In particular, chief data officers are now charged with driving change in their companies by promoting analytics and innovation to establish the foundation for artificial intelligence (AI) initiatives.
Organizational change such as the digital transformation now underway across industries creates tremendous challenges involving internal politics and budgetary constraints. Dataversity highlights several potential points of contention that chief data officers need to overcome:
Job responsibilities often overlap between chief data officers, CIOs and chief analytics officers. Over time, these positions' duties can be defined more clearly, so they avoid conflict that can undermine a company's data initiatives.

Some chief data officers operate with their own budgets, while others have their budgets controlled by the CIO. This can make data strategies more difficult to implement.

Chief data officers may be tempted to rely too much on metrics from their data teams, but focusing on a handful of high-profile analytics projects to demonstrate the benefits of the techniques to executives before expanding their use throughout the organization is usually more effective.

Much of a chief data officer's time and effort is spent recruiting a top-flight team of data analysts, a task made more challenging by the shortage of qualified candidates. However, no data initiative can succeed without a skilled, dedicated team to see it through to completion.
How to Become a Chief Data Officer
The skills employers look for in a chief data officer encompass both management and technical expertise: leadership, business expertise, data analytics, budgeting proficiency, strong mathematics background and good communication. The position's dual nature is evident in the results of NewVantage Partners' survey of companies with chief data officers. When asked which characteristics they look for in a chief data officer, 38.2 percent of the companies stated they want an "external change agent," while 32.4% prefer a "company insider" who is familiar with an organization's operations.
ITProPortal divides the skills required to succeed as a chief data officer into three categories:
Data skills.

Chief data officers must have a solid data science background, but they must also be able to communicate the intricacies of data analytics to business executives in a way that informs their decision-making.
IT skills.

Information has become an organization's lifeblood, so a chief data officer must manage the flow of information through the company in a way that meets the rising expectations of executives and workers throughout the operation. This is especially important with the advent of machine learning and other AI techniques.

Business skills.

Chief data officers influence business decisions by communicating the results of the company's analytics efforts to the people in the company who set its short- and long-term strategies. Consulting experience and project management skills help chief data officers break down silos in the company to create multi-department teams united around a common goal.
Becoming a chief data officer requires years of experience in data science and data analytics as well as a background in business management and organizational behavior. Graduate students can gain the experience they need to prepare for a future career as a chief data officer, while seeking opportunities to gain the technical and management experience most companies require.
Business Analytics: The Foundation of a Career in Data Science
It takes years of study and work for chief data officers to acquire the range of analytics and business skills they need. Data professionals interested in rising to that level will find that the University of San Diego's Master of Science in Business Analytics provides the educational foundation on which such a career can be built. The STEM-certified program emphasizes experiential learning that gives students a holistic understanding of analytics programming, data mining, interactive data visualizations and other aspects of data technology. Core courses also focus on analytics fundamentals in marketing, finance and accounting, and developing the communication skills required to succeed at the executive level. Learn more about how the master's in business analytics program prepares graduates for successful careers as data professionals.
Recommended Readings
What Is Business Analytics? An Inside Look at the Merger of Business and STEM
Data Science vs. Data Analytics: Choosing the Right Data Career
Drive Change in Your Organization with a Master's in Business Analytics
Sources
BizTech, "What Is a Chief Data Officer?"
Dataversity, "So You Want to Be a Chief Data Officer?"
Deloitte, Chief Data Officers 2.0
Forbes, Rethinking the Role of Chief Data Officer
ITProPortal, "What It Takes to Be a 'Chief Data Officer' in 2018"
NewVantage Partners, Big Data and AI Executive Survey 2019
Threatpost, "Ford Eyes Use of Customers' Personal Data to Boost Profits"
University of San Diego, Master's in Business Analytics
Map
5998 Alcalá Park
San Diego, CA 92110