What Can You Do with an MBA? 5 Rewarding Paths and Careers in Business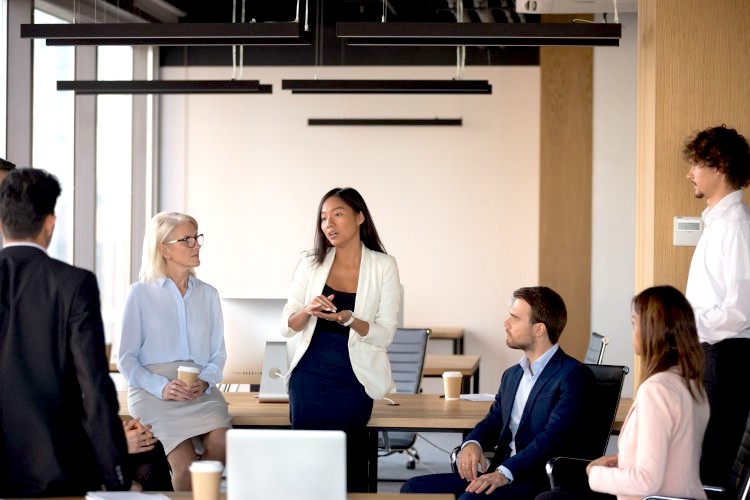 According to the U.S. Bureau of Labor Statistics (BLS), the unemployment rate for individuals with a bachelor's degree was 2.1 percent as of August 2018, and as of February 2020, the unemployment rate for all management occupations was 1.4 percent, compared to 3.8 percent for all occupations, according to the BLS. These percentages may not sound significant, but for certain jobs — those that offer higher salaries and are with more prestigious organizations — it can be much more difficult for candidates to stand out and be considered for a position.
So how can a person distinguish themselves from the crowd of candidates for business management jobs? While there are diverse methods for gaining the skills that employers value highest, one of the most beneficial resources to jump-start a career is a Master of Business Administration (MBA) degree. An MBA prepares graduates for the rigors of the modern business landscape and for success in leadership positions within organizations. The degree also provides management candidates with the necessary skills and knowledge to enhance their decision making, management and leadership skills, as well as their cultural intelligence, to help them thrive as business managers. Additionally, an MBA can help an individual climb the career ladder much faster.

An MBA can open many doors to graduates, but some positions — each with their own unique responsibilities and benefits — are particularly enticing to MBA graduates.
Consultant

Consultants are business professionals who possess a large knowledge base and skill set in such areas as finance, marketing, operations, management efficiency and human resources. They provide companies and organizations with actionable advice by researching and writing reports, preparing presentations and working on teams that include the company's managers and other workers. For example, a consultant with food industry expertise may conduct research into why a restaurant would have a greater chance of turning a profit in a specific city. A consultant who is an expert in a younger demographic can likewise share insights with a marketing firm about those consumers and their shopping habits. The wide-ranging responsibilities and services these professionals provide are indicative of what you can do with an MBA.

Succeeding as a consultant requires strong research, data analytics and presentation skills, as well as the ability to effectively communicate with leaders and partners at different organizations. Consultants must also be able to make difficult concepts easy to understand and find creative solutions to unexpected problems. Consultants are employed in various industries and in firms that specialize in consulting.
One aspect that draws many consultants to the profession is the challenge of being presented with novel business problems to solve. Each project a consultant works on has unique characteristics that keep the tasks dynamic and rewarding. According to March 2020 PayScale data, the median annual salary for management consultants is about $74,000 in a range from $49,000 to $112,000.
Investment Manager

Investopedia notes that an investment manager is a professional who "invests in portfolios of securities on behalf of clients under the investment objectives and parameters the client has defined." For example, a client may wish to invest $100,000 in low-risk stocks and seek the advice of an investment manager to determine which companies to invest in. Investment managers may handle multiple clients and their portfolios at once, charging a given fee on these investments. Their clientele includes businesses and individuals, or they may be employed by an investment company.

Succeeding as an investment manager requires more than a thorough understanding of complex financial markets, businesses and investments. Investment managers must also possess strong math and analytical skills, as well as understand how to communicate with multiple clients in a professional manner. Additionally, they must hold necessary certifications in the respective fields and markets they may be working in. According to March 2020 PayScale data, the median annual salary of investment managers is about $99,000 in a range from $58,000 to $175,000.
Research Analyst
Research analysts prepare reports for clients interested in making an investment. For example, a large software company looking to acquire a smaller competitor or a government agency considering awarding a contract to an external tech company might hire a research analyst to help predict each scenario's return on investment.

Research analysts must hold necessary qualifications (such as a certified financial analyst designation), be able to interpret complex financial documents and come to reasonable conclusions on what course of action makes the most strategic sense for a business. According to March 2020 PayScale data, the median annual salary of research analysts is $55,000 in a range from $41,000 to $79,000.
Supply Planning Analyst
Companies that sell goods or services must manage their supply chain, determining the best methods for procuring, shipping, and distributing items. Supply planning analysts examine a business' current process and look for ways to make strategic improvements that maximize revenue. Supply chain analysts frequently work in government, technology, food and manufacturing.
An MBA can help those interested in a career as a supply chain analyst by providing them with a deep understanding of the production processes, data analysis and business management. According to March 2020 PayScale data, the median annual salary of supply chain analysts is about $60,000 in a range from $45,000 to $78,000.
Marketing Director
A marketing director is a professional who oversees the marketing, advertising and branding initiatives of a particular organization. At a nonprofit, a marketing director may develop initiatives to generate awareness of the organization's larger philanthropic goals. At a large retail business, a marketing director may spearhead and implement advertising initiatives aimed at increasing purchases and customer bases. It's a role prime for MBA holders, as it incorporates strategic thinking, analysis, creativity and communication.

According to March 2020 PayScale data, the median annual salary of marketing directors is $88,000 in a range from $48,000 to $150,000.
Discover Where an MBA Can Take You

There are countless things you can do with an MBA. The University of San Diego's part-time evening Master of Business Administration program provides professionals the opportunity to advance their careers in a flexible format that fits seamlessly into their lives. The program not only equips business professionals with an in-depth understanding of key business concepts, it also enables students to make valuable industry connections as they learn alongside talented business leaders.


Sources

CNBC, "21 of the Most In-Demand Jobs in the US — And How Much They'll Pay"
Investopedia, "A Project Manager's Qualifications and Career Path"
Investopedia, "Investment Manager"
Investopedia, "Research Analyst"
PayScale, Average Investment Manager Salary
PayScale, Average Business Consultant Salary
PayScale, Average Marketing Director Salary
PayScale, Average Project Manager, (Unspecified Type/General) Salary
PayScale, Average Research Analyst Salary
PayScale, Average Supply Chain Analyst Salary
U.S. Bureau of Labor Statistics, Labor Force Statistics from the Current Population Survey
U.S. Bureau of Labor Statistics, Management Analysts
U.S. Bureau of Labor Statistics, Personal Financial Advisors
U.S. Bureau of Labor Statistics, Unemployment Rate 2.1 Percent for College Grads, 3.9 Percent for High School Grads in August 2018
Map
5998 Alcalá Park
San Diego, CA 92110