Building a CSR Strategy: How Leadership and CSR Come Together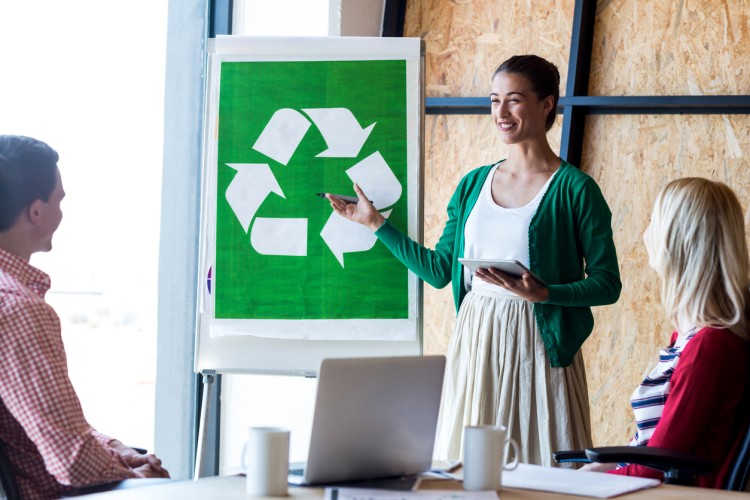 In 2019, Amazon.com announced a bold initiative to be completely carbon neutral by 2040, even purchasing 100,000 electric delivery vans. The e-commerce behemoth's sustainability goals are a noble endeavor, considering the massive amount of business that it conducts around the world. With all those cardboard boxes sent out daily, it's hard not to imagine that any sort of new green initiative by Amazon.com would have a positive impact.

Amazon.com's actions reflect a larger trend of corporations aligning themselves with social or political causes. This practice is commonly referred to as corporate social responsibility (CSR). As companies consider the benefits of supporting important social causes, the need has arisen for a bold CSR strategy and a strong link between a company's leadership and CSR initiatives.
What Is Corporate Social Responsibility?
Investopedia notes that CSR "is a self-regulating business model that helps a company be socially accountable—to itself, its stakeholders, and the public." Through this model, "companies can be conscious of the kind of impact they are having on all aspects of society, including economic, social, and environmental."

Examples of CSR include companies aligning themselves with notable social or political causes, such as initiatives to hire candidates with diverse backgrounds or to pay factory workers a fair living wage. Some CSR initiatives, such as a clothing manufacturer choosing not to employ underpaid overseas labor, may increase costs, but consumers have been shown to tolerate higher prices if a product aligns with their values.
Similar sentiments were echoed in a survey from Cox Blue: "While 68 percent of consumers think small business owners should openly promote the causes they support, more than half would stop supporting a small business if the causes they supported weren't in line with the consumer's social and/or environmental views."
Four Responsibility Categories
Companies can choose to implement many different types of CSR initiatives, but they often fall under one of four categories, according to the Houston Chronicle: philanthropy, environment conservation, diversity and labor practices, or volunteerism.
Philanthropy:

Business leadership and CSR strategies might focus on philanthropic efforts, such as donating money to notable causes, charities or organizations. Gilead Sciences, Wells Fargo & Co., and Goldman Sachs Group are among the organizations that give the most to philanthropic causes, according to Business Insider.




Environment Conservation:

As the

Houston Chronicle

notes, environmental conservation can include initiatives that impact global issues like climate change or more local concerns, such as ocean pollution or chemical spills.




Diversity and Labor Practices:

Inclusive labor practices might involve promoting diversity through hiring and creating healthy, safe, and supportive workplace conditions.




Volunteerism:

Many companies encourage employees and leaders to give their time to important causes. This can include initiatives such as workers taking time off to volunteer at soup kitchens, meeting on weekends to participate in a company-sponsored beach cleanup, or even providing several days of time off for employees to volunteer internationally.
While many companies incorporate social responsibility initiatives into their business practices, some choose to go a step further and make social responsibility the foundation of their business model. For example, shoe company Toms built its business on a one-for-one model, donating one pair of shoes to a child in need for every pair sold. Today, Toms donates one-third of its net profits to a giving fund used to support a variety of social causes. Similarly, eyewear company Warby Parker donates glasses to those in need through their Buy a Pair, Give a Pair program, which has been a central focus of the business since its launch.
Elements of a CSR Strategy
Selecting a cause to support and ways to support it are only two components of a successful CSR strategy. The Human Capital Institute highlights intention, moments to movement, autonomy, ambassadors and CEO support as five elements crucial to building and maintaining effective CSR efforts. The Next Web suggests additional elements, including encouraging customer participation, aiming for a singular focus, making a measurable impact, aligning with company offerings and sharing stories of success.
When Amazon.com commits to carbon neutrality by 2040, it isn't only limiting its own environmental impact; because of its active presence on social media platforms, it can share its commitment to mitigating climate change with hundreds of thousands of followers and reward customers who contribute by bundling orders to reduce multiple shipments.
Tips for Leaders in Creating a CSR Strategy

Building an effective CSR strategy is a complex process. Leaders with CSR programs can benefit from the following tips.
While sustainability is often implemented after a business has been established, an organization's sustainability strategy can be more successful when it's embedded in a business model from the start. The Blue Tribe Company provides a helpful list of steps to follow to create a strong sustainable business, even beyond the initial value proposition. These steps include identifying key partners, resources and activities, as well as noted beneficiaries and the benefits of sustainability.

Successful CSR initiatives should relate to a company's business. For example, Amazon.com's carbon neutral initiative reflects the reality that its delivery truck fleets have a direct impact on the climate; choosing instead to divert millions of dollars to support underfunded schools or help to eliminate diseases would be noble endeavors, but wouldn't be as relevant.



Become a Corporate Social Responsibility Leader


Business leaders need a solid understanding of CSR concepts in order to implement effective CSR strategies. The University of San Diego's evening part-time Master of Business Administration (MBA) program provides numerous tools for students to become CSR leaders, thanks to a robust curriculum in advanced business concepts with a flexible format. The program requires all MBA students to complete nine units in CSR before graduating and also offers a CSR concentration as well as a course focused on designing a sustainable business model. The Princeton Review recognized USD's focus on sustainability by recently ranking the MBA program among the top 10 green MBA programs in the nation. Learn more about the evening part-Time MBA and its CSR commitment today.



Recommended Readings

What Is Business Analytics? An Inside Look at the Merger of Business and STEM

Data Science vs. Data Analytics: Choosing the Right Data Career

Effective Data Presentation Techniques to Guide Data Strategy


Sources

Business Insider, "10 of the Companies that Give the Most to Charity in the US"

Cox Blue, Small Business Survey Shows Social Consciousness Pays Off: Cox Business 2018 Consumer Pulse Survey

Forbes, "Six CSR Strategies That Are Good for Business"

Houston Chronicle, "Four Types of Corporate Social Responsibility"

Human Capital Institute, 5 Elements of Corporate Social Responsibility that Help Reduce Turnover

Investopedia, "Corporate Social Responsibility (CSR)"

LexisNexis, "Build a Powerful Social Purpose Strategy with These 5 Essential Tips"

Reuters, "Amazon Vows to Be Carbon Neutral by 2040, Buying 100,000 Electric Vans"

The BlueTribe Company, "Sustainable Business Model Design"

The Next Web, "Seven Elements of a Results-Driven Corporate Social Responsibility Program"
Map
5998 Alcalá Park
San Diego, CA 92110