Data Science vs. Data Analytics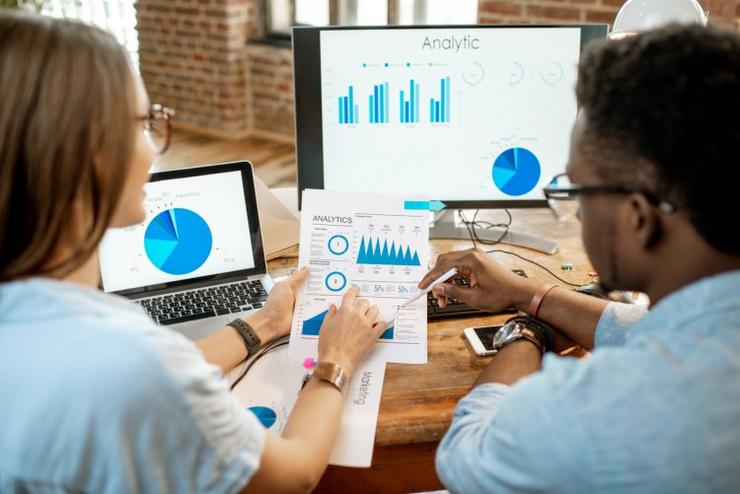 What career offers a lucrative salary, high rates of job satisfaction and excellent advancement opportunities? For the last few years, data experts have enjoyed these benefits. The data industry includes specialties such as data analytics and data science that use unique approaches and yield different types of results. Whereas data scientists parse large datasets to find answers to questions that haven't been asked yet, data analysts focus on statistical analysis to address pressing questions and problems.
According to a LinkedIn study that reviewed millions of job openings, member profiles and salaries, data scientist was the top-ranked most promising job for 2019. The number of data scientist positions available has grown by 56% since 2018. Statistics like these have led LinkedIn and Glassdoor to list data scientist as the number one career for professionals entering the workforce. Clearly, pursuing work as a data expert gives professionals opportunities to build rewarding, stimulating, profitable careers. However, even after deciding to work with data, aspiring professionals must still decide on which area to pursue.
Data science vs. data analytics: Understanding these areas can offer insight into the unique job prospects available and the specialized knowledge required to succeed in various positions.
Data Science
Data science enables businesses and other organizations, including governmental and educational institutions, to acquire valuable information and insights from data. Simply put, data scientists examine data for patterns, trends and other details that can help them to improve a product, design new software or predict consumer behavior.
Essential Skills
For a successful data science career, professionals must cultivate certain expertise and obtain key credentials:
A firm understanding of advanced mathematics, including multivariable calculus, linear algebra and statistics

Software engineering and programming skills, to design programs to help them to analyze data trends and patterns more quickly and effectively

Excellent communication skills, to communicate their findings to decision-makers within their organizations and make suggestions for using the data

An advanced degree (as of 2018, data scientists with master's degrees, about 91%; doctorates, 48%, according to a Burtch Works study)
Career Prospects
After graduating, professionals can expect attractive careers. IBM predicts that the demand for data scientists will grow by 28% by 2020, and according to November 2019 data from PayScale, data scientists earn a median annual salary of around $96,000.
Data Analytics
To understand the difference between data science vs. data analytics, it may be useful to frame the definitions of the two disciplines in terms of questions and answers. While data scientists try to make sense of the unknown by coming up with useful questions and developing algorithms and statistical models, data analysts try to find answers to established questions and problems by developing ways to collect and process data. Data analysts work in various fields, from genetics to politics to e-commerce, and they use their organizations' data to steer data-driven decisions. While data scientists do use analytical skills in their work, data analytics is a more specific, results-driven subset of the data science field.
Essential Skills
The skills essential for data scientists are also applicable to data analysts. However, to succeed as data analysts, professionals must acquire some more specific skills:
A thorough understanding of open-source programming language, specifically R and Python, which are most commonly used for data analytics

An understanding of data wrangling (the process of unifying complex datasets and combining them into a clear, easy-to-study data collection)

Critical thinking skills, to spot patterns and trends in data and interpret these trends in a way that will benefit their organizations
Career Prospects
Nearly every industry uses data analytics, resulting in a significant demand for data analysts. As technologies advance and companies collect more and more data about their target audiences, the demand for data analysts to turn that data into actionable insights will grow. Additionally, the skills of data analysts have broad applications, which means they can work in an array of business roles. Many business areas, including marketing, supply-chain management and logistics, finance, and accounting all call for the broad and critical skill set of data analysts. The increasing need for data analysts has led to fairly high salaries for the profession; according to November 2019 data from PayScale, the average median annual salary for a data analyst is around $60,000.
Jump-Start Your Career with USD School of Business
Professionals aspiring to work with data must develop key analytics skills as well as a facility with platforms like SQL and Python. Advanced degrees in business analytics can cultivate these competencies and train professionals in how to wield data when solving important organizational problems. The University of San Diego School of Business offers a Master of Science in Business Analytics with a comprehensive curriculum that prepares professionals for successful data analytics careers in fields such as accounting, finance, marketing, operations, and supply chain management.
Thoughtfully designed courses provide rigorous training in technical analytical skills and opportunities for project-based applications. USD Professor Andrea Flynn explains, "The program allows students to build a portfolio of work, through class assignments and company-sponsored projects that demonstrate their skills and talents to prospective employers." The following are examples of courses from the program:
Analytics Programming.

This course focuses on using Python to "clean" data and perform statistical analyses. Students learn how to develop fundamental analytics skills, which are then applied in several projects and discipline-focused classes in financial, marketing and supply chain analytics.
Technical Communication.

This course focuses on developing excellent written and oral communication skills. Students learn how to effectively tell a business story backed by data. They incorporate Tableau data visualizations to support their message.
Distinctive features of the program also include a course that prepares graduates to apply analytics to problems within nonprofit, governmental and educational institutions, as well as an International Consulting Project that gives students the chance to work with local companies for a three-month project.
Still deciding between data science vs. data analytics career options? Discover how USD's Master of Science in Business Analytics can train you to leverage data and thrive in the No. 1 rated career.
Sources:
Burtch Works, "The Must-Have Skills You Need to Become a Data Scientist"
Dataconomy, "Five Careers to Consider for Data Enthusiasts"
Forbes, "20 Data Analytics Careers That Aren't Data Scientists"
Harvard Business Review, "What Data Scientists Really Do, According to 35 Data Scientists"
InsideBIGDATA, "The Difference Between Data Science and Data Analytics"
PayScale, "Average Data Analyst Salary"
PayScale, "Average Data Scientist Salary"
Sisense, "Data Science vs. Data Analytics — What's the Difference?"
TechRepublic, "Why Data Scientist Is the Most Promising Job of 2019"
Thinkful, "What Is Data Science?"
Map
5998 Alcalá Park
San Diego, CA 92110