10 Tips for International Students Who Want to Earn an MBA in the United States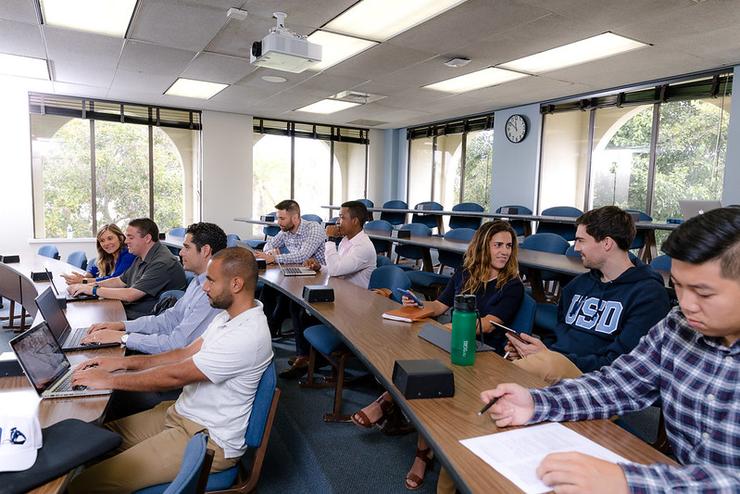 A lot of people ask me how I, an international student from Brazil, managed to get a spot in one of the top full-time MBA programs in California at the University of San Diego. So, to help other international students like me also achieving their goals, I decided to write these 10 tips that I find really fundamental for anyone who is starting to prepare an application for any American university.
1. Study for the GMAT test.
First and foremost, you need to start studying for the Graduate Management Admission Test, also known as GMAT, which is a computer adaptive test (CAT) that evaluates the student in certain analytical, quantitative, verbal, and reading skills. Basically, it's an English and Mathematics test. It is not a hard test but you need to prepare yourself to get a grade that is competitive enough to apply to one of the top schools.
If you can stop working and dedicate yourself exclusively to studying for the test, that is for sure the best strategy. I believe that three months of dedicated studying is good enough for you to get well prepared for the exam. In my case, I did not stop working but my engineering background helped me a lot in the quantitative part of the exam.
2. Study English and take the TOEFL exam.
Most of the American universities will request some kind of proof of proficiency in English for non-native speakers in their application requirements. The important tip to consider is that, if you are already studying for the GMAT, do not spend time studying specifically for the TOEFL exam.
When you are studying for the GMAT, you are already studying English and, as the GMAT is way more complicated than the TOEFL, don't spend time and "space in your mind" studying for the technicalities of TOEFL before the GMAT exam. After taking the GMAT, in one or two weeks of study, you can learn what you need to for the TOEFL exam and ace the test.
3. Take preparatory courses.
If you have been out of school for a long time or if you want some help in tracking and driving your studies, the best advice that I have for you is to take a prep course. Back when I was studying exams needed for my MBA application, such as the GMAT and TOEFL, I did not stop working because I thought it was not going to be necessary. But looking back, I would do things differently. I would have stopped working and completed an online GMAT course such as the one at e-GMAT.com, which I enrolled in during my last weeks of preparation.
I am not receiving even one dollar to talk about e-GMAT but I must say that it is a really complete and well-structured course. I wish I had more time to do all the questions, mock tests and assessments that the site has. They would have been really helpful and saved me from a lot of "hard-times" during the actual exam.
There are also several online courses to prepare yourself for the TOEFL or any other proof of proficiency exam. I strongly recommend you take one of these courses as they are really useful and will save you a lot of time.
4. Choose the city you want to live in.
The United States is a great country and I am sure that you will find great, intelligent and hard-working people no matter where you choose to study. So my advice here for you is to pick the city or region that you think will better match your lifestyle.
Before actually applying to USD in San Diego, California, I reached out to several other students that were doing MBA courses all around the world from various countries and cultures. I must say that probably the best advice that I received and that I am passing along now is: "Choose not only the school but also the city you want to live in".
5. Apply to an MBA program even if you don't get the test score you aimed for.
Most universities consider not only grades in undergraduate courses and test scores, but also other aspects of the student's application. Factors such as extracurricular activities, unique work background, and also being from a different country are considered when it comes to accepting a student.
By evaluating an application from a holistic perspective, universities take time to get to know the whole student story and usually they are interested to form a cohort with people from all over the world.
So, even if you don't achieve your intended score but it is still a competitive score, I encourage you to apply to the school you want. When you answer the essay questions in your MBA application, make sure to show the different perspectives that you bring by being from a different country and how it will enrich the other students' in-class experience.
6. Start your academic credential evaluation as soon as possible.
When you are getting all the documents ready to submit your MBA application, an academic credential evaluation will be necessary to compare your academic accomplishments in your country to the standards in the United States.
In my case, this process took way more time than I was expecting because real paper documents needed to be mailed in a sealed envelope from my university in Brazil to the institution that I paid to verify that my credentials are authentic and include a grade point average (GPA) equivalency, because we don't use this system in Brazil. (Also get ready to start using other units like ounces, miles, inches…)
I recommend that in the very beginning of your application process, you ask the university you are applying to what academic credential evaluation service that you should use and start arranging this process.
7. Get a recommendation letter from someone who knows you well.
One topic that everybody gets confused about is the recommendation letter. Most students tend to think that the higher the rank of the letter writer, the more value the letter will have. That is for sure not the case and not the complete story.
From everything that I've read and talked about, the best recommendation letter for you must be written by someone who really has something to say about you. So if you don't work directly with the CEO of your company, don't ask for a recommendation letter.
Ask a recommendation letter from someone that can really talk about your accomplishments, is prepared to write and sign several letters and, depending on the university requirements, spend time in systems answering some questions about you.
8. Save more money than your budget indicates.
Money is really an important issue when it comes to living in the United States. While preparing for my MBA application, I did not stop working, so thank god I could save a little bit more money before starting my MBA. The point is, in my case, I was not expecting to spend so much money on books and food.
Just one book for one class can cost up to 200 USD, so my advice to you is consider saving a little bit more than you are expecting and apply for all the scholarships available. Also, keep an open eye for the opportunities that your university can provide for you regarding funding for conventions, conferences and networking events.
9. Talk to people that studied or are studying at the university you want to attend.
The more information you can get regarding the university you decided to apply to and its MBA program, the more prepared you will be. The best way to do that is to talk with the students that are already studying in the program. Internet resources such as LinkedIn can be very useful when it comes to reaching out to people for more information.
Some universities offer different MBA concentrations such as finance, entrepreneurship, strategy, leadership and more. Also, there are several institutions that don't offer formal concentrations but are more focused in one aspect of business than just general management. I encourage you to get the most information you can before applying.
One site that I have used and has a lot of information regarding MBA programs is FIND MBA.
10. Enjoy your experience in the United States.
For sure this is the most important tip. Always keep in mind that an MBA is much more than the books you read in class and the university library. All MBA programs are really academically demanding but don't forget that part of the experience is also experiencing the American culture and inspire yourself to take a step forward in your career.
This can sound obvious but most students tend to focus only on the grades (that don't really matter at the end) and forget about the fact that an MBA is about growing and evolving yourself. To accomplish that evolution, my advice to you is focus your effort in seeking lessons, not grades. At a university, you are in the perfect training ground to develop the unexpected and unlimited potential that you bring to the table as an international student.
Also, get into the mindset that failure is equivalent to learning in the roadmap of success!
I wish you the best in your search for an MBA program in the U.S.
Rafael Ferraz, MBA '21
Map
5998 Alcalá Park
San Diego, CA 92110