The Greatest Lessons I Learned from My International Consulting Project in Shanghai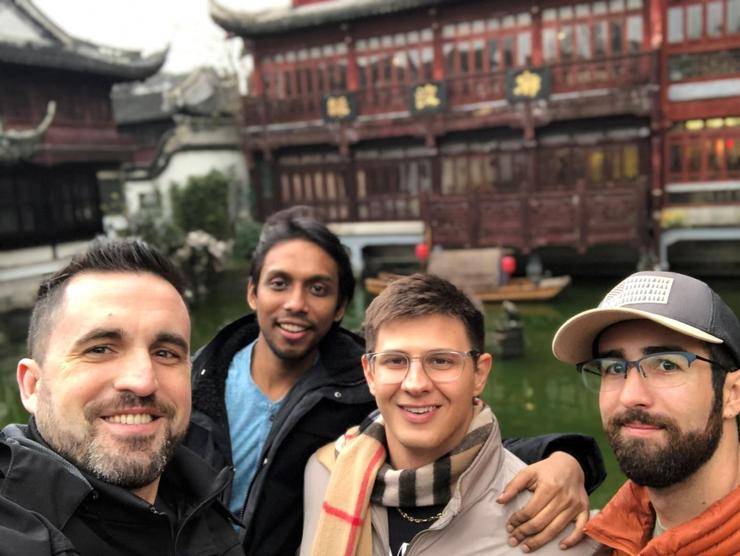 begin quote

While China may be able to teach us a lot about manufacturing and efficiency, we were able to provide creativity and big-picture analysis that was so compelling, our client said they would present our tools and analysis to the company's board.
Written by Paul Miller, MBA '20
Why study abroad? Are there not enough businesses in the U.S. to consult with that would be more relevant to a career in the U.S.? Is it worth the time away? These were a few questions that were asked of me by friends, family and business acquaintances leading up to my trip abroad for an MBA consulting project in Shanghai organized by the Ahlers Center for International Business. After combining this with two weeks of study in Vietnam, I had left sunny San Diego for the better part of a month and I think I now have some answers. These are the greatest lessons I learned in Shanghai:
The world is a big place and a city can shape a culture.
The first and most prevalent thing you notice while in Shanghai is the sheer scale of everything in a city with so many people. With 24 million people, it is more populous than all of Australia, and accordingly, the whole city is built vertically with skyscrapers that disappear into the fog and billboard lights that shine through like an eerie sci-fi movie. Navigating the streets, trying to just walk, was an eye-opening experience that showed how the one billion people in China live day-to-day.
Doing business with different cultures can have advantages and challenges.
I was placed into a group of six students from three universities, originally from the U.S., Brazil, South Africa, China, and Germany. The company we consulted for was the German corporation ThyssenKrupp, which has a subsidiary in Shanghai. With everyone's diverse backgrounds, it was amazing to see how everyone had a different perspective and solution to the most basic questions. While we learned from each other, it was also a challenge to manage these perspectives to reach a consensus so that work can get done.
Business in China is not business in the U.S.
Although almost every major corporation in the U.S. relies heavily on its interactions with China, either as a supplier or a seller, it is almost impossible to understand the differences in business culture without working there in person. When we first walked into our host office, we were given one liaison who spoke very good English but had little understanding of the division we were tasked to work with. We were given an assignment on how to evaluate and optimize a bearings business for the booming wind power industry in China and were given almost no numbers to work with. While daunting at first, we soon realized that this opened us up to more freedom and creativity. However, I think that countries like the U.S. and Germany handle this kind of big-picture decision-making more efficiently.
It always helps to have someone show you the way.
Each consulting project has an assigned mentor. Ours was a professor from a Dutch university who had done several consulting projects in China before. When our project seemed unwieldy, he provided us direction on what kind of expectations the customer would be looking for and the kinds of MBA skills that we could apply to give the customer something amazing. The person we presented our final consultation findings to was different than the person we were given information from, but despite this disconnect, we proved to be very successful. With little data to go on, our group was able to use its collective skill set to analyze the local wind power and bearings market quantitatively, propose recommendations on best courses of action, and come up with some creative solutions for repricing and repositioning the company's bearings in a way they had not thought of before.
Your own unique expertise is more valuable than you think.
While I believed that the conclusions we showcased in our final presentation to the company were obvious, our client was actually completely blown away by the tools we provided. It was then that I realized that what seemed like basic assumptions to me were something completely new and amazing to decision-makers of a different country. We were praised for our out-of-the-box thinking and ingenuity, and our client was amazed by the analysis we generated in a week with very few numbers and little guidance. While China may be able to teach us a lot about manufacturing and efficiency, we were able to provide creativity and big-picture analysis that was so compelling, our client said they would present our tools and analysis to the company's board.
There is a lot of upside and little downside to studying abroad.
The USD School of Business and Ahlers Center for International Business made it easy to make the decision to study abroad. Really, consulting locally or learning about Asian economies from a textbook would not have given a fraction of the bigger picture I experienced in Shanghai. The price is offset to make it as affordable as taking classes in San Diego, the program coordinator and professors were all enthusiastic and amazing, and getting immersed by working in a different culture is much more impactful and eye-opening than just being a tourist. In addition to the professional experience we gained working on the consulting project, we also took time to see the sights in Shanghai and experience its culture. We visited the world's tallest viewing platform in Shanghai for a breathtaking view, local Buddhist temples, and the Yuyuan gardens and markets. We also shopped and ate throughout the French Concession, took in a Chinese acrobat circus, and enjoyed the restaurants and nightlife, including karaoke, along the Bund (Waitan) waterfront area.
Map
5998 Alcalá Park
San Diego, CA 92110