Drive Change in Your Organization with a Master's in Business Analytics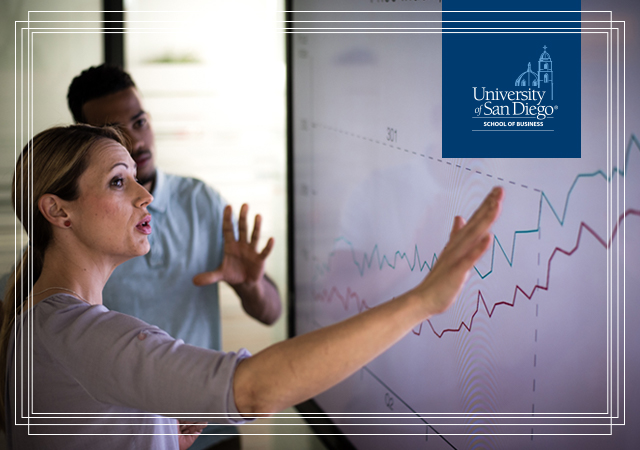 begin quote

A master's degree in business analytics can empower you with both the analytical skills and business acumen to solve critical problems, make smarter decisions and achieve sustainable growth using data.
If knowledge is power, then data is the new international language you need to speak to advance your career in business, government or the non-profit sector. When applied effectively, data can be a powerful catalyst for organizational growth. But with the sheer volume of information that exists at our fingertips, it's easy to get overwhelmed if you don't know what you're looking for, or how to apply the information in a way that creates value for your organization.
The intersection of data science and business strategy known as business analytics is enabling organizations to understand their employees, customers and stakeholders in ways like never before, which is why individuals who can layer these complementary skillsets are in such high demand. A master's degree in business analytics can empower you with both the analytical skills and business acumen to solve critical problems, make smarter decisions and achieve sustainable growth using data.
Learn exactly what we mean by business analytics, and how this multilayered skillset can empower you to drive change within your organization, regardless of your field, industry or focus.
What is Business Analytics?
In essence, business analytics is where the fields of data science and business converge to reveal valuable insights that enable data-driven decision-making. The subject is comprehensive by nature, as it describes the ability to apply highly technical skills like data mining, data visualization, and programming and query languages such as Python and SQL to advance the objectives of any organization.

Applying Business Analytics in the Workplace
A business analytics degree will enable you to make a positive impact in nearly every aspect of an organization's operations, including finance, marketing and more. Gaining a more in-depth understanding of the needs of your top sales prospects, for example, can facilitate the implementation of a more targeted marketing strategy that speaks directly to those needs. Plus, by becoming "multilingual" in business and analytics, you automatically become a more effective communicator within your organization—as fluent in the language of statisticians and programmers as that of managers and executives.
A Catalyst for Bottom Line Growth
In business, analytics is the key to unlocking what's working and what's not—e.g., which product lines are driving revenue and which ones aren't quite gaining traction—so that you can tailor your marketing or operational strategies accordingly. Looking at the numbers alone isn't enough to understand the broader implications that are influencing them, like purchasing behavior and consumer preferences. An effective leader needs to know the right questions to ask, how to extract the data needed to answer these questions and how the data can be used to inform strategic decisions.
Mitigate Risk—For You, and Your Customers
Particularly in financial services, organizations have the enormous responsibility of identifying and mitigating risk to protect their customers from fiscal harm. In this instance, the phrase, "you don't know what you don't know," carries a lot of weight, as customers are often trusting you with their most valuable assets and investments. This is where the ability to anticipate potential risk—and to ascertain, disseminate and apply the information you need to prevent it—is critical.

Boost Your Career Prospects
One of the best things about a master's in business analytics is the world of opportunity it presents in terms of careers. According to the 2017 GMAC Corporate Recruiters Survey Report, graduates of master's programs in data analytics are sought by companies in the US and Europe more often than any other specialized business master's degree. From data scientist to supply chain manager, the combined knowledge of data science and business analytics can make you a highly competitive candidate for a wide variety of roles. Here are a few of the top career paths for business analysts in today's market, according to Glassdoor:
Operate in a More Socially Conscious Manner
With corporate social responsibility rapidly evolving from industry trend to standard business practice, organizations across all industries are examining how data can be used as a force for good—and to solve business problems that have broader social implications. For-profit and non-profit organizations alike rely heavily on data analytics to ensure they are continuously delivering value to the communities they serve. With a master's in business analytics, you can help drive this positive social impact.
At the University of San Diego School of Business, social responsibility is a principle that is central to all of our degree programs—and our Master's in Business Analytics (MSBA) is no exception. Through classes like Data for Social Good, students learn how non-profits, academic institutions and social enterprises utilize data to fuel bottom-line growth, taking these values with them as they advance in their careers.
Whether you are looking to supplement your business acumen with applied analytics skills or vice versa, a master's in business analytics can give you the boost you need to evolve with the ever-changing world of business, laying the foundation for your long-term success. Click here to learn more about our MSBA program.
Map
5998 Alcalá Park
San Diego, CA 92110