Grow Your Leadership Experience with a Community of Like-Minded Peers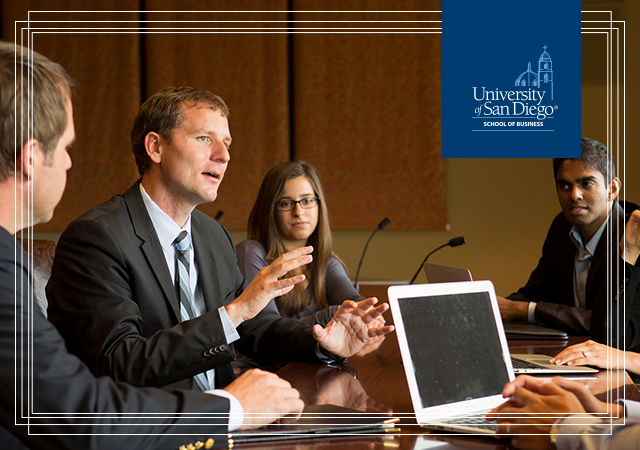 begin quote

A master's degree in executive leadership from an accredited business school can provide you with the practical, objective support you need to improve your capabilities as a leader and transform your organization.
Perhaps in no position does the age-old phrase, "It's lonely at the top," ring truer than in executive leadership, with CEO often cited as one of the loneliest jobs in business. For even the most well-liked, well-respected leaders, it can be difficult to seek constructive counsel within the walls of your organization, as you are the one ultimately responsible for all operations—and the one who should theoretically have all the answers.
A master's degree in executive leadership from an accredited business school can provide you with the practical, objective support you need to improve your capabilities as a leader and transform your organization. With the Master's in Executive Leadership (MSEL) from the University of San Diego School of Business, you can achieve this among a close-knit group of fellow executives who are facing—and have overcome—challenges similar to those you face in your current role. We provide a real-world, directly applicable curriculum that builds on the leadership skills you already possess, along with a safe space for you to develop both professionally and personally.
Overcome Your Leadership Struggles in a Safe Environment
As a leader, it can sometimes feel as if you are on an island, unable to admit when you are not exactly knocking it out of the park, for fear of being held accountable by your colleagues. But the fact is, we all have weaknesses. It's being able to recognize and work through them that makes us stronger, more capable leaders.
The MSEL program takes place in what we call an "ego-anonymous" environment that fosters healthy, constructive commentary among a group of trusted individuals. It is a place you can talk candidly about your struggles and receive the kind of empathetic support you can't necessarily get from inside your company or within your professional network.
Catch a Glimpse in the Mirror
If you don't feel comfortable admitting your shortcomings at work, we are willing to bet your team members don't feel entirely comfortable calling you out on them. While this can likely be attributed to the fact that you are the boss and people respect you as such, it could be the case that your leadership style is a tad intimidating and preventing you from receiving honest feedback that could have a great impact in your performance.
In the MSEL program, every cohort member has invested time, money and energy into becoming a better leader. This group of individuals tends to grow very close, very quickly, into a cohesive team that, by the end of the program, is a group of friends all looking out for one another's best interests. Case studies, simulations and other experiential exercises are core to the MSEL curriculum, providing ample opportunity for useful feedback as well as diverse perspectives on how to tackle challenges. The course content and program structure – with classes generally being held on weekends – are designed to equip you fully and quickly with the skills you need to become a more effective leader.
See How It's Done
If you are an executive facing a problem at work, it is highly likely that at least one of your fellow cohort members has faced a similar challenge. Each MSEL cohort comprises a diverse group of professionals with 10+ years of experience from different industries, sectors and cultures, which lends equally diverse perspectives on overcoming the unique challenges executives face. Whether the outcome was positive or negative, you'll get a glimpse at how your peers at other organizations are doing it—and how their leadership styles are complementary to your own.
Grow Your Network
Perhaps the most obvious advantage of working with a community of like-minded peers is that your network grows exponentially overnight. Between your cohort-mates who are managing their own operations and your professors who have well established business relationships at global organizations, networking is a highly valuable component of the program. Not only will you be able to draw on these relationships as you navigate through your career, but you may even discover a new opportunity.
With every new cohort, we know that when students are meeting for the first-time during week one, they are going to be in one another's lives—and our lives—for many years to come.
"The MSEL program was one of the most transformational experiences of my professional career. It was refreshing to find a strong executive program with distinguished faculty that inspired and molded my own drive and ambition to lead at a higher level," says Emiliano Gallego, CEO at PAGASA and an MSEL alumnus.
A Group You Can Count On
When evaluating our most successful business relationships and determining who we want to work with going forward, the deciding factor is invariably who we trust. With ego, self-motivation and bias stripped away, the connections students forge during the MSEL program frequently translate into lifelong friendships and valuable, sustainable partnerships in business.
Learn more about the MSEL experience.
Map
5998 Alcalá Park
San Diego, CA 92110