Sustainability – The Supply Chain's Critical Link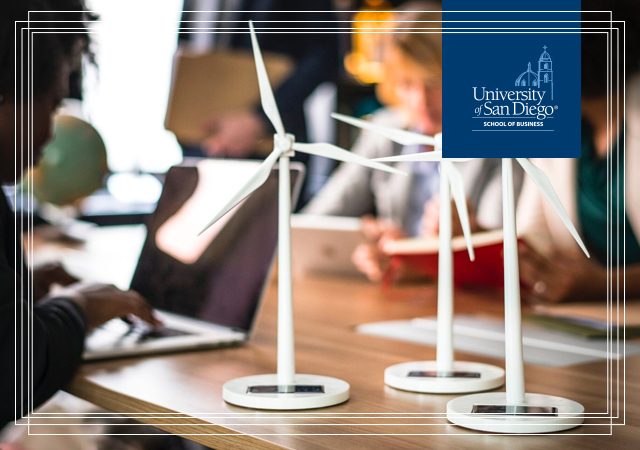 begin quote

At the USD School of Business, our mission is to develop socially responsible leaders with a global mindset through academically rigorous, relevant and values-based education and research.
Corporations in every industry and sector have an enormous responsibility to the world in which we live. Principles of sustainability and corporate social responsibility (CSR) have emerged to help ensure businesses are delivering long-term economic and social value while reducing environmental impact.
With the supply chain at the foundation of business operations, sustainability must remain an ongoing consideration across all processes and activities. Implementing a sustainable action plan or CSR policy can provide the framework, but the principles must be shared collectively throughout the organization—and must be inherent to every function across the supply chain.
At the USD School of Business, we pay close attention to the key trends impacting the supply chain as we tailor our curriculum to align with the issues our students face in their current roles and will continue to face upon graduation. Here's how we're seeing issues of sustainability come into play in new ways, and how they are affecting the global supply chain.
Sustainability and CSR
When discussing ethical business practices, sustainability and corporate social responsibility are always a big part of the conversation. They also tend to be lumped together as one overarching principle. While the two concepts are different, they are becoming increasingly synonymous as businesses look to create a better landscape for future generations (sustainability) through more accountable, transparent business practices (social responsibility).
Perhaps the greatest exemplification of this can be seen in the worldwide demand for supply chain transparency. Human rights issues such as sweatshops, child labor and modern slavery continue to be embedded within global supply chains, placing great responsibility in the hands of business leaders to eradicate these objectionable practices from their operations.
Reducing Environmental Impact
When it comes to a company's environmental impact, the supply chain is where the proverbial rubber meets the road. In a 2016 report, McKinsey estimated that more than 80 percent of greenhouse gas emissions and more than 90 percent of the impact on air, land, water biodiversity and geological resources were created within the supply chain.
In the modern world, there are ample opportunities for companies to offset some of this environmental impact, but in the short-term, these options can be expensive. Business leaders continuously face challenging decisions around how to balance this responsibility with the cost of delivering a more expensive, yet environmentally sound product.
Sustainability in Action
As sustainability becomes a growing concern for internal and external stakeholders alike, many of the world's largest organizations are looking for new ways to incorporate these principles. PepsiCo's snack subsidiary, Frito-Lay, has done an exceptional job of this by working to improve energy efficiency across its transportation fleet and production line. In addition to ordering 100 of Tesla's soon-to-hit-the-market semi-trucks to transport its products, the snack giant is taking measures to improve the energy efficiency of its fryers, recycle heat, reduce waste and find new markets for the starch they extract from their chips. Between 2006 and year-end 2015, the company saved $80 million by cutting water usage by 26 percent.
The relationship between sustainability and corporate social responsibility can also be seen in matters of community relations. Starbucks closed 8,000 of its stores for one afternoon to conduct an anti-bias training after a controversial incident in which two African-American men were arrested in one of its Philadelphia stores. This type of moral response is becoming increasingly common as companies become more transparent about how they deal with social issues.
USD: Creating Socially Responsible Leaders
At the USD School of Business, our mission is to develop socially responsible leaders with a global mindset through academically rigorous, relevant and values-based education and research. We emphasize these principles through specific courses dedicated to ethics and sustainability, while also integrating them into the curriculum for our supply, operations and logistics management courses. Supply chains are inherently dynamic, which is why we are continuously evolving our course content to align with the current demands of the market.
A master's degree in supply chain management provides the valuable leadership skills needed to thrive in an ever-more socially-conscious environment. USD's Master of Science in Supply Chain Management (MSSCM) is the first U.S. degree accredited by the Chartered Institute for Procurement and Supply (CIPS) and is ranked in the top 20 best online graduate programs by U.S. News.
Discover why 96 percent of alumni surveyed would recommend USD's Master's in Supply Chain Management. Click here to learn more.
Map
5998 Alcalá Park
San Diego, CA 92110