A Hybrid Program for My "Hybrid" Life as a Student and Working Professional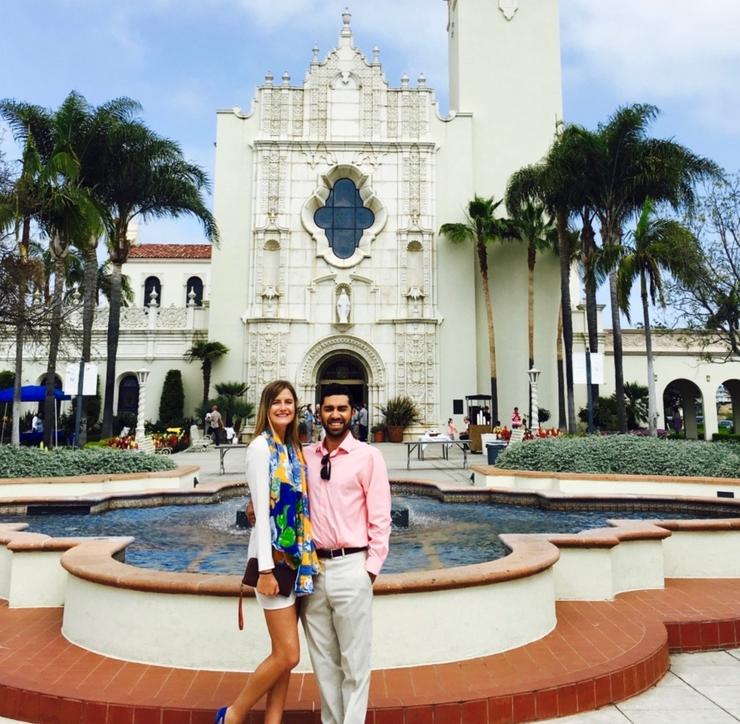 begin quote

The Hybrid MBA provides the best of both worlds -- the ability to work and collaborate with my fellow classmates and interact face-to-face, while also giving me the ability to work on coursework from the comfort of my own home.
Written by Margo Woodring, MBA '19
Establishing a Strong Network in San Diego
I received my undergraduate degree from Syracuse University in supply chain and public relations. After completing my degree, I joined BASF, a German chemical company, where I completed four rotations of six months each in different divisions and areas of the U.S. including New Jersey, Michigan and California. After bouncing around, I wanted to establish roots in my new home of San Diego. In doing so, it was imperative to create a local professional network for myself and I have gotten just that with the University of San Diego's Hybrid MBA program.
Why the Part-Time, Hybrid MBA Option is Best for Me
Like my classmates, I work full-time in my current position with BASF, a biotech located near Torrey Pines, which focuses on enzymes for industrial applications such as detergents, animal feed, grain processing and more. The hybrid option provides the best of both worlds -- the ability to work and collaborate with my fellow classmates and interact face-to-face, while also giving me the ability to work on coursework from the comfort of my own home or on the road while I am traveling for work.
Another key component to choosing the right MBA program for me was the ability to experience on-campus life in San Diego, which the hybrid option still allows you to do. I liked the small campus feel of USD and being ranked the "Most Beautiful Campus" in the U.S. by The Princeton Review is a bonus.
Global Opportunities and Hands-On Experiences
I have had great experiences that would not have happened if I was not working on my MBA at USD. To name a few, I worked in Shanghai, China with Nike on implementing an RFID (Radio Frequency Identification) technology into their supply chain. I read about the San Diego-based company, WD-40, and its product's multiple uses from an analysis written by my professor. I learned how to use Tableau, an interactive data visualization tool, which is a step up from excel and pivot tables. I have attended several unique networking opportunities, such as a boat ride in the San Diego Bay alongside my impressive classmates listening to their experiences with employers such as Northrop Grumman, the U.S. Navy, Kaiser Permanente and more. And to top it all off, as I near the completion of my MBA, I am planning upcoming abroad experiences in Argentina and Japan via the University!
Navigating the Hybrid Coursework
In USD's Hybrid MBA, on-campus classes meet on Saturdays and Sundays, typically one weekend each month. The remaining coursework is completed online. We maintain communication with our professor and classmates through Blackboard (a virtual learning environment), email, and meeting with teams in person for class projects. For example, in my Law, Policy and Ethics class, we are discussing the 2013 Rana Plaza building collapse in Bangladesh. We are using Blackboard to share our insights and reply to each other at our own convenience. I am also meeting with my team this weekend to prepare a presentation for our Sunday class on the German car rental company, car2go.
Following the #1 Unwritten Rule of Success
The main priorities for me in obtaining an MBA were building my network and improving my business foundational knowledge. In regards to networking, I once heard that networking has been cited as the number one unwritten rule of success in business. Who you know really impacts what you know. My fellow cohort in USD's part-time MBA program, including those in the evening part-time MBA and hybrid MBA programs, comprises about twenty students who are impressive, intelligent, well-rounded individuals from various industries and functions. In regards to knowledge, education is learning what you did not even know you did not know. My education here at USD has given me hands-on experience and opened my mind to topics I had never explored before, such as negotiation tactics, real-life case analyses, and more!
Map
5998 Alcalá Park
San Diego, CA 92110