USD's Hybrid MBA: The Best of Both Worlds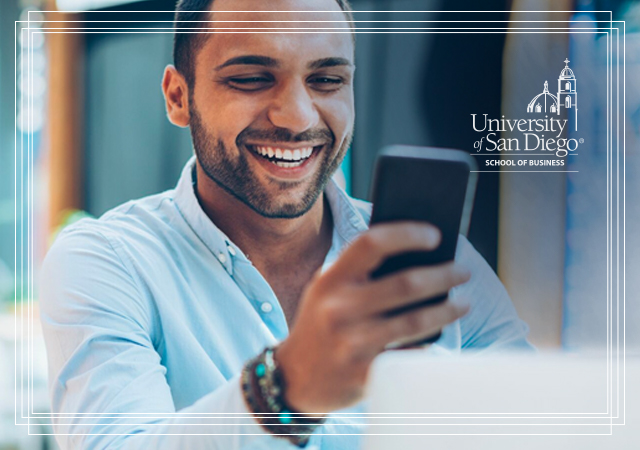 begin quote

Available in two flexible formats, our Part-Time MBA is designed to provide you with the experience, support and resources you need to succeed in both the classroom—and your office.
Pursuing an MBA is a big decision for anyone—finding the right school, in the right place, and at the right price can be a hefty undertaking. Add to that the demands of a full-time career, and the decision becomes that much more complex.
We all know the role an advanced degree can play in propelling your career forward and the specific esteem an MBA carries in the business world. And at USD, we also know how busy you are, which is why we have created a degree program that fits your needs as a working professional. Available in two flexible formats, our Part-Time MBA is designed to provide you with the experience, support and resources you need to succeed in both the classroom—and your office.
The Hybrid MBA
Built to meet the unique needs of our MBA students who work full-time Monday through Friday, the Hybrid MBA combines online and classroom learning for our most flexible degree program yet—and the first of its kind in the San Diego region. With the Hybrid MBA, students meet on campus just one weekend per month, with remaining coursework completed online. This allows you to study when and where it suits you, without having to forego valuable face time with professors and peers.
Program start: Spring semester (the only MBA in San Diego with a January start)
40% of coursework completed online
60% of instruction on campus
One weekend per month on campus
We're All in it Together
As a Hybrid MBA student, you will be earning the exact same degree as our full-time students—learning the same curriculum from the same renowned professors, while taking part in the same global learning opportunities (if you choose). And the best part? You will be doing all of this with a diverse group of classmates who are in the exact same position as you, while learning from professors who have been there themselves.
Collaboration is a significant part of our MBA degree programs, and the Hybrid MBA is no exception. At the start of the program, students participate in a one-week orientation, during which they will meet their peers and complete their first MBA class. On-campus weekends are heavily immersive, which encourages students to work closely together to problem-solve and bring together diverse perspectives to solve real-world challenges. The connections our students make during their time at USD often evolve into strategic networks that deliver long-term, continuous value in business.
Switch it Up with the Evening Program
In business, no two days are the same—let alone two years. For this reason, we offer part-time MBA students the option to decide after their first semester whether the degree format they chose initially is the one they want to stick with for the duration of their studies. The Part-Time MBA is also available in an evening format, in which students attend classes on campus two evenings per week. If you decide after trying out the hybrid program that you would benefit from more time on campus, feel free to make the switch—or mix and match until you find the perfect fit.
Your Experience Awaits
Whether you are here twice a week or once a month, you are part of the USD MBA family, which means you have access to the same enriching experiences as our full-time MBA cohort. From global consulting opportunities and study abroad options to full access to professors and dedicated career support, the experience is what you make it.
To learn more about our Hybrid MBA, or to find the degree format that's right for you, visit https://www.sandiego.edu/business/graduate/mba/hybrid-mba/.
Map
5998 Alcalá Park
San Diego, CA 92110