Hands-On Global Learning Opportunities While Pursuing an MBA Part-Time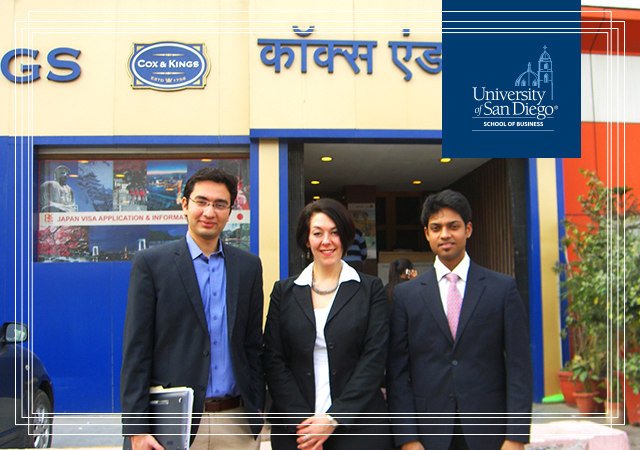 begin quote

Ensuring our graduates are equipped with an applied understanding of multinational business practices is a key factor in our mission.
At the University of San Diego School of Business, we pride ourselves on the diversity of our curriculum, particularly with regard to the international experiences we offer acrosshttps://www.sandiego.edu/business/graduate/mba/evening/ our degree programs. Ensuring our graduates are equipped with an applied understanding of multinational business practices is a key factor in our mission of developing socially responsible leaders with a global mindset.
For working professionals, this international experience can be especially valuable, as they have the potential to make an immediate impact within their current organization. But while the prospect of jet-setting to Shanghai for an international consulting project may sound great in theory, it's not typically something you can squeeze in between conference calls—or can you?
Designed with exactly your situation in mind, USD's Part-Time MBA is a part-time program that gives full-time working professionals the opportunity to gain the same accredited degree—and the same global experience—as with our full-time MBA programs.
Global Learning for the Busy Professional
With so few part-time MBA programs offering hands-on, international experiences as part of the curriculum, our prospective part-time MBA students are often surprised to learn that more than 50 percent of their future part-time peers will travel abroad at least once during the program. Through the Ahlers Center for International Business, USD offers various international consulting opportunities and study abroad options in places like Buenos Aires, Rio de Janeiro, Dubai, Shanghai and Delhi, to name just a few.
For part-time MBA students, our short-term international consulting projects or spring break classes abroad are typically the most feasible, as they can often be completed in as little as a week. The fast-paced international consulting experiences allow you to become deeply immersed in a corporation's core business activities and add consulting experience to your resume, while working in collaboration with international students from USD partner universities to present comprehensive, viable solutions to complex organizational challenges.
This coming intersession, students will travel to Rio de Janeiro, Shanghai and Munich to complete international consulting projects. In the past, students have consulted for companies like Callaway Golf Company, Walmart Argentina, BMW and more. View our full list of previous consulting projects here.
International Consulting: How it Works
USD offers a wide range of consulting opportunities at organizations both large and small, which are conducted with a group of fellow MBA students from around the world. International consulting experiences are also available to full-time and international. Here's how it works:
Sign up for an international consulting project in a location of your choice.


USD faculty will place you in a group of students with complementary skillsets and work preferences, assigning you to a project aligned as closely as possible with your expressed interests.


The project commences with a strategy session involving the owner or a principal of the organization to ascertain what it is they are looking to achieve.


You and your team will brainstorm creative approaches to the matter at hand, eliciting the consulting expertise of USD professors along the way.


Once aligned, you and your team will present your strategy to the organization's leadership. Many international consulting projects completed by USD MBA students have been implemented by organizations around the world, which is why they keep inviting our students back for more!
By bringing together a diversity of professional and cultural perspectives, we are able to help these corporations implement innovative, effective strategies and, similarly, empower our students to take these competencies back to their own organizations.
A World of Experience in San Diego
As a USD part-time MBA student, you will have access to a world of international opportunity without so much as setting foot off campus. Our students and faculty come from all over the world, which naturally presents unprecedented opportunities for networking and strategic collaborations right here in San Diego. Plus, students participating in the Evening Part-Time MBA get to attend classes with our full-time MBA cohort comprising students from around the world.
We have many workshops, certificate programs and events designed to provide all of our MBA students with the most academically and culturally enriching experience possible. We are especially committed to making sure these experiences are made available to our part-time students as well, as we understand the unique challenges you face and the importance of a globally relevant education to your future growth.
If you are a working professional interested in broadening your global business acumen, click here to learn more about our MBA degree options and take the first step toward becoming a USD MBA student.
Map
5998 Alcalá Park
San Diego, CA 92110