How the University of San Diego Built One of the Best Business Schools in California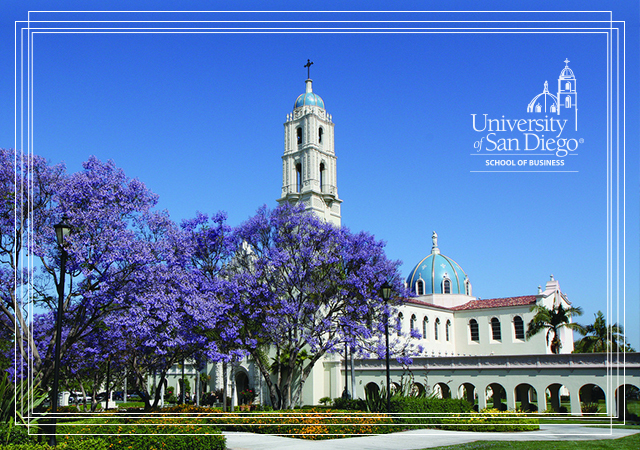 On a brisk afternoon in December 1949, local dignitaries joined Bishop Charles Francis Buddy and Mother Rosalie Clifton Hill for a groundbreaking ceremony atop a wind-swept mesa overlooking the San Diego cityscape. Mother Hill declared the yet-to-be-built campus would be unrivaled in its exquisite beauty and intricate design—for a very special reason.
"Beauty will attract them; goodness will lead them; but the truth will hold them," she said.
This has been interpreted to mean that beauty will initially attract people who come to the campus, and when they are here, they will encounter people in whom they find a certain goodness. This, in turn, will lead them to the truth, which will hold them. For Mother Rosalie Hill, the search for truth was the purpose of the university.
Agreeing with Mother Hill's vision, the Society of the Sacred Heart provided a $4 million endowment for the College for Women—the earliest construct of what would become the sprawling University of San Diego that exists today. And though much has changed since Mother Hill's proclamation on that winter afternoon, our core values remain firmly rooted in her sentiment.
USD School of Business: Committed to Changing the World for the Better
Founded in 1972 with the belief that global partnerships were the key to the future of business, the USD School of Business prepares students for today's increasingly global and complex marketplace. Our degree programs prioritize entrepreneurship, innovation, ethical leadership and a global mindset—a contextual understanding of various cultures and international business practices, with the ability to relate to a socially diverse group of individuals and accept different points of view on both a personal and professional level. More than 1,800 students call the USD School of Business home each year, with access to eight majors, 13 minors, seven specialty masters' degrees and three MBA programs.
Over the course of four decades, the USD School of Business has evolved considerably to become one of the leading business schools in California, with 93 percent of undergraduates receiving their first job offer within three months of graduation, and 71 percent of MBA graduates accepting a job offer within that same time span. So, how do we do it? By operating under the firm belief that business schools can be a catalyst for changing the world for the better—and with an unrelenting commitment to the success of our graduates. Here are a few contributing factors that have enabled USD to become one of the best business schools in California.
Staying Abreast of Market Demands
As an internationally renowned business school, it is our responsibility to understand the ever-evolving demands of the business industry and incoming generations of students to ensure we are bridging this chasm through the curriculum we provide. To achieve this, we have a dedicated group of advisors from the business community who continuously review our curricula to ensure our students are exposed to coursework that is directly applicable to the current job market.
Perhaps the most significant example of this is the launch of our master's in business analytics degree. Recognizing the intensifying demand for data analytics professionals across all business sectors, this STEM-certified degree was developed by carefully listening to the feedback provided by business leaders to ensure that our students are career-ready the day they graduate. By learning to use analytics tools such as Python, SQL, Tableau and others, students will become fluent in the language of data. Not only that, but by incorporating lessons on effective communication and a course on interactive data visualization, our students will become analytics professionals that can translate data to company leaders and ensure it delivers on its full potential.
Making International Education Affordable
The USD School of Business provides more opportunities in more locations around the world for graduate students to study abroad than most private business schools in California and has one of the only fully endowed centers for international business in the world, the Ahlers Center for International Business. In 2016, 64 percent of our students participated in an international experience, and graduate students spent an average of 15 days overseas during their coursework.
Each year, we provide our domestic and international students an average of $40,000 in scholarships, as well as significant tuition discounts (about $400 per unit), just to enable graduate students to participate in our international programs and offset some of the costs associated with studying and living abroad. We also offer financial assistance for our undergraduate students, who have hundreds of locations and international programs from which to choose. As a university, we stand for education that is accessible to the greatest number of students, as we understand this will benefit businesses, individuals and communities in the long run.
This commitment to accessibility begins at the top. Current USD President James T. Harris III recently launched a campaign to improve the university's structural and operational effectiveness in order to cut costs university-wide by five percent, so that this money can be put toward financial aid and open up even more opportunities to a broader student base.
Flexible Class Sizes and Degree Programs
USD is fundamentally a student-centric university, which means our students are the most influential factor in how we structure our degree programs. As a private university, we have the flexibility to adapt to the needs of our students and to progressively identify and implement new learning opportunities that are conducive to post-graduation success—from small class sizes that foster our close-knit academic community to flexible degree programs that accommodate varying learning styles.
Our world-renowned faculty shares especially in this commitment. While our professors are certainly active researchers (USD is ranked among the top 100 schools for research contributions), it is their passion for education that motivates them to teach at the University. We often hear our faculty talking to one another, asking questions like, "How are you teaching this topic?" or "What new methodologies are you applying in your classroom?" This is because they truly love being in the classroom and are motivated to make a positive impact on the lives of our students. Watch this short video from Carlton O'Neal, Clinical Professor of Marketing, to get a feel for what classes are like at USD: https://www.youtube.com/watch?v=peN_tW5588s
Sustainability and Corporate Social Responsibility
At USD, we truly believe that business schools have the power to change the world for the better, as our future leaders have the potential to make a significant impact on our global communities. Our mission centers on developing "socially responsible leaders with a global mindset through academically rigorous, relevant, and values-based education and research." These values have been core to our vision since our inception—in fact, the USD School of Business was one of the very first adopters of the Principles for Responsible Management Education (PRME), a United Nations-supported platform integrating issues of social responsibility and sustainability into mainstream business education.
In a time when corporate social responsibility (CSR) is being widely used by businesses to acknowledge social, economic, and environmental impact, it is easy to overlook the universal importance of these values and write them off as buzzwords. In truth, businesses have an enormous responsibility to the world we live in, which is why we are so committed to developing leaders who understand this weight and will strive to make a positive impact on the planet. This is also why we emphasize in our curriculum the Penta Bottom Line approach to business—focusing not just on profits, but on people, the planet, peace and prosperity.
The Center for Peace and Commerce (CPC) at USD is a partnership between our School of Business and the Joan B. Kroc School of Peace Studies, providing numerous opportunities for students to make a difference in what we call the base of the pyramid—the largest, poorest segment of the consumer market. Ethical decision making and leadership in business is a big part of the conversation at the USD School of Business and the University as a whole, and it is a distinguishing factor in what sets the experience of being a student here apart from many of our business school counterparts.
Amitkumar (Amit) Kakkad, Assistant Professor of Operations Management and Director at the Center for Peace and Commerce, is helping to emphasize the School's commitment to CSR by bringing students and corporations together to create social impact. "We need to cultivate students who will be socially responsible and environmentally conscious stakeholders across sectors, as customers, employees, politicians and citizens," he said. "This is the only way we will be able to solve the global challenges for good."
Top Ranked Locally, Nationally and Globally
We could go on for days about what makes USD one of the best business schools in California, but as inherent cheerleaders for our own institution, we recognize we may be the slightest bit biased. So, we will let the rankings speak for us.
#1 Undergraduate Real Estate Program in the Nation - College Factual
#2 Undergraduate International Business Program in the Nation - College Factual
#45 Best Business School for UGs in the Nation - Poets & Quants
#3 Best Business School in California - Poets & Quants
#1 MBA in San Diego - Financial Times; S. News & World Report
#6 Best MBA in California - Financial Times
#50 Best MBA in the US & Top 100 in the World - Financial Times
#16 Best Online Graduate Programs (MS in Supply Chain Management) - S News & World Report
#7 Best Graduate Program for Veterans (MS in Supply Chain Management) – S. News & World Report
And the list continues: https://www.sandiego.edu/business/about/rankings.php
Southern California Living
As Southern Californians ourselves, it can be easy for us to overlook one of the more obvious factors that makes USD so special: our location. With nearly year-round sunshine, 70 miles of coastline, and a bustling art and entertainment scene, San Diego is simply a great place to live—and to study business. We are just hours from the booming economic hub of Asia, and right next to the Mexican border, lending to the diversity of our curriculum and international learning opportunities. Add to that the beauty of our 180-acre campus, which was recently named the most beautiful in the U.S. by The Princeton Review, and the splendor of USD really sells itself—just as Mother Hill believed it would.
Come visit us—we would love to show you firsthand what makes the USD School of Business one of the best business schools in California and how our flexible degree programs and our student-centric philosophy can help you achieve your academic and professional goals.
Map
5998 Alcalá Park
San Diego, CA 92110