University of San Diego School of Business—Offering One of the Best MBA Programs in the USA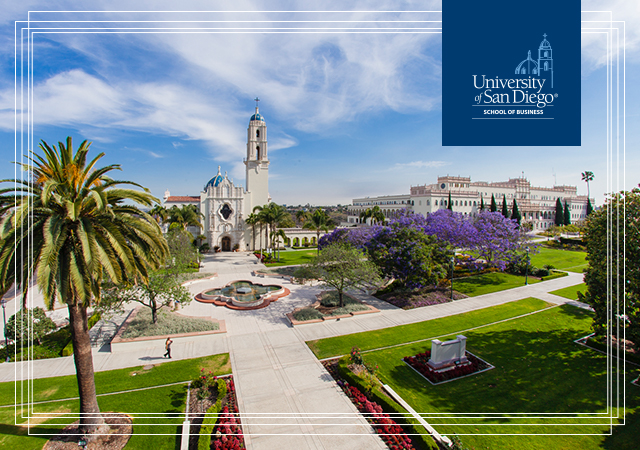 begin quote

"We are one big family that truly cares for one another."
Whether you're merely contemplating business school, or you've resolved to pursue an MBA full force, you may have come to the realization that this decision is much more complex than you initially thought. Will you study in the US or abroad? What should you be looking for in a business school? What kind of MBA program is right for you?
The good news is that if you're thinking about these things, you're ahead of the curve. And if you haven't, we're here to help. Over the course of more than 40 years, the University of San Diego School of Business has continuously refined our degree programs to ensure we are providing the highest quality and most relevant coursework to transform the students of today into the leaders of tomorrow. But before we dive into why USD offers some of the best MBA programs in the USA, let's take a quick look at some things you should be looking for in a business administration degree.
What to Look for in an MBA
Affordable tuition, availability of financial aid, and optimal class size are all key factors in the decision to pursue an MBA. But in today's fast-paced, global economy, the considerations extend far beyond elements of accessibility and personal fulfillment alone.
An accredited MBA program should anticipate and address the demands of the post-graduation job market and provide students with the skills employers are seeking in qualified candidates. International business acumen, for example, has become an equally desirable attribute for companies looking to expand into global markets, as well those striving to remain competitive domestically, as a diverse workforce can inspire innovative solutions for organizations' most pressing challenges. The ability to perform sophisticated business analytics and communicate findings to key stakeholders is another example of a skill that is in high demand. That's why we recently launched a business analytics concentration option for our MBA students.
Especially for students looking to an MBA as a career-advancing mechanism, universities with a diverse selection of flexible degree programs are catalysts for success, as they enable students to learn in the capacity that meets their personal and professional needs. At the USD School of Business, students have the ability to choose from two distinct MBA degree programs and four intra-university dual degrees—all of which provide a uniquely hands-on, international learning experience.
Experiential Learning on a Global Scale
Common to all of USD's MBA programs is the wealth of hands-on experience students acquire by working on real client projects for organizations in the U.S. and beyond. Concepts developed in the classroom are applied quickly and contextually—for example, a course on supply chain management may be complemented by a site visit to an overseas production facility, such as Nike in Shanghai. Or, a microfinance class will travel to Central America to see the impact of micro-lending programs in a community. Through workshops, coaching, and career services, you'll gain access to a variety of resources to help you develop both personally and professionally.
The Two-Year Full-Time MBA
Particularly suitable for students with several years of post-undergraduate work experience, our traditional two-year, full-time MBA program is a great option for individuals seeking to make a significant change in their professional trajectory (think accountant turned product manager). Because of the length of the program—17 or 22 months—and its inherent intensity, the Full-Time MBA tends to serve well as a vehicle for change rather than linear advancement, as two years out of the workforce will allow you to really immerse yourself in the full-time experience and re-enter the job market with a fresh perspective. Plus, you'll have the opportunity to participate in a summer internship between your first and second year, which is not only a great resume builder but also allows you to test out your prospective new career, network with your potential future employers and determine whether it's the right fit long-term.

Part-Time MBA
Our most flexible degree program, the Part-Time MBA affords working professionals the opportunity to gain the same globally relevant knowledge as our full-time MBA students, without having to sacrifice time out of the workforce. Students who apply to our part-time MBA program have, on average, more post-undergrad work experience than those who choose to pursue a traditional MBA and are far enough into their careers that they don't necessarily want to take a one- to two-year hiatus. The Part-Time MBA is structured in a way that allows students to immediately apply new skills and experiences (you might learn something in your strategy class on Monday night that you can apply at work on Tuesday morning), which makes it particularly suitable for students looking to advance into senior management or C-level roles within their current organization or industry.
To best meet the varying needs of our diverse student base, the Part-Time MBA is available in two different formats—evening and hybrid. The evening program meets twice per week at our San Diego campus, and the hybrid program requires only one weekend per month on campus, with the other 40 percent of coursework completed online. Not sure which program is best? Not to worry. You'll have the opportunity to mix and match—or switch formats completely—after your first semester.
MBA Dual Degrees
At USD, our degree programs are what you make them—and with our dual degrees, the possibilities are endless. You'll have the opportunity to complement your MBA with an approved program at our San Diego campus or internationally through one of our two partner universities, Tecnológico de Monterrey in Mexico, and WHU-Otto Beisheim School of Management in Germany. While dual degrees are especially appealing for full-time MBA students due to the sheer length of enrollment, they are equally suitable for professionals who have already determined their career path and are looking to maximize their time at USD by earning a second degree.
With all four of our on-campus dual degree options—Juris Doctor, Master's in Real Estate, Master's in Supply Chain Management, and Master's in Finance—you can decide whether you want to pursue an additional track even after you've already enrolled in the MBA program. This allows you to take a variety of classes and network with fellow students in your prospective areas of interest before deciding which of our dual degrees is right for you.
USD MBA: Among the Best in the U.S.
The USD School of Business is consistently recognized by accrediting organizations and global rankings for our MBA programs and other undergraduate and graduate business degree programs. We are currently ranked among the Top 100 2018 Best Business Schools in the U.S. by U.S. News & World Report and the Top 50 MBAs in the U.S. by the Financial Times.
While we take pride in these quantitative distinctions, it is our commitment to providing a personalized academic experience that truly distinguishes us from any other business school in the world. From incoming freshmen to alumni; admissions officers to Dean Gomez himself, we are one big family that truly cares for one another. And, as we've repeatedly been told, our esteemed faculty and staff are more than just that—they are mentors, friends and advocates for the success of our students.
To learn more about how the USD School of Business has designed some of the best MBA programs in the USA, visit www.sandiego.edu/business/graduate/mba.
Map
5998 Alcalá Park
San Diego, CA 92110