Inside the Mind of an MBA Grad: My Experience and How to Be Successful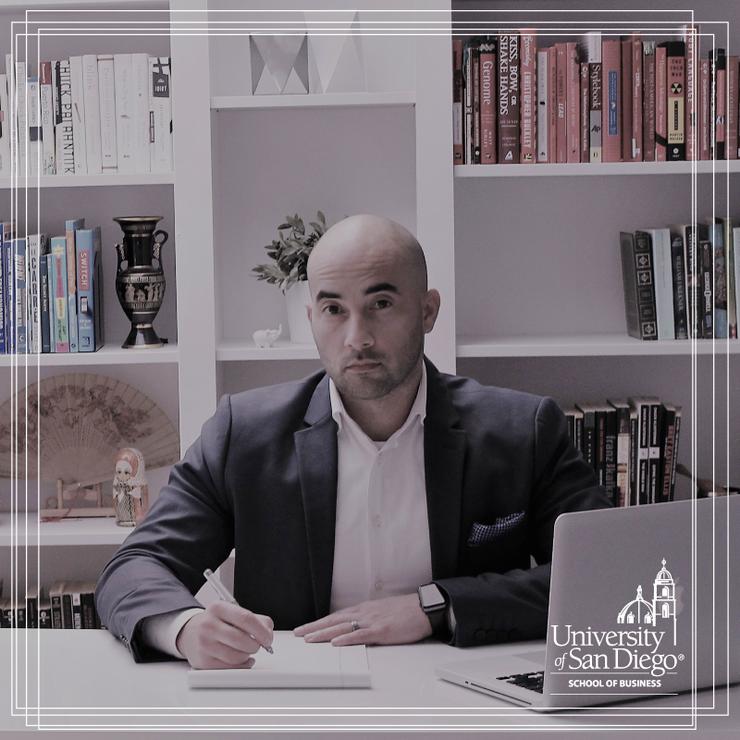 begin quote

"The program frequently found a way to remind the students that the new skills and acumen that we were learning could be used for the ultimate good."
MBA alumnus, Jeremy Sebastien, graduated just about a month ago in January 2018. Having a professional background in banking and finance, Jeremy wanted to explore new business opportunities, taking his career into a different field and to the next level. In this post, he discusses his decision-making process before joining the Professional MBA program and shares his first-hand perspective on some of the greatest challenges and opportunities of pursuing an MBA.
Investment Considerations and Selecting an MBA
After I decided to seriously consider graduate school, I made a list of personal priorities to aid me in selecting the right environment. I understood that pursuing my degree would come at considerable costs and I felt that I needed to identify quantitative and qualitative measurements to determine the impact of obtaining my MBA. There were several factors that were meaningful to me, but there were a few aspects that took priority:
Location

: Prior to enrolling at USD, I did not live in San Diego. My wife is a native San Diegan and we felt that we would eventually end up there. I wanted to choose a program in a city where I wanted to plant roots.

Community

: In addition to the city itself, I wanted to find a program that had a tight-knit community feel. I wanted small class sizes where I could develop real relationships as opposed to go being in a large program without a personalized touch.

Diversity

: I looked for a program that had a diverse student body—both in terms of current professional industry and culture. I have always appreciated learning from others and I assumed that this period of time would be best suited to expanding my horizons.

Post-graduation Opportunities

: My decision to pursue my MBA was a personal goal, but I also was looking to reposition myself in the workforce. I was unhappy with my career at the time and I wanted to have exposure to networking and opportunities for employment once I was finished. It was important for me to see a quantifiable return on my investment because I planned to pay for my education without employer support.
I was methodical in my approach to selecting a program that was most suitable to my needs. In the end, the choice was simple. I didn't apply for any other schools aside from USD. I knew what I wanted, and I felt that the MBA program at USD was the most likely vehicle to get me there.
Biggest Concerns to Look Out for Before Enrolling
I was very excited to begin the program, however there were elements that caused me to curb my enthusiasm. I found that I was accepted to USD during the week of my wedding. Aside from the typically stressful period leading up to the wedding, my wife and I had a 3-week honeymoon planned immediately after our wedding reception.
When we returned from our honeymoon, we had numerous life choices to address. We needed to move to San Diego. We both had to transfer our jobs. We had a condo and had to decide if we were going to sell it or rent it out. There were endless logistical details that had to be worked out within a 2-month window.
After we worked out the life-changing details, I asked myself questions like: how am I going to actually do the program while working full-time? How much work was I going to miss? How long should I take with the program—2 years or 3 years? How much strain am I putting on my new marriage by obligating so much of my time an energy elsewhere?
In the end, I made a conscious decision to pursue my degree. I had the full-fledged support of my wife and I knew that I needed to make this experience worthwhile.
Expanding Networks and Unexpected Program Highlights
I've done a lot of reflection about my time in the program. I was most impressed that the MBA program at USD really met my personal goals. I had an awesome cohort. The class sizes were small and I got to know my professors during the semester. The alumni were responsive and happy to meet me for coffee or assist in other ways. Overall, I felt that my experience was what I was seeking when I started. I put all of my eggs in USD's basket and they didn't drop it.
Purpose driven:

The mission of USD is tightly-woven into the curriculum. I was able to meet several socially-conscious changemakers in the local community. Prior to starting the program, the idea of working with a not-for-profit seemed like a nice gesture, not a reality. The program frequently found a way to remind the students that the new skills and acumen that we were learning could be used for the ultimate good. I've definitely felt inspired to make a real change for those in need.

International opportunities:

I was very pleased to have the amount of exposure of an international perspective through my time at USD. The most immersive example was studying abroad in Shanghai. On that project, I had USD team members from China and India. I also had a team member from the University of Amsterdam—and she was originally from Russia. Outside of the travel, I met brilliant students from Mexico, Germany, Turkey, Spain, Africa, and plenty of other places during my time in the program. The varied perspectives of the students in our classes provided fresh ideas and allowed for the ability to see things from a different vantage point.
What You Should Know Before Starting
Set realistic expectations

:

I started the program with a goal of finishing within 2 years. I accomplished my goal, but it may have been too ambitious. I took classes year-round for those two years and I pushed myself to my limits—and not in a good way. I took on a lot and I'm sure that I could have taken even more from the program if I didn't try to do too much each semester.

Manage your time efficiently

:

Learning this was probably the turning point for me. I was finding a serious challenge to make time for my new school work during the first semester. I looked at how I was spending my day and looking for any opportunities to be more efficient. I struggled coming home after a long day at work to do accounting homework. I shifted my body clock to get up an hour early. I had quiet time in the house and I was studying with a fresh mind (after coffee of course). This also allowed me to come home after work to spend time with my wife to unwind and feel a better sense of balance.

Take advantage of your resources:

USD offers frequent opportunities to network with other students, connect with a mentor, participate in competitions, etc. As a part-time MBA student, I found it easy to make an excuse for not being more involved. I live in North County and it was a challenge to make it to campus during the week. Although it wasn't easy, I connected with a mentor. I attended events. I leveraged the fact that I was a college student to reach out to organizations and people that I wanted to connect with.

Don't be afraid to get out of your comfort zone

: Pursuing a MBA is a unique experience for a professional. In your normal job, you don't have many opportunities to experiment with new things. I am naturally quick to take on a leadership role. Early in the program, I gladly accepted the leadership role I was most comfortable in. Part way in, I realized that others that were not so quick to take on that role maybe never had the chance to. I wanted to teach myself to step back at times and to let others take the lead. It was an eye-opening practice that I continued to do throughout the program. I felt that it made me a better leader and it allowed others to see that they have what it takes to lead a team too.
Advice to Incoming Students: "Jump in With Both Feet"
Pursuing a MBA is a commitment. There is a lot to gain from the experience, but in order to do so, there are sacrifices that have to be made. I certainly faced challenging times. Looking back, here are the things that I would challenge others to consider prior to enrolling in a MBA program:
You'll get out of it what you put in

:

MBA programs are not like undergrad programs. You'll have work to do, but the professors are not going to micromanage you. Your grades matter—but the real takeaways are in the practical application of the new material. I saw plenty of people that stressed over their grades and it seemed like they were missing the forest through the trees. With that in mind—jump in with both feet. You'll leave a program as a better professional.

Communicate with your significant others:

I completed my program while working full-time. Between work, family life and social life, I hardly had time for anything else. When you begin a program, you are now adding in something else that requires mental space. It is imperative that you communicate to those important to you and they will understand if you have to say no to a dinner or brunch. If you find yourself saying yes to everything, you'll burn out. The people close to you will know that you are in pursuit of something special.
I Got The Degree… Now What?
That is the million-dollar question! Since I started at USD, I've already left the position that I held when I started to program. My professional background was primarily in banking and finance. I felt that I wanted to try something new but wasn't sure where to start. Aside from personal growth, the desire to pivot was the impetus for starting graduate school.
My time in the program allowed me to explore other areas of interest. I started a mentorship relationship with a USD alum. Through our time together, he walked me through a series of exercises to gain clarity around what my next step should be based the factors that were most important to me. It became clear that I enjoyed working with small businesses and felt that I could be an asset in an advisory capacity to that community. With a more focused understanding of what I wanted to do, I found a position with an executive leadership development organization.
I feel that USD did help me advance in my career—but it is not done yet. I graduated in January 2018 and have a lot to consider. I have had exposure to new concepts and learned new skills that should allow me to take a more focused approach in deciding where to go from here. I'm attracted to work that allows me to be strategic and creative. I've always had the feeling that I was meant to do something entrepreneurial some day. With the resources that were made available to me through networking and my studies during the program, I feel more confident to start my own practice than ever been before.
Fondest Memories and a Lasting Impact
The two things that will always stay with me during my time at USD were my classmates and the international consulting practicum.
Classmates

:

An important takeaway for any MBA program has to be the people that are on the same journey with you. I couldn't have asked for anything better. My cohort was a great collection of people. We were a diverse group with different professional backgrounds. Everyone was collaborative and supportive of one another. My classmates were high-integrity professionals with big hearts and without too much ego. We genuinely liked each other, and I made friends in the program that I'll have for life. I look forward to the future when we can work together again.

International Consulting Practicum

:

In January 2017, I went to Shanghai as an elective. It was one of the most rewarding professional experiences of my life. I went without really knowing any of the 18 USD students that I was there with. Over two weeks, we experienced a new culture and business environment together. The travel was exciting, and I was able to enjoy it with a great group of people from USD and the University of Amsterdam. I was able to complete an intellectually fulfilling deliverable to the client—and my work was received well enough that they asked me to stay in contact to continue working with the company after returning to the US.
Map
5998 Alcalá Park
San Diego, CA 92110