Why Should I Get an MBA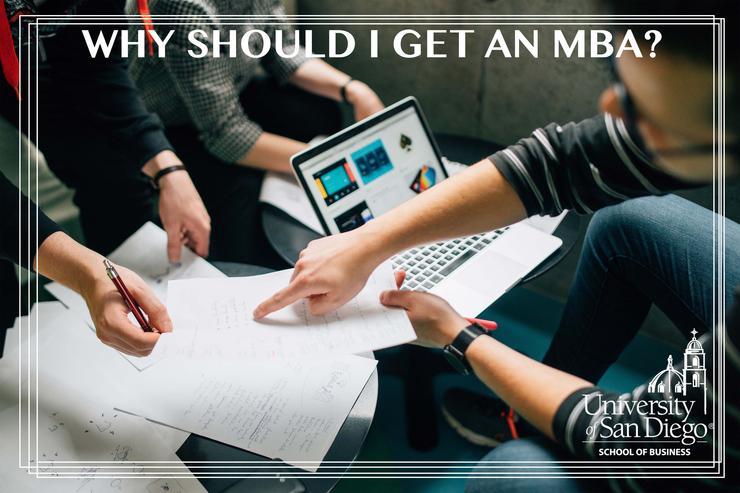 begin quote

Part of the value of the MBA degree is in the many "chances" you will take throughout your MBA career...
Maybe you just graduated with a business degree, or have decided after a few years in the workplace that you'd like to go back to school. Or perhaps you may be asking yourself, "Should I even get an MBA? What are the MBA benefits?". Sometimes, we need to hear real-life testimonials from MBA students to really understand the value of an MBA program and its (sometimes) surprising benefits. While we encourage you ask your friends and mentors about the value of the MBA degree, we would also like to contribute our "two cents" to the conversation.
While pursuing your MBA, besides becoming exponentially better at your public speaking abilities and expanding your professional network, you will also learn valuable interpersonal, or people, skills. Although extremely valuable, people skills are still in short supply according to the article "Should You Get an MBA" by Harvard Business Review. Yet, these are the skills that will allow you to effectively solve problems in the work environment and will propel you to become the thriving leader that employees will want to follow.
Part of the value of the MBA degree is also in the many "chances" you will take throughout your MBA program that you normally wouldn't be exposed to:
The chance to make meaningful connections with faculty and peers involved in the business world.

You will connect with classmates, alumni, professors and peers, who are more than willing to help you obtain your career goals. It is important to keep and maintain these relationships, even after you finish your MBA.
Along with this, you will have the ability to build mentorship relationships with professors and industry leaders as well. This could lead to glowing letters of recommendation and possible job opportunities.

The chance to get out of your "work bubble".

You will be given the opportunity to step out of your day-to-day work tasks to learn from other industries and the global economy. The possibility of being in class with international students and even work in a consulting project on a different country will also broaden your worldview.
By stepping out of a work setting and into the classroom setting, you will be able to truly reflect on big business ideas, and the possibility of reinventing yourself and your career post your MBA degree.
The chance to listen to and interact with executives and business people who come to campus to speak to students and offer real-world experiences and advice.
The opportunity to specialize further in an area of business you want to work in - whether you are currently working in that area or not - through our many MBA Concentrations.
Ed Batista, Instructor and Internal Coach at Stanford's Grad School of Business, emphasizes also the MBA benefit of practical leadership and management skills. Throughout your MBA program, you will be challenged to work with and lead Type A personalities. This will be hard, yet rewarding. You will have an opportunity to learn more "work applicable" skills by working on big projects with classmates from different backgrounds and around the world then you would by crunching numbers and finishing reports in your desk.
The list of MBA benefits and the value of an MBA degree in today's competitive market continues to grow. Interested in exploring the University of San Diego's MBA Program? Look at our MBA program options and our MBA Admissions requirements and deadlines.
We hope to help you achieve your career goals in the near future.
Map
5998 Alcalá Park
San Diego, CA 92110