USD's Undergrad Study Abroad Ranking Rises to Second in the Nation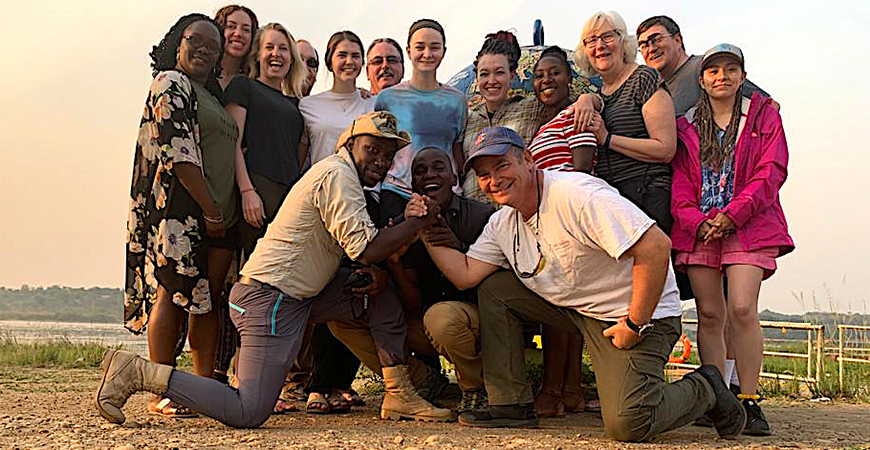 The University of San Diego's ranking for undergraduate participation percentage in study abroad climbed to No. 2 in the nation according to data in the Institute for International Education's 2020 Open Doors Report on International Educational Exchange released this morning.
This 2020 ranking, based on USD's estimated participation of 83.8 percent for the 2018-19 academic year, is for the category of the Top 40 Doctoral Universities.
"This is very uplifting news, but also bittersweet, since we have had to cancel so many international experiential learning experiences (in 2020) for our students, including study abroad, due to COVID-19," said Denise Dimon, PhD, USD's associate provost for international affairs and professor of economics in USD's School of Business. "But it shows the wonderful foundation that we have at USD to support our students with international experiences and we will be ready to move forward post-pandemic."
USD's 83.8 percentage is based on an IIE formula factoring 1,017 USD undergraduate students who studied abroad and 1,214 conferred degrees in 2018-19. It is second only to Elon (N.C.) University, which had a whopping 117.1 percent with more students (1,602) than degrees conferred (1,368). Elon which moved into the same rankings' category as USD only last year, was No. 1 in the 2019 report with a 108.5 percentage. Elon requires all of their students to have an international experience.
Rounding out the top five this year are Pepperdine University (81.8 percent), Wake Forest (80.7) and Worcester (Mass.) Polytechnic Institute (79.3). USD placed higher than New York University, Notre Dame, Denver, Georgetown, American, Gonzaga, Yale and St. Thomas (Minn.).
The new ranking strengthens the university's consistency for undergraduate study abroad. Ranked fifth last year and first in 2018 for the third time in a decade, USD, since 2007, has been ranked among the top seven each year. In nine of the last 11 years, USD has been ranked among the top three, including No. 1 in the 2011 and 2012 reports. USD first appeared on the IIE rankings' Top 40 in 2006.
Pivoting in a Pandemic
Despite COVID's challenges for higher education institutions, Dimon mentions ways USD is pivoting with its international programming.
"The campus has been creative in keeping international opportunities moving forward, without international mobility," she said. "The International Center launched a new initiative this fall, COIL (Collaborative Online International Learning), also known as Virtual Exchange. USD faculty use technology and work remotely and they are connected with one of our international partner faculty. Together, they design projects for their respective students to collaborate."
The COIL program will be featured in a virtual event on Thursday, Nov. 19, from 2-3 p.m. as four undergraduate professors in architecture, international business, marketing, and management, share their fall semester's class experience.
Graduate programs are also pivoting at USD. "The School of Business is doing virtual consulting projects this Intersession where USD MBA students partner with MBA students from USD's long-time partner, COPPEAD-UFRJ in Rio de Janeiro, and do projects remotely for companies in Brazil and Germany. The School of Leadership and Education Sciences (SOLES) and School of Business have moved some international graduate study abroad courses to completely virtual and incorporated several international guest speakers, cultural activities, and more to keep very strong international components of the course without the travel," Dimon said.
USD Enters a Total New Ranking
The 2020 Open Doors Report recognized another USD strength in its study abroad portfolio — graduate students have been doing a fair amount of study abroad, too. The university cracked the Open Doors Top 40 list for the first time, ranked No. 39 for the total number of students, 1,661, which covers undergraduates, master's, doctoral and law, who studied abroad.
SOLES requires students to have an international experience to graduate, master's programs such as College of Arts and Sciences' MA in International Relations and several in the School of Business and some in the Kroc School of Peace Studies do, too.
"The amount of participation in study abroad from our undergraduate and graduate students is a testament to the emphasis USD places on the importance of a global education," said Kira Espiritu, PhD, USD assistant provost for international affairs and director of international study abroad.
"Study abroad, though, is just one component of the comprehensive internationalization taking place across USD," Espiritu continued. "Our faculty are dedicated to international research and global connections and our campus community welcomes international students and scholars from over 90 different countries each year. Through these global encounters, all of our students are gaining invaluable cross-cultural lessons and expanding their horizons. International opportunities are a distinguishing feature of a USD education and, because of these opportunities, we know our Toreros are engaging in valuable changemaking efforts here and abroad as they forge forward in their careers after graduating with a USD degree."
International Education Week, Nov. 16-20
The Open Doors report and rankings' release serve as the nation's kickoff to International Education Week (IEW), happening this year Nov. 16-20. The IEW is a joint initiative of the U.S. Department of Education and the U.S. Department of State to recognize the global exchange environment between the United States and other countries. USD is hosting a variety of virtual IEW events and is utilizing the Office of International Students and Scholars' social media platforms, Instagram @usdoiss and Facebook, for a photo contest, alumni spotlights, trivia and more.
— Ryan T. Blystone