Toreros! Join us on Jan. 21 as we honor the life and legacy of Dr. Martin Luther King Jr.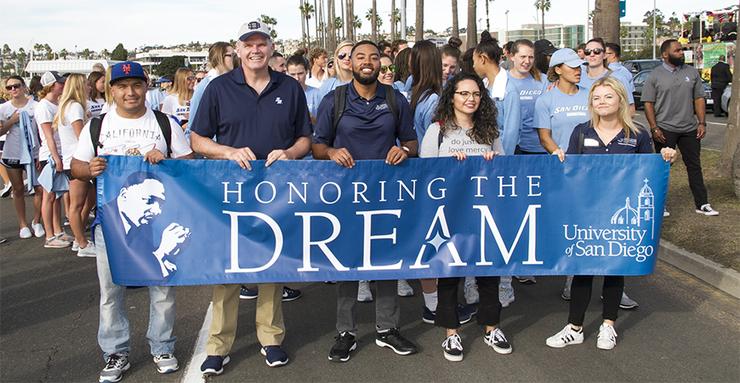 The 39th annual Martin Luther King Jr. Parade, "Living the Dream, Let Freedom Ring," is scheduled to take place Monday, January 21, 2019 from 2 - 4 p.m. along Harbor Drive in downtown San Diego.
The University of San Diego invites all members of the campus community — students, staff, faculty, parents, alumni, administrators and friends — to come together and walk with USD's group in what is one of the largest celebrations of its kind in the United States to honor Dr. King's birthday and his legacy.
The parade is a wonderful outpouring of the San Diego community spirit and features dazzling floats, wonderful high school bands, drill teams, college, fraternities, sororities, churches, peace and youth organizations. The parade is coordinated by Zeta Sigma Lambda Chapter of Alpha Phi Alpha Fraternity Inc., the oldest African American fraternity in America which was founded in 1906 at Cornell University. Dr. King was a member of Alpha Phi Alpha.
It is free to participate in the parade with the USD group, but please RSVP to let us know you'll be there.
Those interested in being part of the festivities should meet up with fellow USD attendees in the staging area located along Harbor Drive (across from the County Administration building) at 1:15 p.m. Be sure to look for the USD Torero truck and balloons and don't forget to wear your Torero Blue for the parade.
For more information about the event and participating, please click here to register on the Alumni Relations website.
— USD News Center staff