About the Clinic
Robert F. Muth, Supervising Attorney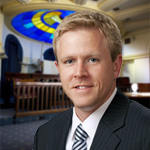 Robert F. Muth is the supervising attorney for the Veterans Legal Clinic. Recently, he was a litigation associate at Godes & Preis LLP, a civil litigation firm with offices in Orange and San Diego Counties. Previously, Muth was a Captain and Judge Advocate in the U.S. Marine Corps, serving in Iraq and Camp Pendleton in San Diego. While deployed, he served as the Senior Defense Counsel for the Marine Corps in Iraq. Muth was named the Defense Counsel of the Year in 2008-2009 by the Navy-Marine Corps Trial Judiciary, Western Judicial Circuit. The Evans Scholars Foundation named him 2002 National Leader of the Year. He earned his BA in 2002 from Northwestern University and JD in 2005 from Duke University School of Law.
Margaret A. Dalton, Director, Legal Clinics
Professor Margaret A. Dalton is the administrative director of USD Legal Clinics, supervising attorney for the Education and Disability Clinic and affiliated faculty with the Center for Education Policy and Law. She oversees all aspects of the on-site legal training program for interns, which provides free legal services annually to more than 600 individuals. Her work in special education law and legal training has been recognized with awards from the Law Library Justice Foundation, San Diego Volunteer Lawyer Program, State Bar of California and COMPASS Family Center. She earned her BA, magna cum laude, from Immaculate Heart College in 1971 and a JD from USD School of Law in 1994.
Adrienne Drew, Staff Attorney
Adrienne Drew is the staff attorney for the Veteran's Legal Clinic.  Before joining the Veteran's Legal Clinic, Adrienne was a litigator in private practice at firms in San Diego and in Boston.  Adrienne is licensed to practice law in California and Massachusetts and has appeared frequently in state and federal courts in both jurisdictions.  She earned a BA in 2002 from James Madison University and a JD in 2007 from the University of San Diego School of Law, where she was the Managing Editor of the International Law Journal. 
Kelly Hallett, Paralegal
Kelly Giske Hallett has worked at the USD Legal Clinics since October 2015, providing paralegal assistance to the Veterans, Education and Disability, and Appellate Clinics.  She brings over 25 years of legal experience ranging from civil, trusts and estates, corporate and licensing, and law firm administration.  Kelly is also very involved in community volunteer work promoting the arts and literacy in San Diego's public schools.
The Veterans Legal Clinic is staffed by upper-level law USD law student interns.