Sustainability
Commitment to Care For Our Common Home
Sustainability is a way of life at the University of San Diego (USD). Student-led initiatives provide sustainable solutions to the issues that define our times. Faculty members play an active role by incorporating sustainability both in and out of the classroom. Collaborative research projects and grants between faculty and students pay immediate dividends for the university community and society at large, including a $5 million grant by the National Science Foundation to educate community leaders about the impacts of climate change. USD also houses the San Diego Climate Collaborative, an organization working with the San Diego region to share expertise, leverage resources and advance comprehensive solutions to facilitate climate change planning. Operationally, USD adopted a comprehensive Climate Action Plan in 2016 with aggressive targets aimed at reducing the environmental impact of the university.
USD works to foster an ethic of innovation and conservation. The university has reduced its energy consumption by more than 20 percent since 2010 and reduced its water consumption by 38 percent since 2006. More than 5,000 photovoltaic panels generate 7 percent of the university's energy needs, making the system one of the largest solar energy producers among all private colleges in the United States.
The first of its kind on a college campus, the University of San Diego Electronics Recycling Center (ERC) is a living example of the university's commitment to social entrepreneurship. The center has diverted more than 3 million pounds of e-waste from landfills and served more than 25,000 customers. Heralded as a safe, secure and sustainable means of waste diversion, the ERC has become an important resource for the university and the entire San Diego community. The university's Fair Trade and bike-friendly campus designation also help to bolster its reputation as one of the most sustainable campuses in the nation.
Begin quote

The University of San Diego prepares students to be enlightened, engaged and ecological citizens.
From messaging on campus for our visitors and our community, to policies affecting how we do business, to facilitating engagement from our staff, students, faculty and administrators, to creating and supporting curricular efforts at all levels, we must take immediate action in concrete ways at all levels of the university to create a truly shared and lived vision for Care for Our Common Home.
Recent
Spotlights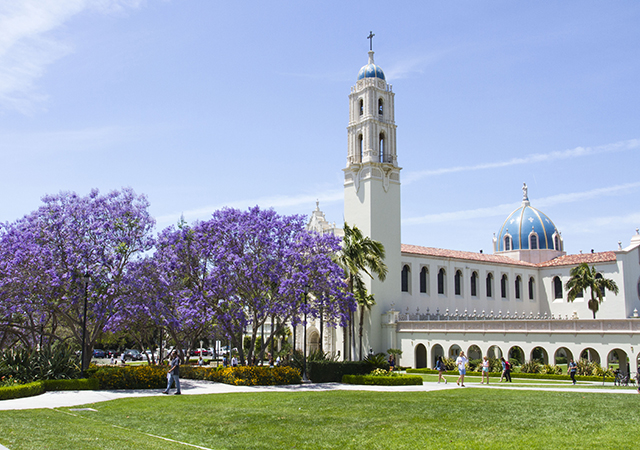 August 22, 2017
USD is the highest-ranking school in San Diego County for its efforts to protect the environment, address climate change issues, and promote sustainab…
In the
News
// November 20, 2017

When a class discussion in Riley Henning's environmental ethics course shifts to Pope Francis' 2015 encyclical, On Care for Our …

// November 14, 2017

How a small idea had a huge effect. #OptOutside first launched in 2015. No other large retailer had been shut on Thanksgiving and Black Fri…

// November 13, 2017

Study shows that reefs built to reach a foot or more above the bottom develop into healthy, self-sustaining ecosystems, while those rebuil…