Making a Lasting Impression
Joseph Bradley '20 BBA (Accounting)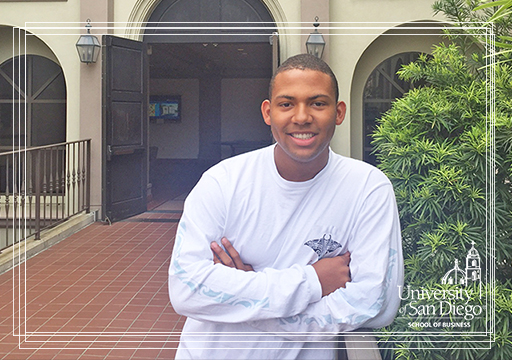 Joseph Bradley wants people to know who he is.
And even during his freshmen year at the University of San Diego, he's taken steps to develop a reputation for himself as a dedicated, driven leader—by joining the Black Student Union and USD Sales Club, participating in a men's retreat, accompanying President Harris on an early morning hike, and getting accepted into the Deloitte Pioneer Internship program.
This last accomplishment is one of which he is particularly proud, since many of his peers don't focus on internships until the summer before junior year.
"Doing this now will help me stand out even more," says Bradley. "And that will just keep building so that by the time I graduate, I'll have a really strong foundation of experience on my resume."
Even the way he learned about the internship was from networking.
"My family moved to Chicago from San Ramon, California, right after I graduated from high school," says Bradley. "So I went to a USD networking event in Chicago and met Robin Darmon [director of USD's Career Development Center], and she mentioned a Big Four event that was going to take place on campus."
Though the opportunities at that event were geared toward sophomores, Bradley talked with Deloitte representatives who steered him toward the Pioneer Internship. The internship will take him to Atlanta and Dallas for training before he acts as a 'client shadow' in the firm's San Diego office, where he'll spend a week learning audit and another week learning tax.
And while Bradley is excited to get this experience, it wasn't his only option. He also was offered—and turned down when the Deloitte opportunity came through—an internship as a sales intern with Greenlee Communications in Vista, California.
This enterprising approach to his future is not unusual for Bradley, who started his own robotics business while still in high school. Called Irrational Robotics, it was a two-week summer camp experience that taught elementary school children tech-building techniques that enabled them to then build a robot. The program culminated in a robot competition.
Bradley isn't sure yet how this entrepreneurial spirit and love of tech will play into his budding accounting career, but for the time being, he's content with the valuable connections he's made in such a short time on the USD campus.
"My goal is always improving how I present myself," he says. "I want people to know who I am so that even if I'm not present, I still have a presence."
Phone
Phone: (619) 260-4830

Map
Olin Hall
5998 Alcalá Park
San Diego, CA 92110