Not Your Average Food Cart
Tyler Norris '16 BA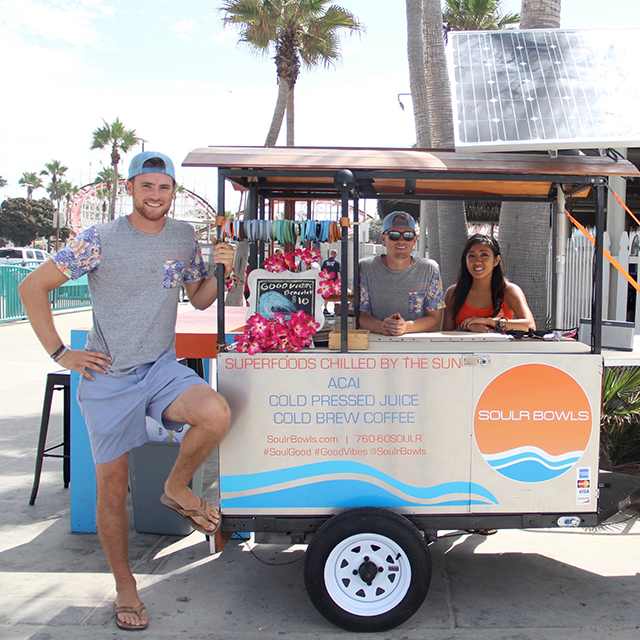 A native of Whidbey Island, Washington, University of San Diego School of Business Administration senior Tyler Norris '16 BA is making his mark—but sustainably… by running an eco-friendly food cart that serves acai bowls, popsicles and floats chilled by solar energy.
Inspired by the USD student-run company, Juice on Tap, which sells juice every Wednesday on campus, Norris started appreciating the way food helps build community.
"I came up with the idea for the food cart because I want to connect with people and affect their day and vibration through food and thought," says Norris.
Norris came to this venture after spending time at Apple's San Diego store as a specialist. After concluding he wanted to keep helping people but in a different way, he quit his job and purchased a food cart a week later.
"The food cart was old, so I taught myself about solar power, freezers, electricity and figured out how the system could work," says Norris.
Dubbed the Soulr Cart, the cart itself is powered by a 150-watt monocrystalline solar panel on the top that connects to a charge controller that regulates energy to a 12-volt deep cycle battery, which powers specially designed freezers.
"The Soulr Cart is about positive energy for the body and soul," claims Norris. "A lot of people, like me, want to run their own thing and live independently while enjoying and improving themselves and the world around us. I developed the Soulr Cart to be the epitome of those values."
All of his products are prepackaged in recyclable materials.
"One hundred percent portion control and no food waste," explains Norris.
It is both eco-friendly and sustainable. Being a business major helped Norris with more than just figuring out how to launch his own venture. It was in one of his business classes that he saw a casting flyer for a new television series entitled the "Investment Club" on Oxygen. The show gives entrepreneurs the opportunity to pitch their business model to a group of potential large investors and, if selected, mentor them towards success. Norris will appear on the show in January 2016.
For the time being, Norris operates the cart at Belmont Park with the help of his childhood best friend Zeke and an engineer/environmental scientist, John Moran. Norris plans on opening up the business opportunity to millennial entrepreneurs everywhere through a college franchise model. The model provides students with a Soulr Cart at no cost. The students then run the business on campus as Soul Proprietors. This allows the students to earn higher wages and work fewer hours while applying their education in the process.
If Soulr Cart catches on, Norris hopes that his concept can expand and empower young people everywhere. Either way, he's a success, saying: "I took a leap and knew a big net would catch me."
--Claire DeMarco '17 BA
Phone
Phone: (619) 260-4830

Map
Olin Hall
5998 Alcalá Park
San Diego, CA 92110