Staff and Faculty Directory
Lea Hubbard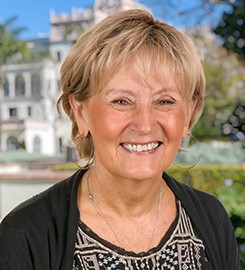 Office:
Mother Rosalie Hill Hall 275L
Professor and Chair of Department of Leadership Studies
PhD, UC San Diego, Sociology

MA, UC San Diego, Sociology

BA, UC San Diego, Sociology
Professor Lea Hubbard joined the School of Leadership and Education Sciences faculty in 2002. She earned her Ph.D. in Sociology from the University of California San Diego with a concentration in the Sociology of Education. She has written and co-authored numerous books and articles on educational leadership, school reform, as well as the academic achievement of minority students. Dr. Hubbard's primary research focus is on educational inequities as they exist across race, class and gender.
Her recent book, Reform As Learning: When School Reform Collided With School Culture And Community Politics in San Diego (2006), illustrates the social and political construction of district-led educational reform. It offers a refined social theory combining socio-cultural theories of learning with organizational life and policy adaptation. Her other books include Extending Educational Reform: From One School To Many (2002), and Constructing School Success: The Consequences of Untracking Low-Achieving Students (1996).
She has co-edited several books: Including Families and Communities in Urban Education (2011) and a book on single gender education entitled, Doing Gender In Policy and Practice: Perspectives On Single Sex And Coeducational Schooling (2002). Other recent publications that specifically address educational reform efforts include: "The Travel of District-Wide Approaches to Building Instructional Capacity: How Can Districts Learn from One Another?," "Charter Schools: Learning from the Past, Planning for the Future;" and "Research to Practice: The Case of Boston Public Schools, Education Matters and Boston Plan for Excellence," which is a study of one school district and their experience in connecting research, policy, and practice.
She is currently conducting research on Linked Learning, a high school reform designed to improve educational opportunities for students and investigating elementary school principals' efforts to implement data driven-decision making to improve educational outcomes. The Spencer Foundation, the Federal Department of Education, Broad Foundation, MacArthur Foundation, and the Ford Foundation have funded Dr. Hubbard's research.
Working internationally is one way Dr. Hubbard devotes her time to education reform. Her work has taken her and USD students on education trips to South Africa and Costa Rica. In 2011, she conducted research in New Zealand where she worked with New Zealand educators to understand the recent implementation of National Standards. She presented a paper at the NZEALS International Educational Leadership Conference in Christchurch, New Zealand, from her research on the SOLES Educational Leadership Development Academy's POST program for veteran principals. She will be teaching a class on educational reform in Santiago, Chile, in January 2013.
Dr. Hubbard has said, "I'm really interested in USD's internationalization initiative. It not only gives our students opportunities to study abroad, but also to understand another culture and how we're connected."
Areas of Expertise
Scholarly Work
Recent Publications:
Hands, C. & Hubbard, L. (2011). (Eds.) Including Families and Communities in Urban Education. Information Age Publishing.
Hubbard, L. & Hands, C. (2011). The Role of Leadership in Forging School Community Relationships. In: Hands, C. & Hubbard, L. (Eds). Including Families and Communities in Urban Education. Information Age Publishing.
Hubbard, L., Mehan, H., and Stein, M. K. (2006). Reform as learning: When school reform collided with school culture and community politics in San Diego. New York: Routledge.
Hubbard, L. (2010). Research to practice: The case of Boston public schools, education matters and Boston plan for excellence. In C. Coburn and M.K. Stein (Eds.), Research and practice in education: Building alliances, bridging the divide. Landham, MD: Rowman & Littlefield Publishers, Inc.
Stein, M. K., Hubbard, L., and Toure, J. (2009). Travel of district-wide approaches to building instructional capacity: How can districts learn from one another? In Fullan, M., Hargreaves, A., and Lieberman, A. (Eds.), Second international handbook of educational change. Springer Publishing.
Hubbard, L. (2005). Academic achievement: Taking ethnicity, class and gender into account. International Qualitative Research Journal, 18(5), 605-623.
Hubbard, L., and Datnow, A. (2005). Do single-sex schools address the needs of low income and minority students? An investigation of organizational, financial and social factors. Anthropology and Education Quarterly, 38(2), 115-131.
Syllabi