Rondi Stein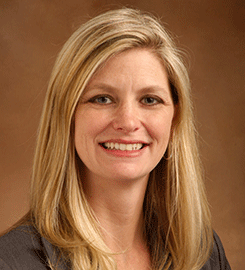 Office:
Hughes Administration Center 214
Assistant Vice President for Academic Administration
M.B.A. University of San Diego, International Business and Marketing

B.A. University of San Diego, International Relations and Spanish
Ms. Stein serves as the chief budget officer for the Academic Affairs division and advise the Vice President, and Associate and Vice Provosts, on strategic, financial, administrative, and personnel issues. She is responsible for monitoring all Academic Affairs financial and personnel matters and has general oversight to ensure compliance with university policies and fulfillment of university financial expectations, advises and collaborates with the budget managers and the Deans of all Schools/College and departments under Academic Affairs and proactively identify issues and design solutions for problems.
Prior to her position in the Provost's office, Ms. Stein served as the Assistant Dean of Finance and Administration for the School of Leadership and Education Sciences at the University of San Diego. Serving as an integral member of the School's leadership team, she provided administrative leadership and oversight for SOLES's non-academic administration including budget and finance, and human resource, event, and facilities management to enhance services and quality support of student learning and faculty achievement. Ms. Stein participated in long-term planning, policy setting and implementing organizational strategies and policies. She worked collaboratively with and served as the SOLES liaison to key administrators in campus departments including: Human Resources, Controller's Office, Budget and Treasury, Student Financial Services, Purchasing, Provost's Office, and Facilities Management offices.