Professor Lauren Benz Promotes Clean Energy
Professor Lauren Benz Promotes Clean Energy
Thursday, January 6, 2011
Lauren Benz, PhD

Clare Boothe Luce professor addresses energy issues.
Lauren Benz, PhD joined the College of Arts and Sciences faculty in August of 2009 as the Clare Boothe Luce Assistant Professor in Chemistry. Now well into her second semester with the Department of Chemistry and Biochemistry, Benz is looking forward to working with undergraduate students on their summer research projects as she continues to set up her on-campus lab.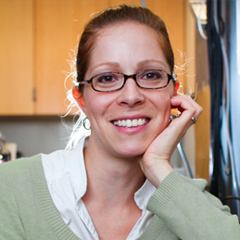 Benz is hoping to discover how supported metal-organic frameworks can best be used for future energy storage.
Benz is concerned with surface science, a field which is focused on the study of chemical and physical processes which happen at the interface of a surface and a gas or a liquid. Such interactions are important in a number of areas including catalysis, corrosion, and environmental remediation.
This summer, students will work side by side with Benz on energy related projects. The first research project concerns the removal of impurities from fuel sources. As fossil fuel resources are used up, dirtier alternative sources will likely be utilized in the short-term, therefore a need is emerging for better methods for fuel purification. Benz, along with her students, will study the use of an oxide surface, titanium dioxide, for the removal of heteroatom impurities in petroleum. When fuel is burned these impurities oxidize to form nitrogen dioxide and sulfur dioxide, which are known environmental hazards, leading to acid rain formation. Benz's research will focus on uncovering the underlying reaction mechanisms which govern the process of heteroatom removal from molecules found in dirty petroleum.
Students will also assist Benz in her study of supported metal-organic frameworks, which are known for their unprecedented design flexibility and potential application in gas storage and catalysis. While these materials offer promise in the area of alternative energy storage and delivery, there is much yet to be learned on the fundamental level regarding how different gases interact with these frameworks. Benz will conduct experiments to study these interactions, hoping to discover how these materials can best be used for future energy storage.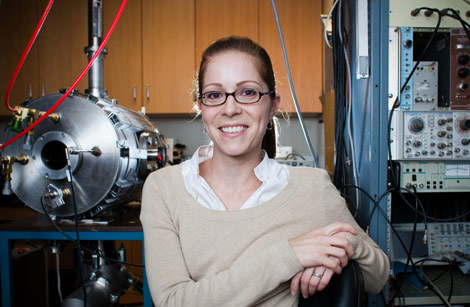 Benz envisions an organization that can work together with existing USD organizations to encourage and retain female scholars of science, math and engineering.
While she is busy setting up her lab and conducting and supervising research, Benz is also working to develop a new group on campus. Following in the tradition of Clare Boothe Luce scholars, Benz is particularly interested in encouraging females to study and excel in the sciences. She is currently in the planning stages of creating a network of female faculty and students in science, mathematics and engineering to discuss, address and learn from each other some of the unique challenges faced by females in these academic and professional fields. Benz envisions an organization that can work together with existing USD organizations to encourage and retain female scholars of science, math and engineering.
Benz first became interested in encouraging female students while completing her PhD in inorganic chemistry at the University of California, Santa Barbara. As a part of her funding, Benz worked in a local secondary school science class, engaging groups of students in inquiry-based experiments. During this time she witnessed the gender dynamics of students working in groups. Since then she has sought to inspire students to become interested in science by peaking their intrinsic curiosity, with the goal for students of all backgrounds to take ownership of their work and to feel engaged and empowered by their knowledge and study of science. Her work to inspire students continues here at USD.
-Lyndsey Scully
The Clare Boothe Luce Program, which was founded in 1989, is the "single most significant source of private support for women in science, mathematics and engineering." Since its founding it has supported more than 1500 women with fifty percent of its awards going to Roman Catholic institutions that grant four-year undergraduate degrees. For more information about the Clare Boothe Luce Program please visit their website at www.hluce.org/cblprogram.aspx.
Office Hours
8 a.m. - 5 p.m.