Contact:
School of Peace Studies

Email: peacestudies@sandiego.edu
Phone: (619) 260-7919
Fax: (619) 849-8109

Location: KIPJ Room 113
Joan B. Kroc School of Peace Studies
5998 Alcala Park
San Diego, CA 92110
>
Biography
Dee Aker
Director, Institute for Peace and Justice
Dee Aker is a psychological anthropologist and conflict resolution professional with 40 years experience working with international communities and individuals in transition.
At the IPJ, Aker created the Nepal Peace Initiative, WorldLink~Connecting Youth to Global Affairs and the Women PeaceMakers Program (recipient of the 2011 NAFSA Paul Simon Spotlight Award for its contribution to internationalization of University of San Diego).
Aker has extensive experience in international higher education (Kenya, England and USA), including senior administration, curriculum development and teaching. She produced and hosted a television series of 234 thirty-minute interviews with women leaders, pioneers and survivors from around the world and as a freelance journalist and monthly columnist focused on human rights and gender concerns. Aker worked with Carl Rogers at the Center for Studies of the Person and the Carl Rogers Institute for Peace on special conflict transformation efforts in Europe and Central America in the 1980s. She has facilitated training, communications and negotiations for groups and individuals in conflict and transition in Europe, Africa, Central America and South Asia.
Currently her work includes specialized public sector programs for youth, women, as well as security and political leaders designed to increase their awareness of their rights as stakeholders and responsibilities as actors and to improve their skills in strategic negotiation. In addition to induction to the San Diego Women's Hall of Fame in 2014, Aker was honored as the first Harvard Phillip Brooks House (PBH) Fellow at Harvard in 2007 to "share a distinguished public service career" with students and the Center for Public Interest. She proudly points to her early Peace Corps volunteer time in Colombia as the inspiration to be involved in the world. In addition to organizing IPJ's annual Women PeaceMaker international conferences and events, she is speaker and co-presenter internationally on intertwined concerns of conflict/gender/media/religion/security/justice and peace.
Contact Information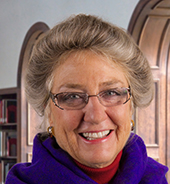 Email | ipj@sandiego.edu
Phone | (619) 260-7509
Office | KIPJ 113