Contact:
School of Peace Studies

Email: peacestudies@sandiego.edu
Phone: (619) 260-7919
Fax: (619) 849-8109

Location: KIPJ Room 113
Joan B. Kroc School of Peace Studies
5998 Alcala Park
San Diego, CA 92110
>
Biography
Daniel Orth
Program Officer for Strategic Peacebuilding
Daniel Orth is a program officer for strategic peacebuilding at the Joan B. Kroc Institute for Peace and Justice, where he helps to design, manage and implement the institute's field projects.
Throughout his career as a trainer, facilitator and teacher, Orth has been committed to creating environments in which individuals can develop the skills, knowledge and confidence they need to achieve their goals. Prior to joining the institute, he worked at Conflict Dynamics International and previously led trainings in leadership, communication and conflict resolution with Search for Common Ground in Zanzibar. He also served as a co-facilitator for a group of Israeli Arab and Israeli Jewish civil society members working to create a shared society in their country.
Orth holds a master of arts in law and diplomacy from the Fletcher School at Tufts University, where he specialized in international negotiation and conflict resolution, and human security, and a bachelor of arts in political science and economics from Tulane University. While an undergraduate, he participated in American University's Washington Semester Peace and Conflict Resolution Program, concentrating on the conflict in the former Yugoslavia. He spent eight years teaching history in New York and New Orleans and taught a certification course for first-year teachers.
Contact Information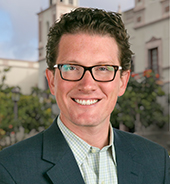 Email | dorth@sandiego.edu
Phone | 619-260-4066
Office | KIPJ 119