Contact:
School of Peace Studies

Email: peacestudies@sandiego.edu
Phone: (619) 260-7919
Fax: (619) 849-8109

Location: KIPJ Room 113
Joan B. Kroc School of Peace Studies
5998 Alcala Park
San Diego, CA 92110
>
Biography
Laura Stein
Development Assistant
BA, Creative Writing, Florida State University
MA, Leadership Studies, University of San Diego
Laura B. Stein is Development Assistant for the Joan B. Kroc School of Peace Studies and strengthens alumni and constituent engagement with the school, university and greater community through strategic communication and stewardship.
Prior to joining the Kroc School, she managed operations and student outreach for USD's Institute for Nonprofit Education and Research. Stein earned her Bachelor's degree in Creative Writing from Florida State University and received a Master's in Leadership Studies with a specialization in Higher Education from the University of San Diego's School of Leadership and Education Sciences. Stein is a 2009 graduate of LEAD San Diego.
Contact Information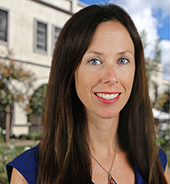 Email | lbstein@sandiego.edu
Phone | 619-260-4146
Office | KIPJ-255