Contact:
School of Peace Studies

Email: peacestudies@sandiego.edu
Phone: (619) 260-7919
Fax: (619) 849-8109

Location: KIPJ Room 113
Joan B. Kroc School of Peace Studies
5998 Alcala Park
San Diego, CA 92110
>
Biography
Josh Brown
Operations Coordinator
Josh joined the University of San Diego in October 2103 as Operations Coordinator in the Joan B. Kroc School of Peace Studies. He assists clients with events held at the Joan B. Kroc Institute for Peace and Justice facility, which houses the School and features classrooms, offices and more than 15,000 square feet of meeting and conference space, and the Casa de la Paz, a four unit guest residence. Josh comes from the University of California - San Diego where he worked as a Facility Manager for the Price Center. He has seven years of experience in events and operations and a degree in Sport Management from Georgia Southern University. He hails from Georgia and found his way to California three years ago.
Contact Information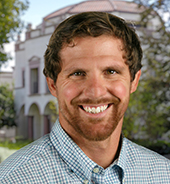 Email | jhbrown@sandiego.edu
Phone | (619) 260 - 4277
Office | KIPJ 134