Contact:
School of Peace Studies

Email: peacestudies@sandiego.edu
Phone: (619) 260-7919
Fax: (619) 849-8109

Location: KIPJ Room 113
Joan B. Kroc School of Peace Studies
5998 Alcala Park
San Diego, CA 92110
>
Biography
Vivien Francis
Program Officer
Vivien was born and raised in Guatemala to a Lebanese father and a Palestinian descendant mother. Her passion for traveling has taken her to several countries in Europe, South America, the Middle East and Asia. She obtained an MA degree in Peace and Justice Studies at the Joan B. Kroc School of Peace Studies, USD. She has a BA degree in graphic design and worked combining her background as a graphic designer and artist with the human rights field, developing advocacy projects through the use of art and images.
Contact Information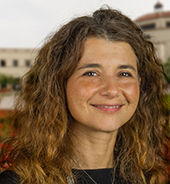 Email | vivienfrancis@sandiego.edu
Phone | (619) 260-4166
Office | KIPJ 241